Sprint Creates Movie Theater Lounge to Introduce New Products at C.T.I.A.
March 24, 2011
The International C.T.I.A. Wireless show wrapped up today at the Orange County Convention Center, ending three days of product launches, networking, and business for the wireless communications industry. The show filled more than 300,000 square feet of exhibit space, a 10 percent increase from 2010. More than 1,000 exhibitors flaunted the latest devices, apps, and accessories in an effort to capture the attention of the more than 1,100 press and analysts attending the show.
Sprint held one of the most elaborate press events on Tuesday to launch two new products: the HTC EVO 3D, a 4G smartphone that allows users to record and play back video in 3-D without having to wear 3-D glasses; and HTC EVO View 4G tablet. To emphasize the 3-D features of the phone, Sprint worked with Fresh Wata to create a sleek, movie theater setting for a lunch and product announcement that was sent to invitees with a Charlie Chaplin-esque silent video invitation.
"The Flash silent-movie-feel e-vite was the perfect teaser for the movie theme, and it carried over to the event," said Fresh Wata designer Kay Dalton, who used black decor with accents of white, metallics, and Sprint's signature golden yellow to create the vintage Hollywood ambience.  
Organizers welcomed the 375 guests at a table backed by a 15-foot-wide Sprint logo, made with cutout letters topped with vintage lightbulbs. Inside, a massive chandelier of three-inch glass balls, hanging 16 feet down and spanning 16 feet across, hung over the buffet. Guests could choose from theater seating on a raised platform, high-top tables, or hanging swing chairs. As a service to attendees, designers placed charging stations throughout the room, on the sides of tables and at three 30-foot-tall columns that doubled as projection screens.
Following the announcement, guests were invited next door to the "innovation lounge" to try the new products and have dessert and coffee. Seating was available at black velvet sofas with triangular silver-studded backrests and black modular sofas with under lighting, all accented with branded pillows. Designers covered one wall of the lounge with large white cubes in various sizes that displayed videos of Sprint products, and placed a handful of props such as popcorn containers and fountain drinks throughout the room. A 10-foot acrylic and chrome Sprint logo rotated above from a rigger. The company kept the lounge open the following day and invited guests to return for lunch and refreshments.
Earlier on Tuesday, Samsung went with a very straightforward setup for the announcement of its new Galaxy Tab 8.9 and 10.1 products. Barkley Kalpak Associates created a 6,000-square-foot theater with 320 seats and a large stage up front backed by a 20- by 50-foot screen. During the nearly 30-minute event, Samsung executives spoke onstage about the new devices and played videos showing the products and interviews with people talking about how they would use them in their work and personal lives.
Photo: Billings Photography and Design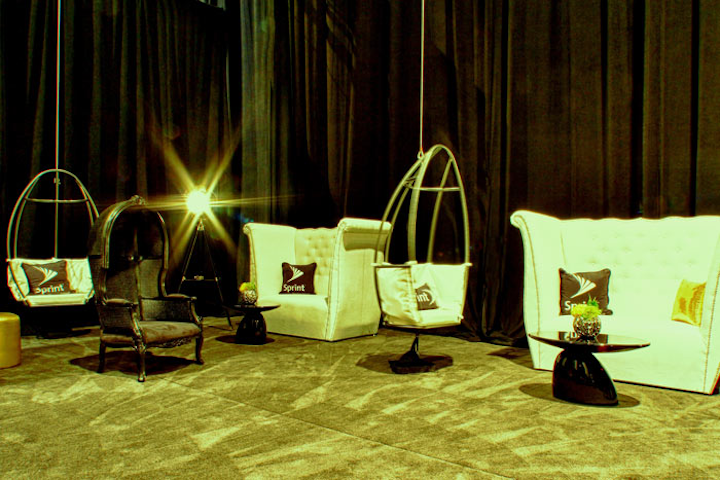 Photo: Orlando Convention Photographers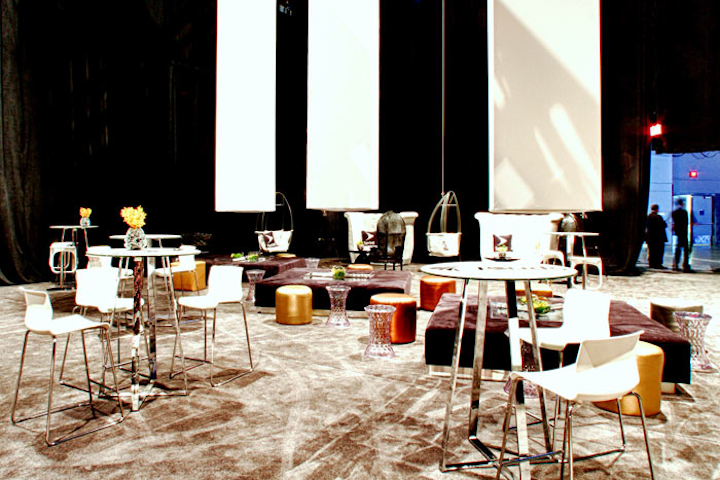 Photo: Orlando Convention Photographers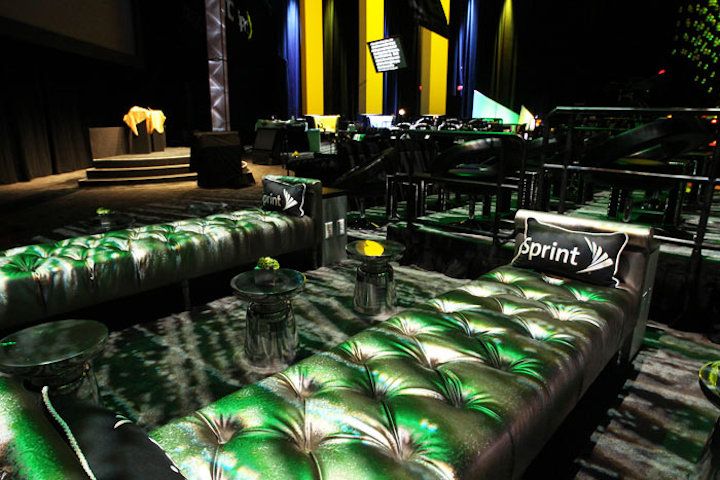 Photo: Billings Photography and Design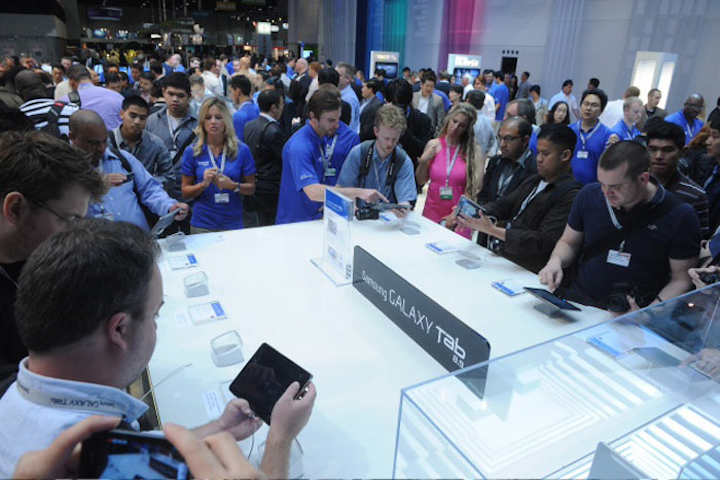 Photo: Oscar Einzig and Associates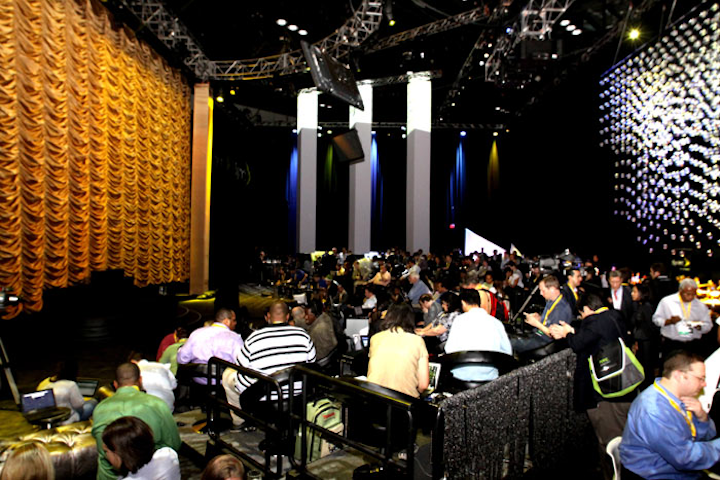 Photo: Billings Photography and Design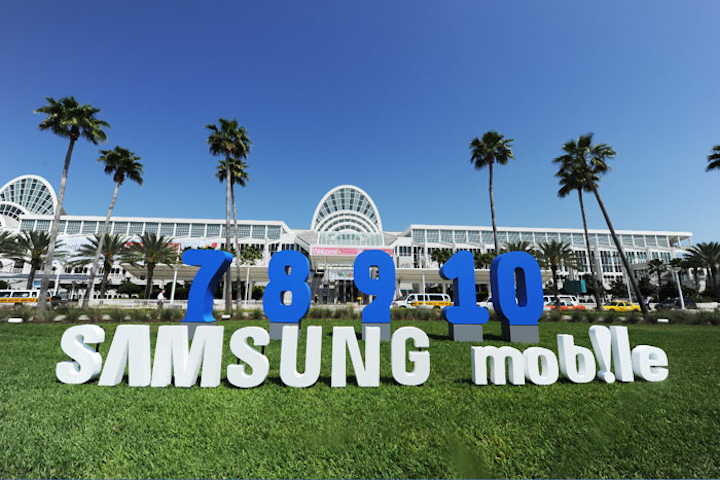 Photo: Oscar Einzig and Associates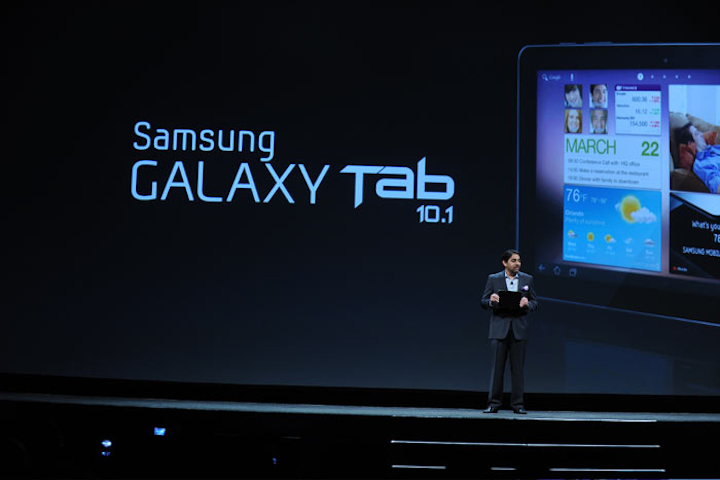 Photo: Oscar Einzig and Associates
Featured Venues/Suppliers: