The Rise of Micro-Weddings—and What All Events Can Learn From It
Learn how the wedding industry is using creative formats, eye-catching decor, and technology to make small events feel special.
June 9, 2020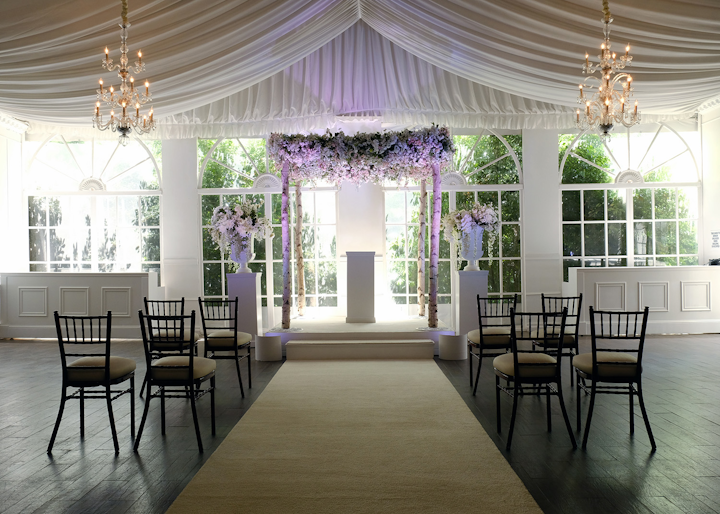 Photo: Legendary Events
The wedding industry has been one of the hardest hit by the COVID-19 pandemic—but it's also one of the industries that's coming back the fastest as restrictions on live events begin to cautiously ease. While virtual ceremonies undoubtedly remain a popular option, planners and clients are finding creative ways to host so-called "micro-weddings"—often with 20 guests or fewer—without sacrificing the day's special feeling.  
"Although we cannot carry on some of the traditions typically associated with weddings during this time, there is an opportunity for trailblazers to set an example of how couples can celebrate their special day despite life's twists and turns," says Chris Eldridge, vice president of sales and marketing for The Roof at Ponce City Market, a popular outdoor event venue in Atlanta. "The bottom line is that weddings are about celebrating the love of two special people. If the focus remains on that truth, everything else will come together."
Here are some lessons and best practices from these small gatherings that all events can learn from until COVID-19 restrictions are lifted.
1. Get creative with layouts and timelines.
With caps on attendance and requirements for physical distancing, live events are going to look a bit different for a while. But that doesn't mean the guest experience needs to be sacrificed.
"We plan to see weddings more spaced out than prior to the pandemic, both at ceremonies and receptions, from less seats and more standing room during the ceremony to fewer seats at each dining table or seats arranged by household rather than friendships," predicts Jeffra Trumpower, the Washington, D.C.-based senior creative director at WeddingWire. "Or even separating guests by different parts of the venue to abide by social distancing guidelines and to ensure guests feel comfortable with their proximity to others during the celebrations."
Paula Fenner, the catering director of The Adolphus, Autograph Collection, in Dallas, echoes that point, noting that her team is making shifts such as larger dance floors separated from the band stage, adjusted seating charts to space tables six feet apart, and an increased number of bars to limit gathering and congestion.
Trumpower also predicts a rise in what she calls a multi-wedding, "where guests would either come to their wedding in shifts or at different events planned for throughout the weekend—think the rehearsal dinner, welcome party, ceremony, reception, morning-after brunch—to ensure they follow social-distancing restrictions while still having the opportunity to celebrate with all of their guests."
Related: The Future of Floorplans: What Will Physically Distanced Event Layouts Look Like?
The Roof at Ponce City Market in Atlanta has begun hosting small, CDC-compliant weddings. The indoor-outdoor venue is offering a 25-percent discount for events scheduled on Friday or Sunday during fall 2020 or spring 2021.Photo: The Roof at Ponce City Market
2. Rethink your food and beverage. 
"One of the biggest challenges that has bubbled up is food service," notes Eldridge. "Passed cuisine, buffet-style dining, and food stations are not aligned with social-distancing guidelines. Bar service has changed as well. Instead of offering refills, every glass should be cleaned after each use, and used glasses must be returned to an area other than where the initial drink was served." 
Amanda Cox, director of sales and marketing for the JW Marriott Marco Island Resort & Spa in Florida, had previously noticed a growing trend in small plates and live-action stations at weddings. Cox and her team predict that trend will continue, but with attendants serving guests the dishes—as safety precautions may eliminate self-service buffets and family-style dining. Cox and her team also expect a re-emergence of seated, plated dinner service. 
Similarly, Fenner anticipates covers and coasters topping wine and water glasses to protect them, and butler-passed bread with dinner rather than communal baskets. 
Related: Bye-Bye Buffets? Industry Pros Predict What Event Catering Will Look Like in the Future
3. Take advantage of unique venue spaces. 
Smaller guest lists allow for a wider list of venue options, notes the team at JW Marriott Marco Island, which has seen a significant increase in demand for outdoor events that allow for easier physical distancing and greater flexibility in designs and floor plans. Many micro-ceremonies are being held directly on the resort's private beach, says Cox.
Another Marriott property—Noelle Nashville, a Tribute Portfolio Hotel—has introduced specialized packages designed specifically for intimate weddings and elopements, both of which include ceremonies in the hotel's intimate Saidee Gallery, an Art Deco venue with arched windows and high ceilings.
Eldridge notices a similar trend at The Roof. "Areas that were previously considered to be too small for a wedding are getting a lot of interest," he says.
Legendary Events is also planning micro-weddings at Flourish, a chandelier-filled event venue in Atlanta. Pricing starts at $2,500.Photo: Legendary Events
4. Decor is still worth the investment. 
"The key to making a small, socially distanced wedding special is the details," says Eldridge. "It is important to incorporate a breathtaking focal point. This will also be appreciated by any virtual guests who are viewing the wedding from afar. Ceremony chair placement can really create a big wow factor. I love creating small pockets of soft seating that is in accordance with socially distanced guidelines. I am also a fan of the chaotic chair setup, where seating is placed in seemingly random patterns." 
Tony Conway and the team at Legendary Events, a top event firm in Atlanta, are offering four packages for 12-guest micro-weddings at its local event spaces Flourish and The Estate. Each package includes two hours of exclusive venue use, a fully decorated ceremony, a cake, and music; options such as additional floral decor, livestreaming, and other customizations can be added. 
"We know it isn't always possible today for a couple to have the large wedding they may have planned—but that doesn't mean canceling the wedding or settling for a plain civil ceremony," says Legendary Events president Dave Lishness. "The only thing small about our four wedding ceremonies is the guest count. Each canopy and chuppah is designed to be a beautiful, elegant setting."
And don't underestimate the power of a good floral display. Case in point? Former Teen Vogue editor Elaine Welteroth's headline-grabbing wedding, held last month on the front stoop of her Brooklyn apartment building. Floral designer Lewis Miller covered the stoop with colorful peonies, and a group of the couple's friends and family watched and celebrated from the sidewalk. 
Related: 11 Event Decor Ideas and Products Designed to Keep Guests Safe
5. Use technology to expand your event's reach.
As the corporate and nonprofit event industries discuss the future of hybrid events—including a small group in person, but a larger group virtually—wedding planners are having the same discussions. The JW Marriott Marco Island, for example, is offering new turnkey wedding packages, each of which includes live video-streaming solutions. The Adolphus is taking a similar approach, offering small in-person ceremonies of 10 guests or fewer, plus streaming on Zoom or other video platforms. 
The team at The Roof is also providing options to couples who want to incorporate a virtual component. To make far-away guests feel included, "We are sending all virtual guests two champagne flutes, a bottle of champagne, and lavender petals so they can toast with the couple," says Eldridge. "In addition, we will set up what we are affectionately calling the 'Zoom Room,' where the newlyweds will join their virtual guests for a cocktail hour. We are also working with our photo booth vendor to include a virtual photo experience, where guests can take pictures together from miles apart." 
Ultimately, notes Trumpower, "Vendors are doing everything in their power to support their couples and rethink the flow and layout of upcoming celebrations, ensuring the couple and all of their guests feel comfortable while curating a wedding that's just as celebratory as ever before—if not more so."