When 10,600 meeting industry professionals gathered in Las Vegas for the annual IMEX America conference earlier this month, a new focus on wellness helped keep their days productive and inspired. The new Be Well at IMEX program placed the emphasis on mental and physical attendee well-being through a variety of offerings including a new dedicated meditation room that hosted regular sessions on yoga, mindfulness, and meditation run by mindfulness trainer Lee Papa.
"A [trade show like IMEX] can be very high stress because there are so many meetings and the days are scheduled tightly," Papa says. "[That leads to the] feeling of lack—not enough time, too much to do—beliefs [that] lead to a less productive outcome and a stress-filled process. Mindfulness is the answer [for] not only trade shows and conference meetings, but also in the daily functioning of any business. Flow is what is productive—not restriction," Papa says.
To illustrate that message, Papa provided five specific reasons why meditation breaks benefit meeting attendees.
Meditation breaks contribute to endurance.
At a global meeting, many attendees have traveled from all over the world—150 countries in the case of IMEX America. That means productivity and innovative thinking can be challenged by real-world limitations like jet lag and fatigue or general burnout. Meditation practice can ease those challenges. "When there is mindful practice, one honors the body and makes better choices for the health and well-being of the body, mind, and spirit," Papa says. "This alleviates some common travel practices of poor eating choices and excessive behaviors that lead to stress on the system, such as alcohol to relax and poor sleep patterns."
Meditation breaks promote teamwork.
Prejudgements and even cliquishness can create unnecessary competition and impediments to effective teamwork among clusters of colleagues, and meditation can help reduce those unnecessary obstacles. "Mindfulness training and meditation promotes peace and well-being. Gossip and judgement fade away. The idea of conflict and competition amongst peers fades and the concepts of all supporting and all winning is replaced," Papa says.
Meditation breaks promote focus during the meeting.
Rather than serve as a distraction away from the traditional meeting content, Papa says that meditation actually returns focus to the main content—and it only requires a short investment of time off the show floor or away from the education sessions. "In a 20-minute session [like the ones provided at IMEX], it is powerful how much can be obtained in such a short time: an intro to a mindfulness subject relating to the mind, body, or spirit, then a guided meditation, and returning peaceful, refreshed, and centered."
Such an experience, Papa says, returns the attendee to the meeting "in alignment for more inspired thought, clarity, and leading life from a place of flow with ease and grace."
Meditation breaks allow a fresh perspective that lets ideas flow.
Sometimes it's the very process of trying to generate new ideas that creates a forced environment that can pose a challenge to fresh thinking. It's stepping away for a few short moments that provides a new perspective useful for innovation on the other side. "In mindfulness practice, we look at every situation not as the participant but as the observer. [It's] taking the personal hurricane storm of emotion and ego out of the playbook and allowing the flow of inspired knowledge," she says. "Creativity and inspiration flow with more ease with mindful practice."
Meditation breaks facilitate effective communication.
By reducing the mental clutter, meditation breaks help attendees streamline the language they use, resulting in more effective communication. Papa says the mindfulness practitioner gleans a deeper understanding of the value associated with language—coming away with a "less is more" and a "deliberate" approach to communication. In addition to helping attendees communicate with one another, Papa says the practice helps attendees communicate positive messages within themselves as well. "The pre-programmed beliefs [about limitations] and self-doubt talk are replaced with powerful affirmative statements that lead you to the positive outcome," she says.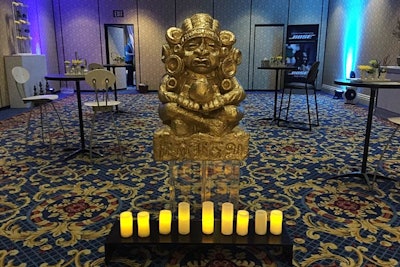 Photo: Alesandra Dubin/BizBash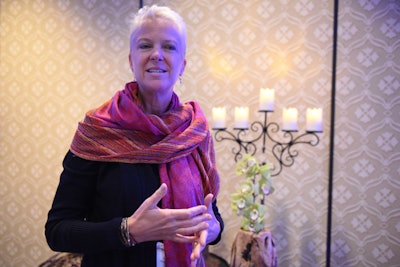 Photo: Jann Hendry