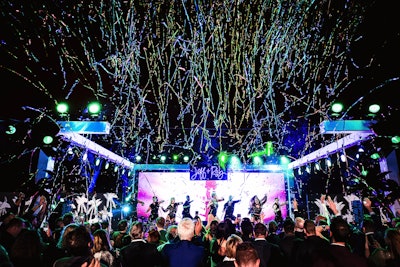 Photo: Allison Callaway/Callaway Gable
LOS ANGELES—Welcome to BizBash's Los Angeles-based column, where West Coast bureau chief Claire Hoffman recaps the week's biggest local news. Got a tip? Get in touch!
Moves & Milestones
The Radisson Blu Anaheim has named Steve Lindburg as its general manager. The 326-room hotel, located one mile from Disneyland, is slated to open in September 2020.
Terranea Resort president Terri A. Haack received the Lifetime Achievement Award at the Hospitality Sales and Marketing Association's Los Angeles 2019 Best of the Best Awards, held on November 19 at Taglyan Complex.
Harry Morton, the founder of the Pink Taco restaurant chain and former owner of the Viper Room nightclub, passed away on November 23 at the age of 38. Morton's father, Peter, co-founded the Hard Rock Cafe franchise in 1971, while his grandfather, Arnie, co-founded Morton's the Steakhouse restaurant in 1978.
In Case You Missed It
This week, we showcased smart event concepts from two top entertainment brands. First up, we looked inside HBO's three-day "Our Stories to Tell" event, which transformed Casita Hollywood 10 times in three days for a mix of programming featuring local black creatives.
And yesterday, we wrote about a touring promotion for Amazon Prime Video's The Aeronauts, which turned the Rose Bowl Stadium into a sprawling Victorian fair complete with costumed performers, balloon rides, and—most memorably—a film screening on the side of a massive hot air balloon.
Spotlight On
On November 15, the London West Hollywood at Beverly Hills partnered with Lionsgate to host a screening and pop-up experience for the new film Knives Out. The interactive installation brought Flam—the fictional lifestyle brand from the movie—to life through two Instagram-friendly vignettes, on-theme cocktails, and a merchandise station with faux Flam products. The pop-up was open to hotel guests and the public for two weeks.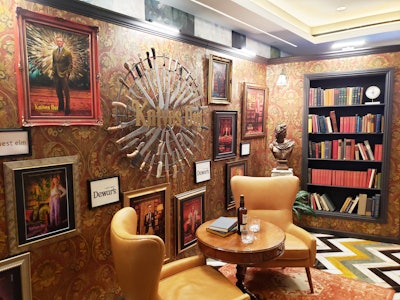 In the News
Gucci plans to open a restaurant on Rodeo Drive in spring 2020. WWD: "It will be the second restaurant opened by the Kering-owned luxury giant and the first outside of Italy. ... Sources say LVMH Moët Hennessy Louis Vuitton-owned Dior is also plotting a restaurant on Rodeo Drive. The two openings would up the experience level on Beverly Hills' retail row, which from June 28 to November 10 hosted the 22,000-square-foot Louis Vuitton X pop-up and Instagram hot spot ... The restaurants would also key into a broader trend in the luxury industry, which has had fashion brands including Ralph Lauren (The Polo Bar), Prada (Pasticceria Marchesi), Tiffany & Co. (The Blue Box Cafe), Burberry (Thomas's), and more luring experience-seeking millennials with in-store eateries, stand-alone pastry shops, and more."
The 2020 Oscars may combine the sound editing and sound mixing awards. The Hollywood Reporter: "Governors Kevin Collier, Teri Dorman, and Scott Millan wrote that the subcommittee was tasked with investigating 'substantial overlap' between nominees for and winners of the best sound editing and best sound mixing awards, and reached this conclusion. In 2006, the sound editing Oscar was given 'permanent status with five guaranteed nominees,' like the sound mixing Oscar. Over the 13 Oscar ceremonies that have taken place since, the governors write, 'There have been a substantial number of times when the same film was recognized in both of our award categories.'"
Food-art collective Los Angeles Eats Itself and L.A.'s Department of Cultural Affairs hosted a free, disaster preparedness-theme dinner party called S/H/O/O/K: The Last Survivalist Supper. LAist: "When I arrived at East Hollywood's Barnsdall Park at dusk, along with 60 or so other disaster diners, we received folded mylar ponchos and hand-crafted sterling silver whistles. On the lawn of Frank Lloyd Wright's Hollyhock House stood the evening's centerpiece, a six-foot-tall beige canvas pyramid. It had been installed 30 days prior and was filled with canned goodies from chefs and 'food fermentators' David Anthony David (aka D.A.D.) and Jessica Wang, who had prepared a dinner of freeze-dried dishes and non-perishables. But before we could eat, we had to build our tables."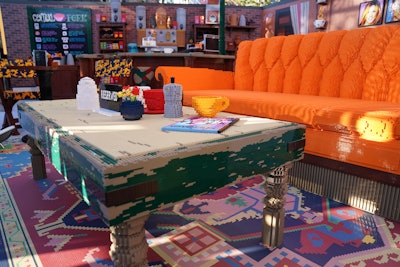 Surprise Metric of the Week
1 million: the number of LEGO bricks used to create a life-size replica of the Central Perk coffee shop from Friends. The structure is part of AT&T's immersive Friends activation in Santa Monica, which opened yesterday and runs through December 23 at the Santa Monica Promenade. Other highlights include "Monica's purple door," where attendees can look through the peephole and view show clips, plus a trivia challenge and a karaoke-style recording booth.
Venue Buzz
Cocktail bar and lounge Pinky's opened in Los Feliz on November 15. The 1,000-square-foot space has tropical, Miami-inspired decor, plus a menu of creative cocktails and a playlist from Alex Rodriguez, the curator of Coachella's on-site record store. Pinky's has 60 seats.
Abernethy's has named chef Jason Fullilove—executive chef at the Magic Castle and owner of Barbara Jean—as its second chef-in-residence. The downtown eatery offers emerging chefs a platform for creativity, with a new chef and menu every quarter; Shirley Chung served as the inaugural chef-in-residence. Fullilove's tenure begins December 11.
Overheard
"We would have twerk contests and everything. Yeah, I would get Meryl Streep up there to twerk with Susan Sarandon. You know, it would be crazy."
—Tiffany Haddish on The Tonight Show Starring Jimmy Fallon, discussing a recent Hollywood Reporter poll where readers voted the comedian as their favorite potential Oscars host. The 92nd Academy Awards take place February 9 at the Dolby Theatre; a host has not yet been announced.
On the Scene
Anything But Gray Events designed a glamorous rainy day-theme tablescape at City Club L.A. A balloon installation from Balloonzilla featured hanging umbrellas and acrylic raindrops.
What's Next
The Market at Westfield is now open at the Westfield Century City. The outdoor holiday village, which is open through January 5, features cobblestone streets, pine trees, and holiday carolers, plus entertainment and pop-ups from brands such as Lord Jones, Dandelion Chocolate, Von Holzhausen, and Ghost Democracy. There's also a 20-foot-tall clock tower, Santa's post office, a life-size train station, and an ice rink.
Sneaker Con, billed as "the world's largest sneaker show," takes place this weekend at the Anaheim Convention Center. The two-day event includes exclusive merchandise from streetwear designer Aleali May, plus panel discussions and a marketplace.
The ninth annual Streamy Awards, produced by Dick Clark Productions, take place on December 13 at the Beverly Hilton. YouTube personality David Dobrik leads with 11 nominations, while Lil Nas X and Lizzo are among the first-time nominees.