Organizations often commemorate the anniversary of their marquee events with special receptions, award programs, or other forms of celebration. As Google prepared to host its 10th developer conference in May, the company took a different approach, completely transforming the event to make it more meaningful—and more fun—for the 7,000 attendees.
"With any event that's been happening for years, and in an industry where most big companies—Apple, Facebook, Twitter—all have their marquee events, there's a cadence and an expected format," said Amanda Matuk, executive producer of Google I/O, which has been the conference's name since 2008. "We've been speaking to our developer community for 10 years, so how does this conversation evolve?"
The answer that Matuk and her team came up with was to move the highly technical event out of a traditional venue (San Francisco's Moscone Center) and into the Shoreline Amphitheatre in Mountain View, bringing attendees within a half-mile of Google's headquarters and helping create a festival-like atmosphere.
"To be in close proximity to the folks who are working on the products we're announcing was a really huge value-add for these developers," Matuk said. "Festivals are a celebration of artistry, and today a developer isn't just someone who's writing lines of code. It's a much more integrated expression, and we thought a festival was a nice reflection of that."
The venue's parking lot became a "festival village," with 10 enclosed stages and several open-air tents. "We wanted to have a variety of different types of structures so it was visually interesting," Matuk said. "Our largest tent was clear span that could hold 1,200 people, but on the outside we built a scaffolding facade that had mirrored and translucent panels to play with the light. And four of our breakout stages were geodesic domes so curvature was added to the landscape."
During the day, these structures housed sessions on topics such as virtual reality, apps, and Web interfaces. In the evening, crews converted them into entertainment spaces such as an arcade with interactive video games and a virtual planetarium that used projection mapping to display constellations on the ceiling. By reusing the spaces from day to night, and using economical decor such as recycled materials, corrugated metal, and fabrics to create a laid-back atmosphere, Matuk's team could host two evening events—an opening-night concert from Charlie XCX and Kygo and an after-hours party the second night—for the cost of one night of entertainment last year.
To add to the festival vibe, organizers brought in food trucks to serve meals, and a vintage Airstream trailer to house first-aid services. They also distributed "survival kits" to attendees, which included sunglasses, a bandana, and sunscreen.
To produce the conference, Google partnered with Superfly—the event producers behind Bonnaroo and other music festivals—as well as Sparks, Jack Morton, Global Gourmet, and others.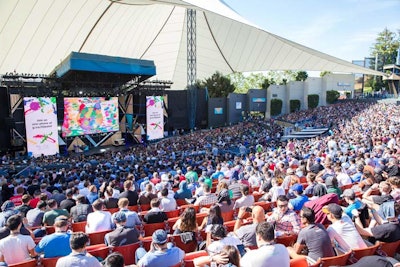 Photo: Courtesy of Google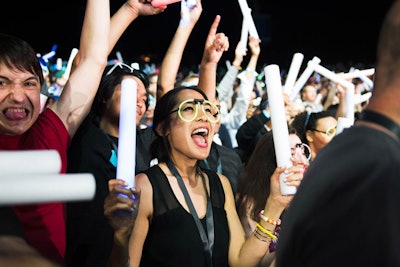 Photo: Courtesy of Google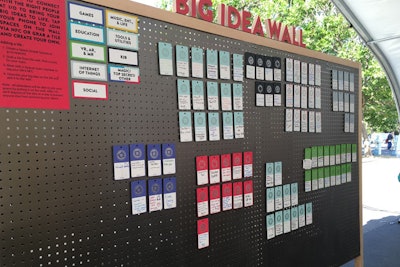 Photo: Courtesy of Google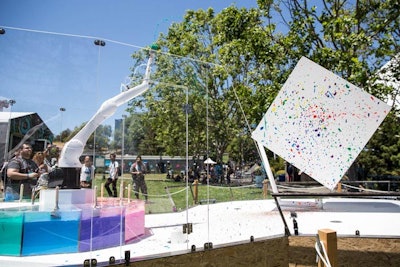 Photo: Courtesy of Google