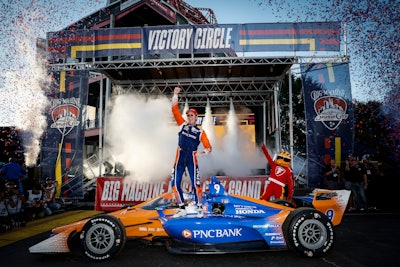 Photo: Michael L. Levitt/Music City Grand Prix
Sign up here to get BizBash Sports delivered straight to your inbox with steal-worthy event inspiration, top takeaways from the hottest sporting events, updates about live and virtual events, and so much more.
NASHVILLE, TENN.—From Aug. 4-6, the Big Machine Music City Grand Prix brought the noise to Nashville with a three-day festival of racing, music, and entertainment. The third iteration of the event converted Nashville's famed city streets, stadium, and surrounding bridges into a hot zone for the top talent in IndyCar racing. Curated live musical performances and fan activations spun a traditionally endemic race into something for everyone.
"There's no other city that can offer what Nashville has to offer," said Jason Rittenberry, president and COO of the Music City Grand Prix. The more than 20-year veteran of the motor sports and live event industry has been at the forefront of the Grand Prix since its earliest stages. "Racing through such a high-profile entertainment district is what makes our race different," he said. "We have the number of hotel rooms, restaurants, and venues all within walking distance without ever having to get in a car or even take an Uber. We're the only race in the world that can offer that right now."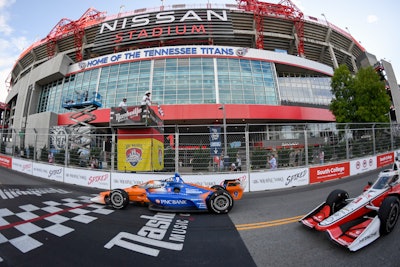 The motor sports community and general public alike have embraced the Music City Grand Prix beyond the established footprint of the event with custom cocktails at local honky-tonks, merchandise, and more. "There's an energy and excitement around it," added Liz Allison, executive vice president of the Big Machine Music City Grand Prix. "We just thought it was the coolest thing. Everyone in the area has really taken pride and ownership in this event."
As the marketing and experiential lines between sport and entertainment continue to blend, event organizers are tasked with integrating art, food, and experiences that attract affinity audiences. The team at Music City Grand Prix aims to reach four types of fans: motor sports fans, festival- or concertgoers, millennial event-seekers who will attend if there's a party of any sort, and corporate clientele who want to host business guests.
The 2.17-mile course zips through the heart of Music City. It is the first professional race to cross a body of water when it passes over the Cumberland River into downtown Nashville. The track circles Nissan Stadium, home of the Tennessee Titans, and winds over the Korean War Veterans Memorial Bridge, with the Nashville skyline as the backdrop.
Permitting and planning for the three-day event is a year-round project. Track designer Tony Cotman and the Music City Grand Prix team start with the course layout, then expand to the paddocks, fan zones, grandstands, suites, clubs, and stages.
"There's not a lot going on in other cities where racing takes place, so they can really take their time to build the course, the structures, the stands… all those things," Rittenberry said. "We're in the middle of a Nissan Stadium footprint, navigating George Strait, Ed Sheeran, and Beyoncé concerts—so we don't have the luxury of having all this time to build structures."
The overall course build takes about three and a half weeks and requires 8 p.m. to 5 a.m. road closures, but the team has only one week to work around Nissan Stadium.
The braap! of the motors and cheers from the electric crowds were complemented by live musical performances, interactive activities, and mouthwatering food. This year's lineup featured over 20 artists performing across multiple stages. The festivities began with a Friday concert honoring those in the military with performances by Brian Kelley, Chris Janson, Vince Neil, and Gavin DeGraw. Saturday featured a headlining show by Flo Rida, and on Sunday, Jay DeMarcus, Jason Crabb, Consumed by Fire, Cade Thompson, and Iveth Luna performed for a spirited audience. Countless other artists took their talents to the iHeartRadio Stage.
"We do fan surveys. Sales also tell us a lot about what the fans are looking for," Rittenberry said. "The first two years we were 95% country, but our Saturday night country shows were not as well attended as we had hoped. After consulting our fans, we learned that locals are just kind of immune to country music living here. So, we went out of the box this year with Flo Rida, and it was a home run for us. It was one of the highest-attended concerts for the event. It was worth the risk."
In addition to live music, brand partners upped the ante with innovative fan activations. Title sponsor Big Machine is best known for its music label as well as its rapidly growing spirits company, Big Machine Distillery. "They bring it all to the table for us with their level of involvement in the music and beverage space," Allison said.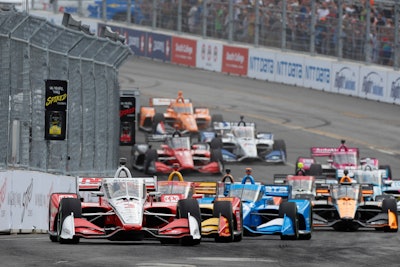 NASA was a new addition to this year's fan experience, bringing in a full rocket engine on a semitrailer for attendees to interact with, while Red Bull teased wide-eyed motor sports fans in anticipation of its F1 Showrun, which is set to shut down Broadway later this year.
Nashville is known for its Southern cuisine, and there was no shortage of flavor at the Grand Prix. Food trucks treated GA fans to local favorites, while the VIP section enjoyed upleveled options by renowned caterer Kristen Winston. "Bringing in caterers is something we've been able to do that really adds that extra layer of care to our clubs," said Allison. "It's the quality, the taste, and the service."
When it comes to what the event team is most proud of, Allison added: "I love the energy of it, and I love the people that are part of it. But I also love the people that are just coming into it. Because I know that if someone comes to our race for the first time, they're going to come back. We had that type of event."
Rittenberry said this year was the smoothest event that's taken place of the three. "I just kept waiting for something to happen," he said. "My director of operations was the same. We just kept waiting for that call or that radio or that text and, literally, we had zero issues on Sunday, on race day. It was the smoothest event operationally, from our team, from our partnerships with the city, our partnerships with Nissan Stadium. By the third year, we've got it all down."
While the final attendee count and economic impact figures roll in over the next month, the team has no plans to take their foot off the gas in preparation for an even bigger race weekend in 2024. The new and improved route will take cars directly past the Country Music Hall of Fame and down Honky Tonk Highway at the epicenter of the action.