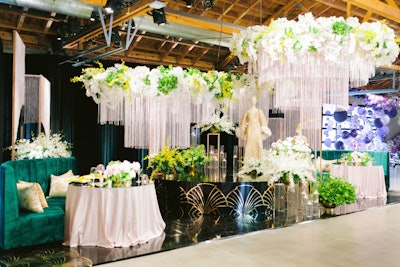 LOS ANGELES—As the lines continue to blur between event design for weddings and corporate gatherings, more and more inspiration can be found in the stylish world of wedding vendors. Case in point: the Southern California chapter of the Wedding International Professional Association's (WIPA) annual Design Challenge, which was full of smart, eye-catching design ideas for all types of events.
"The challenge is really about celebrating our industry in terms of the community, the collaboration and the creativity," explained chapter president Cindy Celis, who is also the director of business development for Good Gracious Events, about the May 8 event. "It really is about bringing multiple designers, design teams, and creative partners to create a setting based on a theme or an idea or a purpose."
This year, that theme was "Decades of Glam," with teams creating eye-catching tablescapes and immersive spaces around the 1940s, 1970s, 1990s, and more. The theme was chosen because of the history of host venue City Market Social House in downtown L.A.
"The venue used to be the original produce market in Los Angeles in the early 1900s," said the venue's director of sales Kari Mendez, who also serves as the chapter's director of communications. "About five years ago, a developer came in and really started to revitalize the space. So in terms of choosing a theme that would really go in line with the venue and capture its essence, we came up with Decades of Glam to showcase the designers' interpretation of the different decades within a space that's been around for 10 decades now."
For each decade, the designers were asked to work with title sponsors Premiere Party Rents on rentals and VOX Productions on audiovisual components and lighting. DJ Nachey provided entertainment throughout the evening, and catering came from TGIS Catering and Fundamental L.A.
Beyond that, though, designers were encouraged to work with vendors of their choice. "I really wanted to give them a lot of liberty and a lot of freedom with their vendors, because every decade is so different," explained Mendez.
After choosing their decade, the teams were given free rein to interpret it how they wished. "From Modern LA Weddings choosing the chandeliers and the clothing and the models, to Sterling Engagements choosing to pay homage to a transition in our country for women's rights, to Anything But Gray Events bringing to life the color and graffiti and truly paying homage to Los Angeles—every single design team really brought their vision to life," said Celis.
While in the past the Design Challenge had been a more formal sit-down dinner within the spaces, organizers opted for food stations this year—in part because of the venue's large, open floor plan. The change allowed guests to explore the environments more thoroughly. "I just really wanted guests to be able to walk through the designs and see them from a 360-degree perspective," explained Mendez.
Also new this year, all attendees were permitted to vote for their favorite design. Anything But Gray's 1990s-inspired space took home the Panelists' Choice award, while attendees overall chose Sterling Engagements' 1940s-inspired space. Scroll down for a look inside those designs, plus other spaces inspired by the 1920s, 1950s, 1970s, and 1980s.