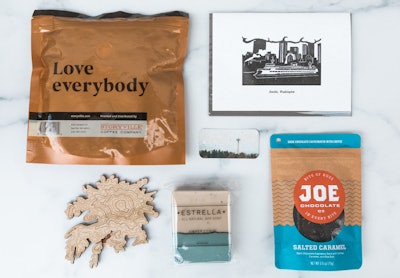 Photo: Joe Eitzen
SEATTLE—At the start of 2020, the Snap Bar was riding high. Last year, the eight-year-old, Seattle-based photo booth supplier was named to the Inc. 5,000 list as one of the fastest-growing private companies in America. C.E.O. and co-founder Sam Eitzen says his team was fielding 40 to 50 quote requests per day for photo booths, selfie kiosks, and custom photo and video experiences for live events throughout the country.
And then came the COVID-19 outbreak, and the Snap Bar began facing the same challenges that event-related businesses around the world are facing. "We were a company firmly planted in in-person events—and within the span of a couple of weeks, it went from, 'This is pretty serious. Hopefully it doesn't hit the States too hard,' to about three months worth of cancellations pouring in," says Eitzen, who immediately began brainstorming ways to keep his company—and its team of 18 full-time employees—afloat.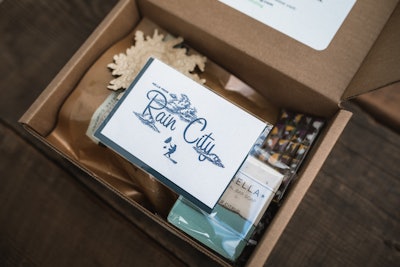 Together with his brother and business partner Joe, Eitzen thought about the skills the existing team brought to the table. "Our process was really to reverse engineer what we were good at in the world of events, and then try to find other business verticals where our skillset would lend itself to rapid iteration," he explains. "Because we simply don't have the luxury of time on our side."
On March 16, Eitzen approached his staff with an idea—and just four days later, Keep Your City Smiling was born. The new initiative creates gift boxes filled with high-quality products sourced from Seattle businesses that may be struggling due to state-imposed shutdowns. The boxes include goods such as chocolate, art cards, craft coffee, candles, mugs, lotions, and more; pricing starts at $55, and customization and bulk orders are possible.
"We thought we could really meet the needs of a lot of companies who are going through the same thing as us," Eitzen says, noting that he's trying to work with local companies who need the most help. "We look at how the business is struggling, how they're coping, and we talk to the founders to see how they're doing. Right now, it's so bad for any kind of small company that doesn't have a good, robust e-commerce presence."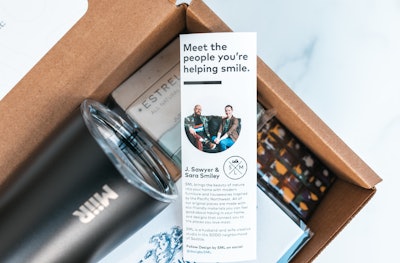 The team sold about 500 Seattle-based boxes in the first week, and plans to expand to San Francisco, Los Angeles, and Portland in the coming weeks. Eitzen says he's also trying to get a wide mix of vendors who can handle orders of different sizes, since some are working with limited inventory due to ever-evolving shelter-in-place laws.
While gift boxes are a very different approach for a photo-focused company, Eitzen was confident his team could rise to the challenge. "We knew that we are really good at logistics and shipping, because we ship photo kiosks and all that stuff all over the country," he explains. "We have a great customer service and client relations department, with contacts at some of the biggest companies in the world. We have a good creative team that can spin up all kinds of design and graphics and websites. We have a developer or two on board."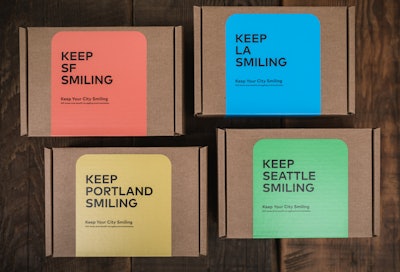 At the moment, the success of Keep Your City Smiling has been enough to keep all full-time staffers employed. As the COVID-19 situation continues, Eitzen plans to continue developing additional business plans, such as browser-based virtual photo booths, in an effort to keep his staff in place. He's currently working toward offering non-city-specific gift boxes geared toward kids, and another for exhausted medical staff that's stocked with coffee, eye cream, and other self-care items.
"Right now there's this huge focus on doing what we can to show care and love for those first responders," Eitzen notes. "There's also a ton of struggling businesses. Maybe we can help both."