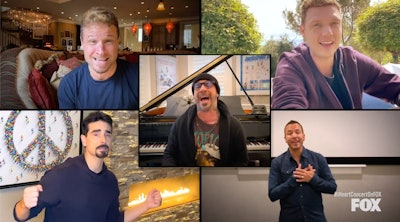 Photo: Courtesy of iHeartMedia
Last month, the iHeartRadio Music Awards were officially postponed due to coronavirus concerns. The annual award show was originally scheduled to take place on March 29 at the Shrine Auditorium in Los Angeles and broadcast live on Fox; a new date has yet to be announced.
"We had an incredible awards program planned; however, once precautionary measures were being put in place to help fight the spread of COVID-19, we needed to protect the safety of talent, crew, and attendees, and postponed the show," explained Marissa Morris, senior vice president of artist relations for iHeartMedia.
But as they say, the show must go on—or at least some sort of show.
"About a week later, as national concern grew and the severity of the pandemic increased, we made a call to Fox to see if we could step in to plan a special program from artists' living rooms and help raise money to those charities that could use it," Morris said. "It was a leap of faith by all parties involved, but one we locked arms on and succeeded."
So rather than watching their favorite artists on the stage at the Shrine on March 29, fans got to peek inside their homes during the special, "Fox Presents the iHeart Living Room Concert for America." Broadcast live on Fox, on iHeartMedia radio stations, and via the iHeartRadio app, the hour-long virtual concert, hosted by Elton John, featured performances from Alicia Keys, the Backstreet Boys, Billie Eilish, Camila Cabello and Shawn Mendes, Dave Grohl, Mariah Carey, and more.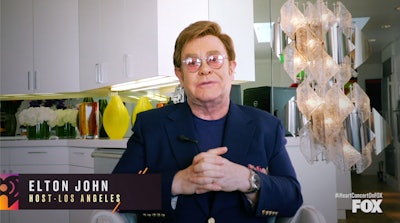 The event also included special appearances from Demi Lovato, Ellen DeGeneres, Lady Gaga, Lizzo, and other celebs. Throughout the broadcast, viewers were encouraged to support frontline health professionals and first responders by donating to Feeding America and First Responders Children's Foundation.
But in order to pull this off without the usual production equipment and a central venue, iHeart needed to get savvy.
"Our production team, led by Joel Gallen, spent some time experimenting with iPhones and assembling a document detailing best practices," Morris explained. "Drawing inspiration from the fact that Lady Gaga had shot her music video for 'Stupid Love' entirely on an iPhone, we knew it could be done, and that we'd be able to pull a high-quality shot if executed properly. Most artists embraced their directorial debuts and were able to set up two phones capturing both a wide shot and close-up. When placed in landscape mode and shot in 4K—voila!—you've got a great looking performance."
The broadcast drew 8.7 million viewers as well as over 18 billion social impressions, and has raised $10 million for Feeding America and the First Responders Children's Foundation so far.
"It's an uncertain and challenging time for the world right now. However, it's at times like these when the best of humanity shines through," Morris said. "With our ability to reach hundreds of millions of listeners across stations each month, matched with Fox's network, we recognized the opportunity to pay tribute to those fighting selflessly on the frontlines of this battle. ... We also wanted to give people a break at home from the stress and anxiety we've all been feeling over the last few weeks."
Going virtual, whether via a national television network or Zoom or social media, has become the new reality for many brands trying to host events at a time when large gatherings are off-limits.
For the premiere of the Amazon Original series Making the Cut, a fashion competition series hosted and executive produced by Heidi Klum and Tim Gunn, Amazon Studios created its #StrutForTheCut challenge where fans showcased their best "home couture" and recorded themselves strutting down their hallway runways. Klum and Gunn and the show's judges then reposted their favorite looks and walks from March 27 to 29.
Judge Naomi Campbell also hosted a watch party on Instagram during the series premiere on March 27, and Questlove hosted a virtual after-party on his Instagram Live and on the Roots' YouTube channel the same night. The show also donated $600,000 to the World Health Organization and to local charities in New York, Paris, and Tokyo, where the series was filmed.
For the release of Blow the Man Down on March 27, Amazon Studios took a different approach and enlisted Los Angeles-based caterer and event designer Annie Campbell to create a cocktail party—minus the crowd. More than 200 folks around the city, including the movie's director and starring actors, plus media, received gift baskets with dinners featuring lobster rolls, coleslaw, chips and home-made onion dip, heirloom carrots, and little gem salads, along with wine and desserts from local vendors, and even table linens from Heather Taylor Home. The Maine-theme meal was inspired by the film's setting.
Campbell, who had worked with Amazon in the past (but not Amazon Studios), said that she had started the meal delivery service about three weeks ago in response to the pandemic's impact on her business, which typically does 300 events a year. She added that the at-home premiere parties were a way for her to support local vendors, farmers, and purveyors.
Amazon Prime also recently announced that it's teaming up with SXSW organizers to offer films that were set to premiere at the event exclusively on its platform during a free 10-day virtual fest, which will likely take place in late April.
But SXSW's cancellation impacted more than just film premieres. Music magazine The Fader also had to reconfigure plans for its annual multi-day concert experience called Fader Fort. What had become an integral part of the Austin festival went digital for the first time on March 31 and April 1, both as a way to continue to showcase emerging talent and to support the industry groups affected by the tentpole event's cancellation.
"Digital Fort was created to help raise awareness and funds for all those hurt by the cancellation of SXSW in Austin and the massive impact the abrupt stop of the global touring and festival business has had on so many people in our industry," said Jon Cohen, co-founder and co-C.E.O. of The Fader. "Our intention was to give our readers an opportunity to experience great music in their homes and encourage them to donate to a variety of local, national, and global causes to help raise funds for those in need."
What started as a one-day, nine-hour broadcast expanded into two days as more and more artists showed interest. The lineup included both artists who were slated to play in Austin, as well as Fader Fort alumni.
The concert, which was broadcast on The Fader website and sponsored by Truly Hard Seltzer, Bacardi, and &Pizza, was only available for viewing for 24 hours after the initial broadcast. Cohen said the magazine's site saw a 400 percent increase in traffic on each of the two days and that time on the site increased 88 percent, plus the event raised funds for numerous charities including I Lost My Gig and Sweet Relief Musicians Fund.
Cohen added that the media company is in talks about another online version of Fader Fort to possibly be held later this month. "Our goal is to continue to raise funds and awareness for those in need and, most importantly, use music as a way to lift people's spirits and bring them together in a time they can't physically be together."
Further Reading: See BizBash's coverage of how COVID-19 is affecting the event industry at bizbash.com/coronavirus.