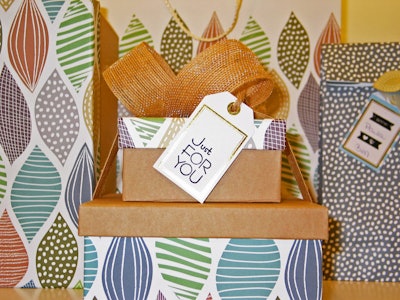 Photo: Courtesy of Pixabay/Pexels.com
Though event professionals continue to power through one of the hardest years for the industry, a small but heartwarming silver lining has been seeing competitors break down walls between their businesses to lift up and support one another. For those looking to cheer up a fellow event pro and spread some much-needed positivity throughout the industry, these care packages from planners and vendors across the U.S. (and Australia!) can do just the trick.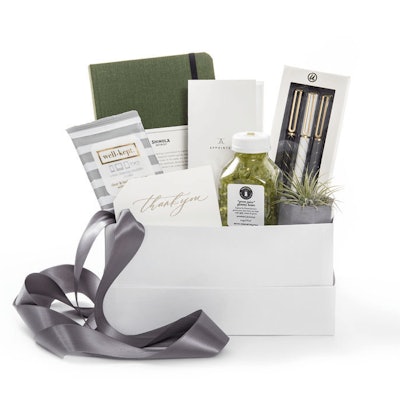 For starters, Washington, D.C.-based luxury gifting company Marigold & Grey offers a slew of ready-to-ship care packages (think Werk from Home, $129, and Self-Care Sunday, $134, gift boxes) to send to industry peers and clients. Melva LaJoy Jones, owner of DC's LaJoy Plans, looked to the local business to thank a colleague, saying, "Recently, I ordered the Immunity Boost care package [$109], including a personalized notecard, to recognize a team member's commitment for the past couple of months. The quality of products and thoughtfulness of packaging brought her to tears!"
Through her Minnesota-based event company Hana April Inc., Hana April Chughtai recently debuted a series of Quarantine Kits (prices upon request) to spread some encouragement—and a laugh, thanks to cheeky package themes such as "I Miss Your Face" and "Bored in the House," among others. "We designed these when we felt a need for people to stay connected to their audience and stay relevant during COVID-19," says Chughtai. She adds that the at-home experiences are meant "to show some love to your team, remind your clients you (actually) miss them, or connect your brand with your people."
In the wake of COVID-19, New York's Baskin Events owner Robyn Baskin put her pivoting skills to the test. "Back in March, I had an event cancel last minute for an Adult Swim show premiere that would have brought together cast and crew to celebrate. When we realized the event wasn't going to happen, I suggested taking some of the swag we already had made and sending would-be attendees a care package. People really loved it, and since then, I've been gifting instead of planning!" explains Baskin. In addition to offering customized care packages (prices vary) to send as a pick-me-up to fellow event pros, she also specializes in crafting gift boxes for product launches, film premieres (she recently partnered with HBOMax to send out gift boxes for its Love Life series premiere), social media marketing, and more. A bonus? Baskin looks to support small, local businesses first with each package sent.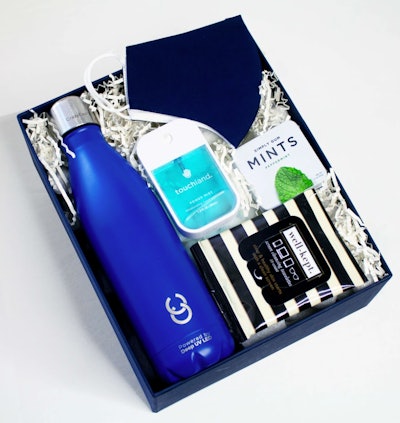 Just yesterday, GiftSuite launched its tech-forward collection of Life 2020 gift boxes ($41 to $120), designed to help people adjust to the "new normal" that the year has brought. The nine themed care packages—with two limited-edition options—from the Los Angeles-based company offer a little something for everyone, including the working parent, the traveler adhering to social-distancing policies, the Zoom conference call expert, the coffee connoisseur—the list goes on. Also new-to-market from California is the Shelter in Place box ($46) curated by Lesly Simmons of event planning and production firm Simmons Creative—also known for her event emergency kit, dubbed the Backstage Box. The health-conscious care package features a 100-percent cotton two-layer mask with a filter pocket, hand sanitizer, immunity boosters, and more.
Consisting of a series of virtual workshops, activities, and speaker sessions centered around physical and mental well-being, Australia-based Peanut Productions' Our TV virtual care package (prices vary) offers the ability to mix and match to craft the perfect virtual gift for a colleague or client. "As we all do our best to manage our new ways of working and living, what has become fundamentally clear is the importance of nurturing our mental health and ensuring we and our teams are supported during this difficult time," says creative director Michael Mastrodimos. "We launched Our TV [to] allow our teams to stay connected and engaged, but most importantly, feel supported."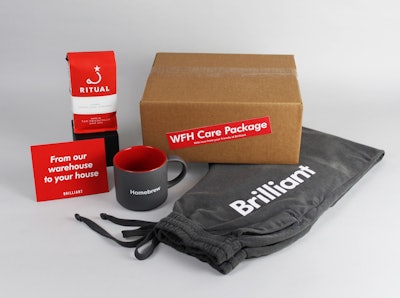 In addition, Brilliant has put together their own version of a branded work-from-home care package to send out to clients and industry friends. "When the shelter-in-place orders abruptly forced people to work from home, we decided to reach out to our clients with a gift that would help make that transition a little more comfortable," says COO Lindsay Cohen. "We chose the comfiest pair of joggers—which we branded—a simple yet distinctive mug with our logo, and a selection of locally sourced beverage options. We used our Preferred Gift tool to collect preferences (size of joggers and choice between coffee, tea, and hot chocolate) and home address, and we sent the packages out. We were blown away by the response and we were thrilled to bring a little joy to our clients during this challenging time."
And if you're an event pro who prefers customized gifting options to full-blown care packages? Look to leather goods gifting company ROYCE New York, where personalized monograms can be added to literally anything—from luggage tags and keychains to wallets and more—to add an extra touch of sincerity. Owner William Bauer says, "With so many of us working remotely from such a distance, it's important to convey a personal touch and remind each other how connected we still are." Tip: BizBashers can use code FAMILY for a 50-percent discount—you're welcome.