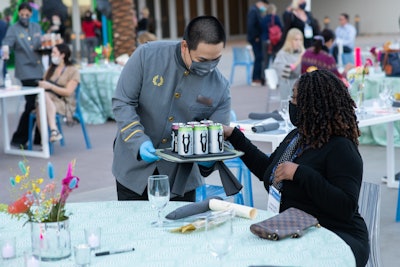 Photo: Courtesy of Caesars Entertainment/Imprint Group
LAS VEGAS—While the opening of the 100,000-square-foot Forum Plaza may seem to have been ill-timed, it was actually quite opportune, happening at a time when we could all use some hope that live events will make their comeback. From Oct. 26-28, Caesars Entertainment teamed up with Imprint Group and Encore Productions to produce a combined venue opening and annual partner meeting (APM) event for ConferenceDirect, a global meeting planning solutions company. The challenge? The neon garden-themed hybrid event hosted more than 130 associates in person and 900 virtually.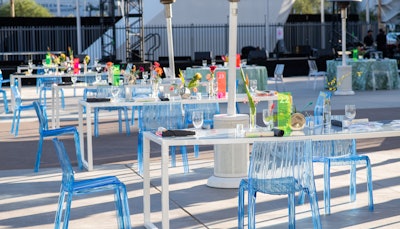 For in-person guests, careful attention was paid to health and safety, with Caesars Entertainment implementing on-site temperature checks, one-way foot-traffic signs, and mask mandates for all attendees and staff members. Taking it a step further, Don Ross, vice president of meeting operations at Caesars Entertainment, suggested all-plated food options. "This gives us the ability to control the food and get it to the customer safely rather than doing buffets and having queues," he said. "Then, instead of removing plate covers prior to service, we are serving the meal with a plate cover on it, and then removing it in front of the guest."
Meanwhile, Imprint Group's team thoughtfully created a tiered approach to guest interaction and involvement to accommodate the varying comfort levels of guests, ultimately aiming for a safe in-person experience without having to completely nix the social aspects live events attendees were craving. "There were prepackaged activities placed at individual settings, as well as a photo booth and leather-stamping stations guests could approach—where extra staff was on-hand to facilitate safe participation—and mainstage acts to 'wow' attendees without requiring interaction at all," explained Lauren Harwell, director of Imprint Group, a destination management company.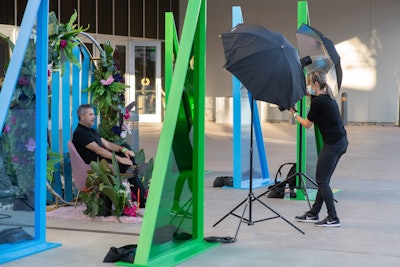 For all-things virtual—including sound systems, lighting, and audiovisual for digital settings and breakout rooms—Caesars Entertainment tapped global event production company Encore Productions. The hybrid event was streamed using Chime Live and Zoom, and utilized the Meeting Owl to keep virtual guests engaged. (The Meeting Owl sat in the middle of breakout rooms, allowing participants to see who was speaking rather than letting speakers get lost in the gallery of virtual attendees while easily watching conversations happen in real-time.)
There was no shortage of entertainment either, with acts from Caesar Entertainment's resident show, Extravaganza, which included rollerblading and motorcycling acts, salsa dances, and more—plus a live rock 'n' roll lineup performed by Planet Hollywood's Tenors of Rock, which was all livestreamed for virtual guests attending from their homes. "All of the live acts translated well to the virtual space because they are things that aren't so one- or two-dimensional. These are acts that people remember because they are fun whether you were there live or watching virtually," noted Damian Costa, vice president of entertainment at Caesars Entertainment.
VENDORS:
Audiovisual Production: Encore Productions
Catering: Caesars Entertainment
Event Production: Imprint Group
Venue: Caesars Forum