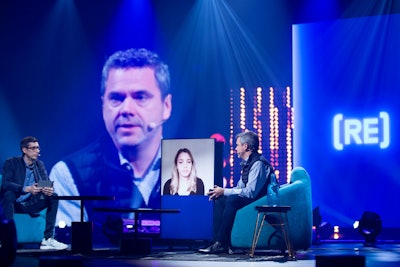 Photo: Courtesy of C2
It's becoming increasingly clear that hybrid events just may be the way of the future. And if you're bringing in both a live and virtual audience, it only makes sense to host both in-person and remote speakers for your content panels. Including virtual presenters opens up your content program to wider, more inclusive representation, ensuring your audience isn't limited to the viewpoints of those who had the time and resources to travel for the event.
Of course, hosting an event or panel discussion with both in-person and virtual speakers isn't without its challenges. Follow these steps to ensure a smooth experience for everyone involved.
1. Host a kick-off call with all the speakers.
If both types of speakers are on the same panel, try to schedule a time for all panelists to meet each other, regardless of how they'll be joining on the event day. "This kick-off call can build a relationship and empathy between the two about the different experiences they will both have when live and virtual," explains Justin Szykowny, studio technician at Chicago-based virtual and live event broadcasting company Studio Sage, who notes that focusing on communication is key. "This entails walking through how each person will see and hear their co-presenter, whether it is on downstage monitors, in-ear monitors and on-screen documents for Q&A. Additionally, calling out documents such as a shared teleprompter script will unify them for the viewer at home."
Andrew Roby, the owner of Andrew Roby Events in Washington, D.C., takes a similar approach. "[A joint] rehearsal allows all speakers to understand the format of the event, create a synergy and hash out any issues with programming," he notes.
2. Then, do separate tech checks as needed.
Since the virtual and in-person speakers will each have very different technical needs, you'll likely need two tech checks after that initial kick-off call. "The virtual speakers will go through a round of tech checks that deal with Wi-Fi, lighting, giving tips on where to look and even how to engage with the virtual audience," says Roby. "The day of the event, the in-person speakers will have their tech check on stage so they can see where they will stand, audio levels, confirm slides are correct on screens and anything else."
3. Consider preplanned event checklists for both types of speakers.
"You need to schedule enough time with the speakers to review their material to make sure the technology works for both settings," explains Sohini Mitra, vice president of experiential services at Impact XM, a full-service event and experiential marketing agency with offices in the U.S., Canada and Switzerland.
Mitra notes that live speakers may need to work on their timing with transition slides, while virtual speakers may need to work on setting up their laptops to stream properly—and both sets of speakers will need to work on lighting, audio, wardrobe, makeup and hair. "Having checklists available to send to the speakers ahead of time greatly reduces anxiety and helps the speakers prepare," she suggests.
4. Think through how to incorporate the remote speakers into the in-person design.
It's important to think intentionally about how your virtual and in-person speakers will appear to the audience. "We have focused on creating more creative ways to have the speaker join the event from a remote location," notes Matthew Byrne, the owner of Toronto-based event production firm Byrne Production Services. "Moving away from simply routing a video call to the main screen, we add smaller TVs and dedicated video surfaces in our designs to give the remote speaker a purposeful place within the stage design."
David Priest, Studio Sage's general manager, draws inspiration from the stage design of sports and news networks that bring in virtual panelists. But, he notes, when everyone appears together it can often be glaring how different each presenter's environment is.
"Therefore, it is important to try to build as many similarities in how each presenter looks and sounds," Priest suggests. "This can be aligning the framing and lighting of the presenters, adjusting the audio levels to match in volume and quality, and then wrapping this with branded graphics or virtual sets that [put] the virtual and live presenters together in the same space on screen."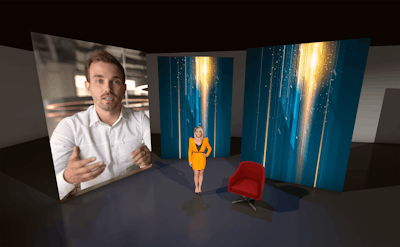 5. Prep both groups on how a hybrid environment is different than they may be used to.
While speakers have become accustomed to in-person events and virtual events, remind them that there might be new things to consider for hybrid. For example, your in-person speakers may be accustomed to engaging with the live audience, but may forget to look at the camera to make the virtual audience feel included, too.
"We first need to acknowledge that the energy is different when a speaker is in front of an audience rather than on a screen, so preparing and managing speakers should reflect this fact," explains Lisabeth Kane, logistics manager at All American Entertainment, a full-service talent booking agency in Durham, N.C. "When a presenter is speaking in-person, camera positioning on stage becomes very important at hybrid events, so that virtual attendees can also enjoy the session. Some speakers we work with like to walk the stage when in-person, so be prepared to capture this by making them aware of where cameras are and what areas of the stage are covered."
And make sure both virtual and live speakers are prepped on best practices for wardrobe, posture and eye contact, adds Mitra. "Sometimes live speakers forget they will be streamed online and wear clothes that either distract the audience or disappear into the stage. At the same time, some virtual speakers forget to look at the actual camera and don't make eye contact or completely frame themselves wrong, which can be very distracting to the viewing audience," she says.
6. Show your panelists the script.
When you're dealing with the two separate groups and the transitions, providing your moderator and panelists with a script might be more important than you're used to. "Creating a script for the event helps streamline the show flow for the presenters and creates transition points where they can communicate clearly and without awkward interruption," notes Priest. "Having the script finalized and practiced during rehearsals also helps develop those transition points naturally between the presenters."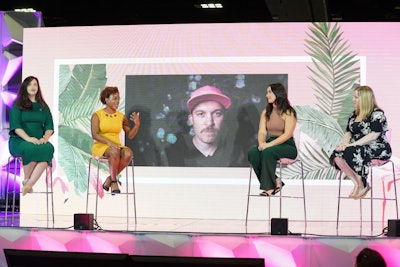 7. Consider a final transition check shortly before you go live.
On event day, "What I have been recommending is to do one final transition tech check with those who are virtual," says Roby. "You'll want to make sure there are no issues bringing the virtual speaker onto the screen at the in-person event." That will also help presenters prepare for any lag time with video or audio, he notes. "You want to be sure everyone is ready for that—especially your moderator, if that person transitions from asking an in-person speaker a question to a virtual speaker."
8. Be prepared for possible tech issues.
"Regardless of whether a speaker is in-person or virtual, always plan ahead for the worst-case scenario," suggests Kane. "For example, if your virtual speaker's Wi-Fi cuts out, have a photo you can display on the screen instead and have the speaker phone in. Sharing a documented backup plan with all speakers will help planners, panelists and moderators keep the event running as smoothly as possible."
9. Strong moderation is key.
Once the hybrid panel begins, "My biggest tip is that having a skilled moderator who will be able to balance the conversation helps in incorporating and transitioning between the two types of speakers," says Mitra. "This person is tasked with keeping the flow on point, as well as making sure the virtual speakers aren't left in the dark."
Kane agrees with the importance of an experienced emcee. "It is a way to give everyone the opportunity to speak and overcomes the awkward moment virtual speakers face when trying to choose a moment to enter the conversation," she points out.
10. Don't prioritize one speaker over the other.
"It is always important to treat both remote and live presenters as part of the same event," notes Byrne. "The important thing is to ensure that the remote and live speakers are integrated into a seamless experience and that neither of them, nor the audience that is participating, feel that you were planning on one thing and pasted the other on top."
Roby notes that the moderator should play a significant role here. "It's very easy to focus on the people right next to you and forget there is a person on the screen behind you that is also a speaker," he says, suggesting that moderators kick the discussion off with the virtual speaker front and center and make sure to intentionally ask them if they have input.
"This is a clear indication that yes, we are hybrid and have a great speaker who just happens to be online," Roby says. "Never leave the virtual speaker for last. You don't want it to feel unintentional or like an afterthought."