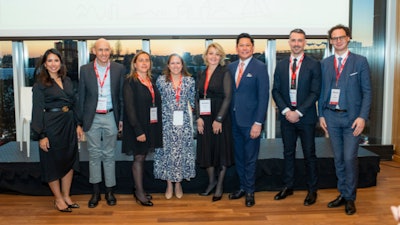 Robert Essel Photography Inc.
On Thursday, April 28, 2022 more than 50 travel professionals gathered for a VIP-only industry soiree hosted by Visit Monaco at The Standard, High Line in New York City.
The event started with check-in powered by VenuIQ, leading to a pre-panel glass of champagne and light networking in the High Line Room, which set the mood for guests to learn about the trends that are currently shaping the present and future of the luxury segment. "The Revenge Travel Among the Luxury Segment" panel was moderated by Amalia Meliti (Development Counsellors International – Travel Trade Marketing Managing Director), and featured Albert Herrera (Internova Group – EVP, Partner Relations), Matt Stevens (Travala/Concierge.io – CFO), Darren Scott (United Airlines – Director Atlantic/Hawaii Network Planning), and Laura Dannen Redman (AFAR – Digital Content Director). These thought leaders of the tourism industry shared their points of views and key insights about new air routes developments, the future of luxury tourism, how to tap into the luxury market, and the mysticism behind cryptocurrency and NFTs in the tourism space. Q&A was handled both via crowd microphones and through VenuIQ's Visit Monaco mobile app.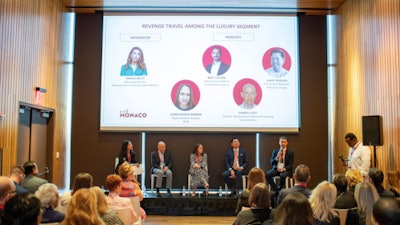 The event continued with a rooftop reception at the Top of the Standard, a glamorous evening of cocktails and conversation with Visit Monaco's delegation, composed by Guy Antognelli (Director of Tourism), Sandrine Camia (Deputy Director) and Laurence Aquilina (Head of Leisure Tourism), who were joined by the General Managers and Sales Directors of the leading hotels of the Principality. During the event, trade professionals learned how Monaco is positioning their destination as a premier experience destination and enjoyed culinary tastings and a live jazz band (Acute Inflections) performance.
To end the evening, there was an exclusive prize giveaway thanks to our generous partners from United Airlines, MonacAir, Hotel De Paris, Métropole Monte-Carlo, Fairmont Monte-Carlo, Le Meridien Beach Plaza, and Columbus Monte-Carlo.
After the in-person portion was over, the event continued on VenuIQ's Visit Monaco mobile app, where the email and push notification features let attendees know they could access the post-event writeup, photo, and video content and could continue networking with each other and the partners.
Development Counsellors International is now spearheading all North American trade, MICE, and public relations initiatives on behalf of Visit Monaco. The agency was responsible for the planning and execution of this event.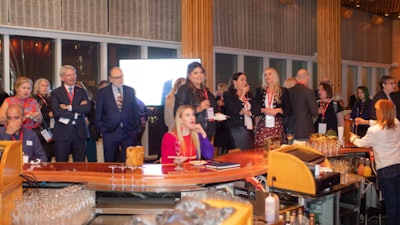 Key takeaways from this event:
Select a venue best suited for the goals of the client. The Standard, High Line in NYC was selected because it was best suited for a VIP gathering beginning on the third floor and culminating on the rooftop. The rooftop was the perfect location given its curved design, so attendees could easily access what they needed without a logjam, with plenty of space for activations and lounge areas.


Consider a strategy to bring your attendees together utilizing the best of in-person event design and event technology. DCI leveraged VenuIQ's check-in, white label mobile app, and in-person event support to create a central hub for the agenda, brand exposure, networking, and to increase the ROI for their partners.


Remember to have a Plan B for anything AV-related. Make a checklist of all the item you need and have a contingency plan always. Example, have USB drives with your content ready during load-in for the AV team to upload, and triple check any mics to be used.


Event technology providers need to be true partners. Instead of purchasing a login for a platform or app and moving on, consider an event technology provider like VenuIQ with years of events expertise to help in all areas as a full-fledged events partner.


It's 2022. Extend the lifecycle of the event. Make sure to have top tier photography and videography for your post-event follow-ups, set up an area at the event for post-event content and/or podcast recordings, and leverage your mobile app provider to extend the lifecycle of your event for weeks or months after the event ends.
About the Authors:
John D'Adamo is the Head of Sales, USA at VenuIQ. Your events, just as you want them.
Vanessa Gonzalez-Hernandez is the Travel Trade Marketing Manager at Development Counsellors International, the agency of record for Visit Monaco.
(Want to learn more? Please check out the full discussion of this event at the BizBash Virtual Summit, happening May 22-24th.)