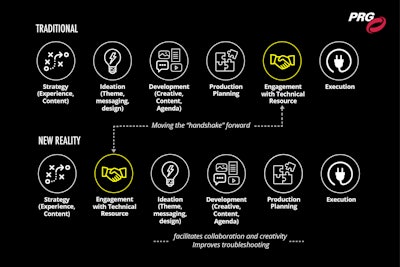 Graphic: Courtesy of PRG
Going into 2023, event and experiential producers are facing resource scarcity, along with other challenges that directly impact their ability to execute events and engage audiences. Producers increasingly need to factor in risks ranging from labor shortages, supply chain disruptions, and increased competition for event resources, to volatility in transportation and logistics, and ongoing inflation prices. The bottom line: People, technology, and services are stretched thin.
When beginning the event process, producers should consider bringing on a technical production partner, such as PRG (Production Resource Group), to minimize these risks and improve the overall workflow. Traditionally, production professionals and technical experts enter once a project is well underway; however, this doesn't allow for event producers to maximize their partners' expertise and truly bring your event vision to fruition.
PRG recommends bringing on production partners during the planning process to encourage more collaboration between the teams and enhance creativity. Partnering with production groups like PRG is a great way to ideate and streamline your event, develop solutions to properly execute your vision, and improve troubleshooting early. Your partner is then also able to anticipate any challenges ahead of the event and work with your team to resolve them.
Engaging with a production partner early in the process allows them to reserve the necessary equipment and personnel for the event, thus avoiding additional costs and possible scope reduction due to limited availability. Additionally, they will have more time to understand your event goals and how your team operates. This will open your event to a larger pool of on-site crew and skilled labor available who will mesh better with your company's culture, ultimately making your production partner an extension of your internal team.
After onboarding an event partner and entering the planning phase, there are several key items to consider that will continually benefit you and your production partner's workflow, including creating an event checklist and thinking of factors that could potentially impact your budget. The checklist should include a variety of logistical questions to gather necessary background information on the venue.
Here are the key items PRG recommends event producers keep top of mind when planning events and first visiting their event location:
Available venue power and location of power drop
Elevator size and capacity
Permitting needs
Ceiling grid layout and weight limitations
Availability and location of on-site storage
Building codes, including fire and egress requirements
Freight costs
Travel costs for crew as labor shortages nationwide mean crew members may need to travel, especially to primary markets
Unplanned overtime from certain tasks taking additional time
Gear that may be in high demand and relatively low supply. Be open to substitutions as it may save a significant amount of money.
Overall, your production partner should be an extension of your team and help you to execute your event's vision and goals. By committing to your partner as early as possible in the process, you can help minimize these risks and facilitate synergy between the teams, benefiting the event's overall workflow.