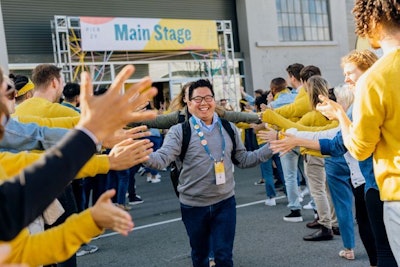 Photo: Scott Roeder
This is a sponsored story from Shiloh Events.
Ever finished an event and thought, "If I could do it all over again, how could I have done it better?" Or maybe you've learned many painful lessons along the way that you wish you knew it earlier, to save time and resources. Those "aha" moments are what catapults you from a tactical mindset to a strategic one.
As event planners, we often get caught up in meeting deadlines, checking off tasks, and hustling to meet event goals. However, in this ever-changing world of events, it's essential to pause and think strategically about how we can be more effective and efficient.
Why is being strategic so important? After the pandemic, our perspective on events has totally shifted. Now that we are going back to in-person events after several years of being virtual, we want events to resonate, have lasting impact, spark real connections, and yield higher returns on investment.
Success is no longer just about attendance or basic event metrics. When an event is done, it needs to prove that every dollar invested was worth it. Whether it's new sales, keeping loyal customers, building partnerships, or boosting brand awareness, the event structure must be able to accurately capture and deliver valuable data to prove the return on investment (ROI) of an event.
Let's be real: Events are getting even more expensive, which means executives are keeping a closer eye on every dime spent and expecting justifications. To prove that the investment was worth it and achieve a higher ROI, event managers need to think big picture and focus on the long-term vision - which can only be accomplished when we shift our mindset from tactical to strategic thinking.
Check out these five ways event managers can elevate their mindset from tactical to strategic:
1. Attendee Engagement:
Tactical: Reviewing attendance at specific sessions.
Strategic: Critically analyzing engagement metrics, including interactions on event apps, insights from social media analytics, attendee check-ins, and community discussions.
2. Event Marketing:
Tactical: Create promotional materials that are filled with fluff words without a flow throughout.
Strategic: Create a story that would be told through the messaging, with the purpose of conveying the event mission and targeting specific personas/ demographics.
3. Event Registration
Tactical: Create a quick and easy registration page to get started.
Strategic: Select event management and registration tools that have both a mobile app and the ability to integrate with existing CRM. Enable session sign-ups and session tracking, and actual shows.
4. Sponsorship Management:
Tactical: Creating a sponsorship prospectus detailing benefits and pricing.
Strategic: Building comprehensive cost structures for sponsor fulfillment, leveraging event technology for added sponsorship benefits, and fostering relationships with key partners.
5. Event Technology:
Tactical: Using basic event technology tools.
Strategic: Implementing advanced tools like AI-powered networking features, AR/VR for shared spaces, and designing event games to boost networking and engagement.
Want to learn more? We have a downloadable resource to nail your strategy and elevate your event planning experience. Click here to access!