Q&A: Inside Bud Light's Plans for Its First Super Bowl Music Festival
Shana Barry, director of experiential for Bud Light, discusses how the brand is engaging music and sports fans with an inaugural event ahead of Super Bowl LIII in Atlanta.
January 29, 2019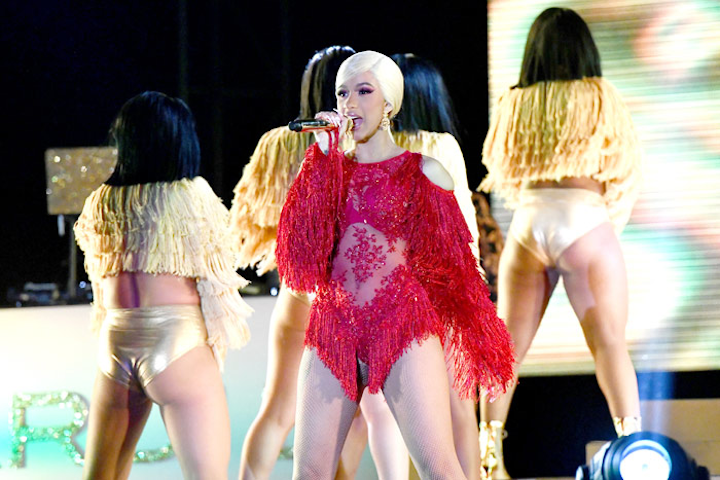 Photo: Scott Dudelson/Getty Images
Bud Light is consistently recognized for making a viral impression around the Super Bowl. In recent years, the brand launched viral "Dilly Dilly" commercials and handed out free beer during the Philadelphia Eagles' victory parade in 2018. For Super Bowl LIII, taking place February 3 in Atlanta, the beer company is increasing its involvement in a major way with the first Bud Light Super Bowl Music Festival.
From January 31 to February 2, Bud Light will bring notable hip-hop artists and a few other big names to Atlanta's recently renovated State Farm Arena. The first night will be a celebration of Atlanta rappers with headliners Ludacris and Migos; the second night will feature Post Malone and Aerosmith; and Cardi B and Bruno Mars will headline the final night. The inaugural event serves as a natural next step for Bud Light, which has steadily delivered music-centric events to consumers in recent years, with its Dive Bar activations and other branded music festivals.
To execute the ticketed event, Bud Light partnered with the N.F.L., as well as On Location Experiences, EA Sports, State Farm, StubHub and Ticketmaster, Synergy, and the City of Atlanta. Shana Barry, director of experiential for Bud Light, discussed why the brand decided to launch its first large-scale event surrounding the Super Bowl, the logistics and challenges of planning, and how the brand plans to evolve its event marketing strategy in 2019.
What prompted Bud Light to launch its first music festival at the Super Bowl?
There are two things that will forever be synonymous with Bud Light: music and sports. And as the official beer of the N.F.L., we knew we wanted to double down on what we traditionally do for Super Bowl fans each year. Our collective vision with all of our key partners was that we wanted to do something in Atlanta that seamlessly brought those two worlds together—especially knowing consumers who are traveling to Atlanta for the big game will be there multiple days and are looking for more premium experiences. We can't wait to see the success of year one, and make it a desirable experience that fans in future Super Bowl cities want to attend.
What are some of the important logistics that have gone into planning this event?
With something of this magnitude, you can't underestimate the sheer number of inbound requests and the cross-coordination required amongst our partners. From ensuring we could get our incredible talent to Atlanta, to making sure every performance allowed the performers to really make the festival stage their own, we always do our best to make sure that we've created something truly memorable and authentic.
With the Super Bowl this year, we wanted to recognize this global cultural moment and support cross genres, from the sharp and welcomed rise of hip-hop to mainstream artists. As a brand, Bud Light prides itself in creating an experience that has something for everyone. The diverse lineup was incredibly exciting to put together. From Luda and Migos, to Post Malone and Aerosmith, to Cardi and Bruno, we're confident that we're bringing a show that delivers. 
[PULLQUOTE]
Have you run into any challenges in putting this festival together?
With anything you do the first time, it's a learning process. A regular event is difficult enough, but activating around one of the biggest cultural moments of the year—if not the biggest—and doing it for three nights straight is a different thing all together. We did not underestimate the time it would take. We knew we had to build trust and have ongoing, open communication with all of our teams, partners, and vendors.
We kicked off everything in July and it still feels like there hasn't been enough time. I told my team that planning for Super Bowl LIV starts on February 5. We're kind of like air traffic control. We've got our eyes on every single work stream and we're constantly finding ways to make everything come together for a better fan experience.
What other live activations does Bud Light have planned for the Super Bowl?
A new activation that we're bringing to Atlanta is call the Bud Light Blue Room, which is an immersive dive bar installation within State Farm Arena during all three nights of the festival. It's located on the concourse level next to Zac Brown's Social Club.
For 2019 and beyond, does Bud Light have plans to change up its event marketing strategy?
Music is a core component of Bud Light's D.N.A. You've seen that in how we show up in all aspects of our marketing. With the Dive Bar franchise being in its fourth year, we're very excited to double down on Dive Bar Sessions, which is our emerging artist platform we bring to national festivals such as South by Southwest, Firefly, Governors Ball, and Lollapalooza. We also have exciting announcements coming up for our next Dive Bar Tour.
After the Super Bowl, what is the next major event where the brand will activate?
Aside from the Dive Bar franchise, we also have a number of exciting projects on the horizon. These include the second year of the Bud Light Getaway music festival.
This interview has been edited and condensed.
Featured Venues/Suppliers: