See Where HBO Is Going for Summer Vacation
The cable network's pop-up activation, The Studio, will promote its programming with a summer full of events in a "distinctly queer space."
July 2, 2018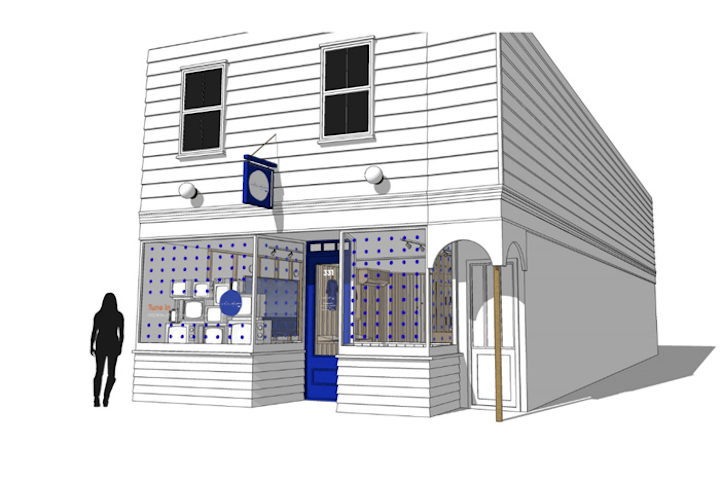 Rendering: Courtesy of the Gathery
With a pop-up community space opening today through August 19, HBO is bringing seven weeks of L.G.B.T.Q.+ cultural programming to the iconic gay seaside destination of Provincetown, Massachusetts, as it creates a welcoming hub that allows for both education and celebration.

More than two years in the making, The Studio, located at 331 Commercial Street in the heart of P-town, was birthed from the 2016 launch of what HBO called the Queer Culture Project, whereby a survey of 100 L.G.B.T.Q.+ influencers revealed the need for "distinctly queer spaces" where they could meet to exchange ideas and facilitate meaningful dialogues.

"HBO has had a presence in P-town for over 10 years via the Provincetown Film Festival and also Family Week, so it wasn't off-base for us to return," says Courtney Miller, manager of multicultural marketing at HBO. "The Studio speaks to our commitment to P-town, and allows us to stay connected with both our current L.G.B.T.Q.+ audience and potential [new] audience in an inclusive manner."

To oversee all logistics from conception to buildout to furnishings, HBO enlisted Brooklyn-based creative agency the Gathery, helmed by co-founders Nicky Balestrieri and Luigi Tadini.

A total of about a dozen or so staffers between the Gathery, HBO, and L.A.-based PR Dept. will remain on site in P-town throughout the summer.
The one-level, 1,026-square-foot, highly configurable modular space will play host to the bulk of the 93 events planned. As the duo's second activation with HBO—the first was the 2017 creation of the Queer|Art Prize in New York—the Gathery was tasked to create a space that had impact but that remained neutral enough so as not to distract from an assortment of programming: screenings, ice cream socials, "Meditation & Mimosas" yoga classes, drag queen trivia happy hours, art exhibits curated by New York-based non-profit Queer|Art, story time sessions (during Family Week) and appearances by stars from such hit HBO shows as Westworld, Big Little Lies, and Sesame Street.

To allow content to reach people outside P-town, all talks, including those with The Studio's seven queer media partners—Out, The Advocate, Gayletter, The Tenth, Them, Hello Mr., and INTO (all of which have taken turns guest editing a collectible 'zine)—are being captured via video to live on the dedicated website, as is the weekly 'zine each aforementioned publication will produce. A sizzle reel of all the past week's events will also be produced. Additionally, some of HBO's partners are recording their own podcasts and will share them via their unique outlets.

"One of our primary focuses is not to take over Provincetown; our goal is to be complementary to the things happening there," says HBO's Miller. "With that said, within P-town you'll see our storefront and some of our partners possibly promoting the fact that we are working together. But we don't want to be the big flashy brand that barged its way into town."

[PULLQUOTE]
On paper, P-town, as a gay mecca located at the tip of Cape Cod and the number one queer destination in America, made sense from a location standpoint. From a legacy as a writer and artist colony, where artists like Norman Mailer, Eugene O'Neill, Tennessee Williams, and Michael Cunningham often visited to write, P-town—which swells to more than 70,000 visitors between Memorial Day and Labor Day weekends—offers a mix of diversity and intimacy unlike any other L.G.B.T.Q.+ vacation destination.

At the core of the initiative was an effort to celebrate the local community and the people within it—be it the local contractors who helped with the restoration and renovation efforts to Patio Restaurant which will be providing catering for every event this summer to swag sourced from local mom-and-pop shops.
"We tried our hardest to include local suppliers, entertainers, caterers, and vendors at every step of the way," reaffirms Tadini. "Offering the space to local party staples—like Fagbash—added another layer of our continued efforts to support local business and the thriving community that is at the core of Provincetown's pulse."

Housed in a historical building that once contained an eccentric women's shop, a full, two-month overhaul was necessary to refresh and modernize the space. While preserving architectural elements, a new ceiling was installed, as was video, lighting, and air-conditioning and ventilation. As for decor, "It was very easy to just go down that nautical route like in Cape Cod, but we wanted a contemporary and fresh space that had personality but would still be a blank canvas of sorts," says Miller. Adds Tadini, "HBO has such a strong point of view that the space had to stand out without being too loud."

Depending on the layout, The Studio will house everything from yoga for groups of 16 to larger events like dinners, cocktails, and art exhibits for some 40 people each. In total, from food vendors (seven ice cream flavors have been created by Big Gay Ice Cream inspired by HBO shows) to media sponsors, a total of 31 partners are involved. They also include four product collaborations, six Queer|Art artist exhibits, 11 screenings at Waters Edge Cinema, and two large-scale events that will take place off-site at Pilgrim Monument: a kick-off concert for 500 guests on July 3 featuring three queer artists and, on the sixth week, an outdoor screening for Sharp Objects for 200 people.

Beyond the usual avenues of measurement—press clippings, social-media hashtag mentions—return on investment will be measured by what HBO's Miller describes as "the dialogue occurring about not only the existence of the space itself but really what's happening within it; we're aiming to be a conduit for conversation."

Given HBO's reputation for storytelling, it's only natural that the core of The Studio will boast an impressive documentary slate highlighting real issues L.G.B.T.Q.+ people are dealing with. This particular niche of individuals have a much higher rate of media consumption, not to mention they're really pop culture and entertainment savvy—and unafraid to voice their opinions, particularly when it comes to the current White House administration and its policies.

But while HBO's Miller says that the activation isn't a direct response to our nation's divisiveness, Balestrieri points out that there certainly is a statement being made in having a brand as globally far-reaching and influential as HBO taking such a sizable stake. "In the past 10 years, the only big brands that have done something—none of which have been this big—are the Human Rights Campaign, Kiehl's, and American Express," he notes. "To have HBO do something [like this] during this rather charged political climate is a very big and bold statement."

Overall, Tadini says roadblocks were far and few between. "We had to apply for a number of different event permits—from cabaret licenses for the drag performance to changing coding so that the space could become an art gallery," he says. "We received 76 individual licenses for the summer. The town and township really understood the ethos and intention of the program and, as a result, have been very helpful."

In lieu of traditional monetary donations made to local P-town charities or to the town itself, HBO's "giving back" was based primarily on its summer-long partnerships, including a long-standing commitment via the Provincetown Film Society. And as HBO's Miller points out, several nonprofit partners have reaches that extend beyond the P-town community, with Glaad chief among them.

As for the budget, HBO's Miller characterizes it as the right amount. "Given the length of our stay and variety of activities both in and around the space, it's certainly a sizable investment, but it feels right," she says. "It's a space that deserves to be there. It's not something that's worrisome on our end."
Featured Venues/Suppliers: