This Week in Los Angeles: a Jack in the Box ASMR Experience, 'The Marvelous Mrs. Maisel's 16-Foot Plungers, Premiere Party Rents' 30th Anniversary
West Coast bureau chief Claire Hoffman covers the week's biggest event news.
June 7, 2019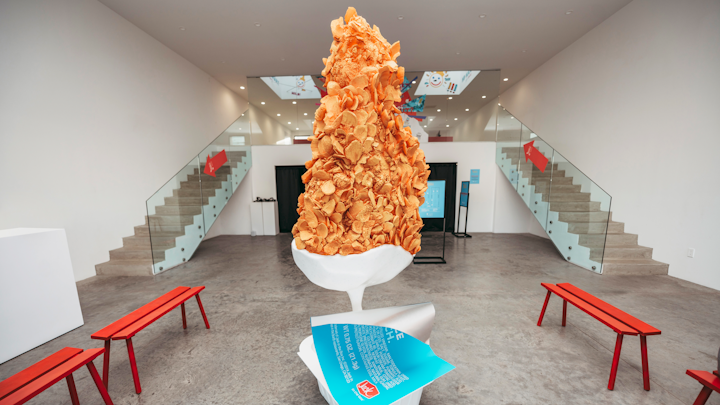 Photo: Michael Drummond
LOS ANGELES—Welcome to BizBash's Los Angeles-based column, where West Coast bureau chief Claire Hoffman recaps the week's biggest local news. Got a tip? Get in touch!
Moves & Milestones
Lorenzo Soria has been named president of the Hollywood Foreign Press Association, which produces the Golden Globes.
Christopher Keyser is the new executive chef for Union in Pasadena, while Leonel De Leon is now executive chef for the Marriott Irvine Spectrum.
Diane Rodriguez, associate artistic director for Center Theatre Group, is leaving the organization after 24 years. She plans to launch a new artistic company called Rodriguez Projects. 
In Case You Missed It
We looked inside the Museum of Contemporary Art's revamped annual benefit, which used a new layout to create a more community-minded feel. We also covered Guy Fieri's colorful Walk of Fame celebration, which had gold-painted dancers, a surprise performance from Foreigner, and plenty of burgers. 
In the News
To promote The Marvelous Mrs. Maisel during Emmys voting, Amazon set up 16-foot-tall pink plungers at the Grove, the Santa Monica Pier, and other popular spots this week. Laist: "Why a plunger? It's in honor of Alex Borstein's character Susie Myerson, Midge Maisel's friend and manager, who ends up going undercover as a maintenance worker to help Midge book gigs in the Catskills. ... That follows previous Maisel promotions like a room at Refinery29's 29Rooms art pop-up, offering their own version of the Maxwell House Passover Seder Haggadahs, reviving the Carnegie Deli as a pop-up, and more."
YouTube has partnered with Geoff Keighley, the creator and producer of the Game Awards, to host E3 Live on YouTube, a 10-hour live stream of the video game convention on Sunday. The Hollywood Reporter: "E3 Live will begin broadcasting at 10 a.m. PT from a custom-built studio at L.A. Live and feature gameplay demos and interviews with game developers at this year's convention, including a one-on-one interview between Keighley and Google's Phil Harrison at 11:30 a.m. PT to discuss the tech company's Stadia game-streaming platform. The live stream will feature live simulcast coverage of major gaming press conferences scheduled for Sunday, such as Xbox and Bethesda's E3 showcases."
Oak View Group and Pollstar celebrated the inaugural Impact 50 list, recognizing executives shaping the live concert industry, on May 16 at Harriett's. Stoelt Productions handled production. Variety: "Live Nation president/C.E.O. Michael Rapino was named 'Most Impactful' on the list. ... As for the live concert business, the outlook seemed pretty bullish among those celebrating. 'If you look at how humans have experienced music over the course of history, recorded content is just a blip on the radar screen,' said [Oak View Group president of media and conferences Ray] Waddell. 'Live has always been there since one caveman beat on a stone better than another.'"
Surprise Metric of the Week
7: The number of new two-star restaurants in the 2019 Michelin Guide California, which was revealed on Monday. Meanwhile, 27 new restaurants in Los Angeles and Orange Country received one star (though none got the coveted three-star rating). It's Michelin's first Calfornia-only guide; see the full list of star recipients here. 
Venue Buzz
Post 43—an American Legion space originally built in 1919—is slated to reopen in July after a $6 million renovation. While the historic venue still aims to support the veteran community, it now doubles as an event space, offering a 6,000-square-foot theater that seats 480. Other highlights include a rotunda that holds 80, a trophy room that holds 40, and a meeting room that seats 28 or holds 60 for receptions. 
The Élan Hotel in West Hollywood has partnered with AllerWell Travel to create eight allergy-friendly guest rooms. The rooms have hypoallergenic bedding, shower filters, HEPA air purifiers, and other accommodations designed to eliminate the most common allergy triggers. 
Overheard
"We have been thinking about Los Angeles for many years now, and the celebration of our 20th anniversary felt like the perfect timing for the decision of crossing overseas."
—Gabi Ruiz, a director for Primavera Sound, Barcelona's wildly popular music festival that typically draws 3,500 artists and 220,000 attendees from over 150 countries. This week, organizers announced that the first U.S. edition of the festival will take place September 19-20, 2020, at the Los Angeles State Historic Park. Live Nation will co-produce. 
On the Scene
Premiere Party Rents celebrated its 30th anniversary at Optimist Studios on Tuesday night. Fun photo-friendly moments showcased the company's products, such as a chandelier made from cutlery, a step-and-repeat made from patterned plates, and a wall installation made from hanging Chiavari chairs. Kristeen LaBrot and Jason Rhee handled planning and design for the celebration. 
What's Next
The 49-year-old L.A. Pride Festival and Parade, organized by Christopher Street West and produced by JJLA, takes place this weekend. For the first time this year, the festival will hold a free block party plus a new Friday-night program with an opening ceremony, a drag show, and music from local DJs. Performers throughout the weekend include Meghan Trainor, Years & Years, Ashanti, and more. 
Also this weekend is the second Rosé Day L.A., presented by Corkcicle, which takes place tomorrow at Saddlerock Ranch in Malibu. The daylong event comes from Ben Biscotti, Tony Schubert, Marc Forgione, Bobby Rossi, Sylvain Bitton, JT Torregiani, and David Jarrett; it will include a variety of rosé offerings and food pairings, Instagram-worthy moments, leisure games, DJ sets from Brody Jenner and Pamela Tick, and more. 
Looking into next week, E3 will draw almost 70,000 video-game-industry professionals from 100 countries to the Los Angeles Convention Center from June 11 to 13. And on June 12, the Los Angeles Dodgers Foundation will host its annual Blue Diamond Ball Gala with a performance from Bruno Mars; last year's event raised $2.2 million and drew 1,700 people.