This Week in Los Angeles: a Beetlejuice-Inspired Photo Op, a Rose Petal-Filled Hotel Lobby, New Immersive Theater Technology
West Coast bureau chief Claire Hoffman covers the week's biggest event news.
July 19, 2019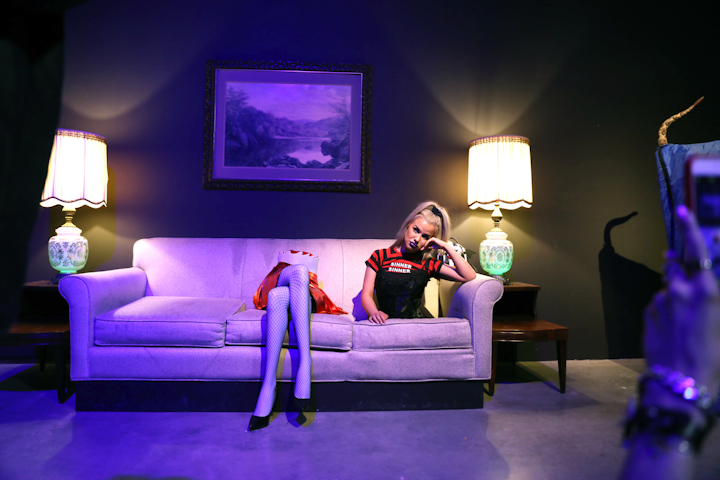 Photo: Courtesy of I Like Scary Movies
LOS ANGELES—Welcome to BizBash's Los Angeles-based column, where West Coast bureau chief Claire Hoffman recaps the week's biggest local news. Got a tip? Get in touch!
Moves & Milestones
The Recording Academy has announced that Ken Ehrlich will executive produce the 62nd Grammy Awards in 2020, which will be his 40th and final telecast. Ben Winston will take over executive production with the 63rd ceremony in 2021. 
Nat Geo Wild executive producer Max Benator created a new pop-up art installation, Bright, which runs through August 3 in the arts district. Ticket sales benefit Film2Future, which offers low-income and diverse L.A. youth opportunities to enter the entertainment industry. 
In Case You Missed It
We looked inside ESPN's 27th annual ESPY Awards and their surrounding events, which were highlighted by eco-friendly decor, discussions of race and politics, and big wins for the USWNT. We also heard from Dick Clark Productions' event head, Linda Gierahn, who shared her favorite venues in Los Angeles and beyond. 
In the News
The Regal Cinemas at L.A. Live will be the first U.S. theater to get new immersive technology from French multiplex company CGR. Variety: "Launched two-and-a-half years ago by CGR, the immersive format works with five LED-panels flanking each side of an auditorium, filling peripheral vision with complementary colors. The panels are being made by CGR at an in-house post-production house in La Rochelle. CGR said that [Immersive Cinema Experience] auditoriums account for 32 of its total 680 screens, but generated 75 percent of CGR's box office revenue in 2018."
A new California law will allow consumers to bring reusable food and beverage containers to concerts, restaurants, festivals, and other public events. LAist: "Current law says that reusable containers have to be cleaned at an approved facility—meaning temporary food vendors, like those at farmer's markets and food festivals—have to provide single-use, disposal containers that eventually end up in trash cans or worse, on the ground. Starting in January 2020, food vendors and restaurants will also have the option to provide reusable products... or you can just bring your own container."
This week, the West Hollywood Business License Commission approved a cannabis consumption license for Lowell Café, which is slated to open September 1. Los Angeles Times: "The West Hollywood Chamber of Commerce was excited about how the café might benefit cannabis tourism ... During the daytime, the café will sell the [Lowell Herb Co.'s] products—as well as others from local cannabis businesses—with meals and nonalcoholic cocktails. After 9 p.m., entertainment company Houston Hospitality—owners of L.A.-based Pour Vous, Piano Bar, and No Vacancy—will operate a cannabis bar at the café. (The state does not allow businesses to sell cannabis and alcohol at the same time.)"
Venue Buzz
The historic Hotel Atwater on Catalina Island is slated to reopen in August after a full renovation, which included the addition of a new meeting and banquet space that holds 65 guests.
Trademark Brewing opens this weekend in Long Beach. The 20,000-square-foot space, which has a 7,000-square-foot courtyard, is available for private events.
Overheard
"Normally, by this time of year, [the Emmys] would have named a host. That says to me that they're either having problems finding one—or the right one—or considering no host at all as a major option."
—Marcus James Dixon of award season speculation site goldderby.com, speaking to Los Angeles magazine about the 2019 Emmys. Nominations for the September 22 award show were announced this week. 
Surprise Metric of the Week
$9.8 million: the amount construction firm Webcor is suing the owners of South Park's Metropolis megadevelopment for, claiming that amount is still outstanding from its $435 million contract. Developer Greenland disputes the claim. The 6.3-acre project has three condo towers and an 18-story Hotel Indigo.
On the Scene
Four Seasons Hotel Los Angeles artistic director Jeff Leatham is known for his over-the-top lobby displays—and the most recent installation is no exception: The celebrity florist filled the Beverly Hills hotel's entrance and lobby with thousands of red rose petals and candles.
What's Next
Many Angelenos are heading south this weekend for the 50th edition of the massive Comic-Con International, taking place through Sunday at the San Diego Convention Center. Keep an eye on Bizbash.com for coverage of the buzziest brand activations and parties.
Back in Los Angeles, the Propel Co: Labs Fitness Festival takes over Barker Hangar all weekend, with more than 50 workouts plus live music performances, curated wellness talks, and more. Scheduled attendees include Ciara, Lucy Hale, and Charli XCX.
And don't miss BizBash Live: Los Angeles on July 24 at the California Market Center! Speakers, including Kristin Banta, Jeff Consoletti, and Kelly Helfman, will discuss of-the-moment topics such as creating welcoming and safe spaces for attendees and event design trends. Find out more at bizbash.com/losangeles.