This Week in Los Angeles: An Upside-Down Photo Op, a Tree Made of Paper Swans, Two Top PR Firms to Merge
West Coast bureau chief Claire Hoffman covers the week's biggest event news.
August 2, 2019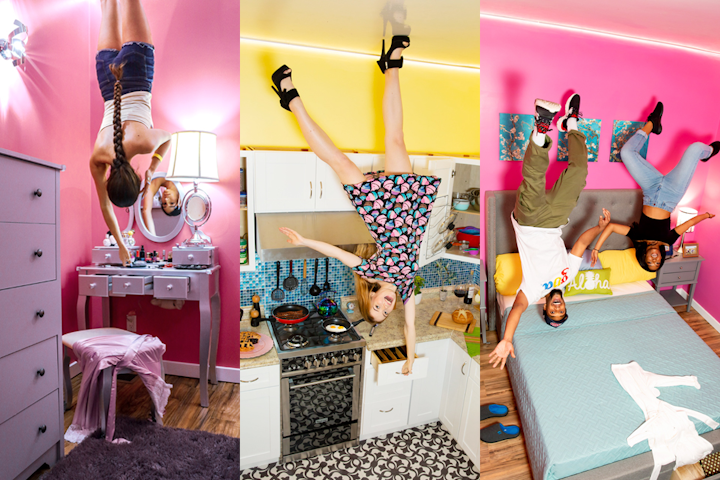 Photos: Courtesy of Museum of Illusions
LOS ANGELES—Welcome to BizBash's Los Angeles-based column, where West Coast bureau chief Claire Hoffman recaps the week's biggest local news. Got a tip? Get in touch!
Moves & Milestones
Amy Scherer-Ramskill has been named director of sales and marketing for the Hotel Erwin in Venice Beach, while Karen Dailey now holds the same position at the upcoming Pendry West Hollywood. 
PMK-BNC and Rogers & Cowan will merge into one company. The PR firms will have a client list of 30 major brands and more than 500 artists. Los Angeles Times: "The new entity, which does not yet have a name ... will work with brands including Audi, Hasbro, McDonald's, Masterpiece Theater, Microsoft, and Verizon. The new mega-firm, which will employ more than 350 marketing and communications professionals, will be led by Rogers & Cowan chief executive Mark Owens and PMK-BNC C.E.O. and chairman Cindi Berger."
In Case You Missed It
We summarized some key insights from BizBash Live: Los Angeles, which took place last week at the California Market Center. Speakers including Kristin Banta, Judy Levy, Kelly Helfman, and Jeff Consoletti shared insights on guest experience, fund-raising strategies, Instagrammable moments, and much more.
In the News
Current: LA Food, a citywide public art festival featuring a slew of free programming, takes place this fall. Los Angeles Magazine: "Running from October 5 to November 3, the project features 15 different teams of artists creating temporary public artworks to be installed in city parks. To accompany the art installations, there will be performances and events on a wide variety of food-inspired topics. Programming includes classes on cooking with solar power, celebrating global food traditions, a family picnic, and more."
The Television Academy won't present a Governors Award for the first time in 25 years at this year's Primetime Emmys. The academy's board of governors has the option to give out the award annually or skip, but since launching the award in 1978, the award has been presented every ceremony except in 1993 and 1994. Variety: "Last year, the Governors Award went to the Star Trek franchise, while in 2017 it was given to the Independent Television Service (I.T.V.S.), which funds and distributes documentaries for public broadcasters. … According to the TV Academy, the award won't be handed out this year because the nominating committee opted not to recommend a recipient to the board of governors this year."
Surprise Event Metric of the Week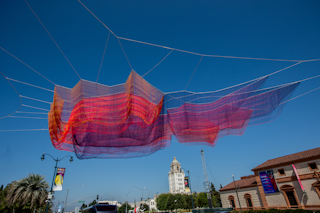 1.78 by Janet EchelmanPhoto: Beverly Hills Conference & Visitors Bureau
85 feet: the length of artist Janet Echelman's new aerial installation, titled 1.78, which is suspended in Beverly Hills near the Wallis Annenberg Center of Performing Arts. The piece's unveiling yesterday marked the start of the third annual BOLD Summer, which runs through August 24 and features additional art by Mr. Brainwash plus a series of art walks, concerts, interactive activations, and more. 
Venue Buzz
After opening the buzzy Manufactory downtown with chef Chris Bianco, Tartine is planning a series of new café locations across the city. Slated to open in mid-August is a Hollywood location offering breakfast and lunch service—plus plenty of bread and pastries, of course. Designed by Boors Projects, the café will seat 40 inside and 10 outside on an atrium. The San Francisco-based restaurant group also plans to open a 3,000-square-foot space in Silver Lake later this year.
Weedmaps' 30,000-square-foot Museum of Weed pop-up celebrated its grand opening on Thursday.  
Overheard
"If you must get in trouble, do it at the Chateau Marmont."
—Columbia Pictures co-founder Harry Cohn. This week, Curbed took a look at the notorious hotel and event venue's history of scandalous behavior, dating back to the 1930s.
On the Scene
To celebrate the final season of Disney's Andi Mack show, AOO Events worked with Edge Design & Decor to create an origami tree made from 100 paper swans. The event was held at Neuehouse.
What's Next
Next weekend, the annual Beautycon Los Angeles festival will return to the Los Angeles Convention Center. Taking place August 10 to 11, highlights will include a fireside chat with Priyanka Chopra, a conversation between Arianna Huffington and Ciara, and plenty of interactive, photo-friendly brand activations. Check out our coverage of last year's event. 
In other news, Billboard and the Hollywood Reporter will be hosting a joint Pride Summit on August 8 at the 1 Hotel West Hollywood. The event will celebrate the influence of the L.G.B.T.Q. community across media, music, and entertainment. 
And later this month, a creepy IT-inspired carnival will take over the corner of Hollywood and Vine. The Derry Canal Days Festival opens to the public on August 15, and it will have 10 interactive spaces inspired by the upcoming film IT Chapter Two.