5 Things Event Attendees Care About Today
At BizBash Live: Los Angeles, speakers including Kristin Banta, Judy Levy, Kelly Helfman, and Jeff Consoletti shared insights on guest experiences, fund-raising strategies, Instagrammable moments, and much more.
August 1, 2019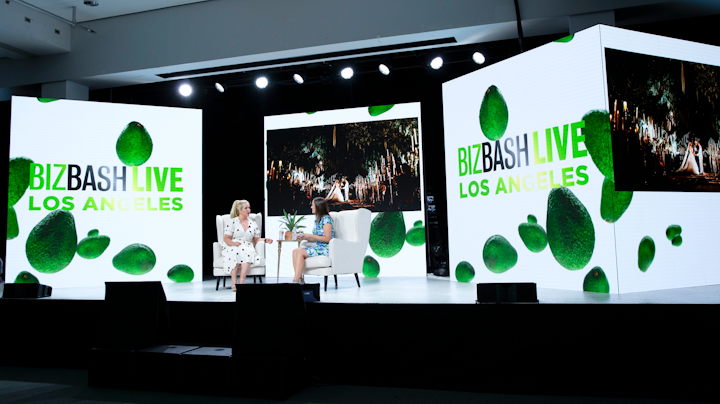 Photo: Haute Media Photography & Video
LOS ANGELES—"We work to create events that we would actually want to attend," said Jeff Consoletti, founder and C.E.O of production agency JJLA, from the BizBash Live: Los Angeles stage. He was touching on a theme that recurred often during the daylong event, which took over the California Market Center downtown on July 24: Events will always be about the guest experience, first and foremost.
Speakers during the Event Innovation Forum, a single-track education conference, and the Workshop Series of seminars covered topics such as the latest design and technology trends, the importance of interactive content, what Gen Z wants from brands and gatherings, and more. Here are some of their smart insights into what event attendees care about today.
1. "Instagrammable" moments still matter.
While the debate rages on about the importance of designing for Instagram, Kelly Helfman, president of MAGIC Women's Events at Informa, thinks Instagram-friendly photo ops are still a great tool for brand and event exposure. "Sixty percent of users visit Instagram daily, and 38 percent visit multiple times per day," she pointed out during her Event Innovation Forum speech. 
The key, though, is designing these moments to feel thoughtful and authentic, explained Helfman. All photo ops should clearly display the official hashtag and company handles; attendees want to use these because it also increases "likes" for them, but don't want to go searching for the right information to include. The goal, she continued, is to create a memorable, flattering photo that will make it onto attendees' main Instagram feeds rather than just in a story, which disappears in 24 hours.
In a morning workshop session, Matthew Sheppard, creative director and principal of the Sheppard, also stressed the importance of social media-friendly moments. Give them more meaning by making sure branding and teaching points are captured in the composition of the photos, he suggested. Garnering social media posts is not only a way to extend the conversation—it's a way to gauge an event or activation's value and reaction, too, making it especially useful for teams with smaller budgets.
2. Thoughtful decor should evoke an emotional response.
"We want to take guests through a range of emotions—not just 'Oh, that was pretty,'" said Kristin Banta, owner of event design and production firm Kristin Banta Events. She pointed out that clients don't often know what is logistically possible, so it's important for designers and event producers to be their creative guides. 
Banta's decor predictions for upcoming design trends include soft textures, neutrals, and taupes—"sophistication while still being soft and user-friendly," she said—though she still loves impactful florals. "I'm a more is more person," she laughed. "I hate small florals."
Christine Chiu, a Beverly Hills-based socialite and philanthropist known for hosting over-the-top bashes (think: a toddler's birthday party complete with a Gucci claw machine), also stressed the importance of decor. "Events can't just be about food and fun," she said. "Events have to be transformative, to be an adventure, to take you somewhere else."
When working with an event designer, Chiu likes to throw every idea at the board and then scale back to see what's worth including. "I also like to set the tone with the invitations," she noted, citing examples from her own events including a giant fortune cookie with a note inside for a Chinese New Year celebration and dark red roses tied together with a whip for a sex-theme party. 
The One Up Group's Eyal Simko, who hosted a morning workshop session about immersive technology, noted that while events should be touching on all five senses, vision is the most important one. Attendees have an eight-second attention span, he said. Event environments need to grab them visually right away through immersive tech, video, colors, and movement. 
Technology can and should complement the decor, Simko continued. When people can interact with their environment and the event design, that activates their five senses—which makes for a memorable moment and, of course, a desire to share photos and videos. 
3. Annual events should never be stagnant.
Several speakers touched on the importance of creating new experiences year after year. "If we are beholden to trends, we start to lose the personalization and timelessness of our events," said Banta.
Consoletti, who has produced Los Angeles's Pride festival for the last 10 years, agreed. "Our success has really been governed by, what are we doing different every year?" he said. "I never produce the same show twice. Every year I want to move the tents, the porta-potties. I want a new artist, I want completely redesigned stages." Adding variety and adjusting based on guest feedback makes people excited to come to the festival year after year, he explained. 
Nonprofit planner Judy Levy said the same rules apply to fund-raising events. "My least favorite phrase is 'That's how we've always done it,'" she said. People do still want gala dinners, but there has to be more. Expand donor bases through social media, she suggested, and take creative steps to show donors where the money is going. "Donors really want to know their contribution has legs."
4. Attendees—and clients—want unexpected moments and speakers.
Amy Stanton, C.E.O. of marketing and PR agency Stanton & Company, spoke about why creating events for women and other niche groups is worth the investment. She suggested using unexpected moments and unknown speakers to complement the more known names. Under-the-radar speakers who do a good job is something attendees will remember most, she said—as long as all speakers understand your audience and your mission. "It's all about making [the audience] feel like they're a part of something special," she said. 
Stanton also suggested presenting these unexpected moments to a client after an event. "Are there unanticipated positive results of the event?" she asked. Don't just show a client the number of media impressions you got—include some fun info, like how many Olympians were on a panel or how many attendees did the "Worm" on the dance floor. "It helps you justify the spend," she said, and makes clients remember working with you. 
5. Pay attention to what younger generations want and need.
For millennials and members of Generation Z, diversity and inclusion is crucial. "Equity is nonnegotiable" for brands and events targeting younger generations, noted the founders of consulting firm Shift, who discussed an event organizer's role in diversity, inclusion, and sexual harassment during a morning workshop session. "It's important to create brave and inclusive spaces—not just safe spaces—where people can be their whole selves," they explained. 
The Shift team discussed the Every One initiative they helped develop with Goldenvoice for this year's Coachella and Stagecoach festivals. Music festivals are notorious for sexual harassment—and at the country music-focused Stagecoach festival, there may have been additional layers of trauma after 2017's mass shooting at the Route 91 Harvest country music festival. The program aimed to be aware of these issues and potential traumas, and provide physical spaces and trained counselors to address how attendees might be feeling.
Levy, meanwhile, touched on the importance of a multi-generational audience at fund-raising events. "The reason you do a [fund-raiser] has to be 50 percent money, but also 50 percent awareness," she explained. Raise awareness by bringing in a multi-generational audience, and focus beyond just the person who bought the table. Younger generations are very cause-oriented and tend to focus on small contributions to many organizations before settling on one to fully invest in, she explained. Millennials and Gen Z are ready and eager to support missions they care about.