This Week in Los Angeles: A Carnival Run by Comedians, Scooby-Doo's Birthday Party, Cannabis-Infused Bouquets
West Coast bureau chief Claire Hoffman covers the week's biggest event news.
September 20, 2019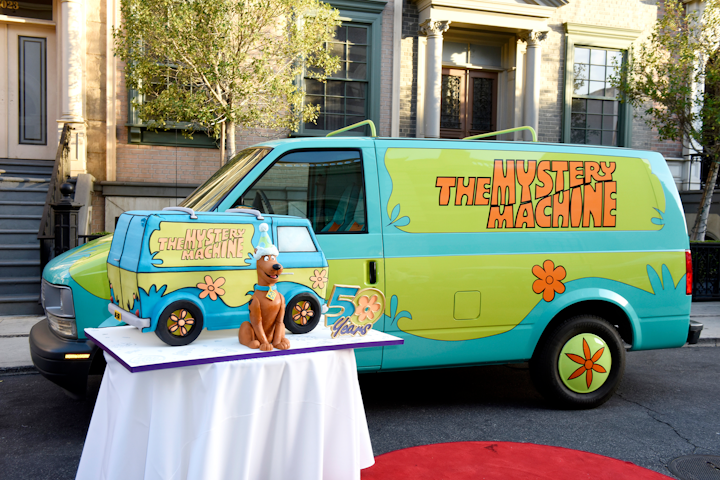 Photo: Vivien Killilea/Getty Images
LOS ANGELES—Welcome to BizBash's Los Angeles-based column, where West Coast bureau chief Claire Hoffman recaps the week's biggest local news. Got a tip? Get in touch!
Moves & Milestones
Marino Monferrato is the new director of operations for L'Antica Pizzeria da Michele, which opened in Hollywood in May. In addition to his experience managing several high-end hotels and restaurants, Monferrato has served as the on-camera maître d' on Gordon Ramsay's Hell's Kitchen since 2013.
Love & Salt's Michael Fiorelli has been named executive chef of Olivetta, Matt and Marissa Hermer's new West Hollywood eatery slated to open this fall. Fiorelli plans to draw inspiration from coastal Mediterranean cuisine with Italian, Greek, French, and Spanish influences.
Kevin Bothwell is the new event sales manager at the Pacific Design Center in West Hollywood.
Adobe Max, which takes place November 4 to 6 in Los Angeles, has announced director M. Night Shyamalan, photographer David LaChapelle, and visual artist Shantell Martin as its keynote speakers.
Surprise Event Metric of the Week
$1,000: The amount one attendee reportedly paid to dunk Seth Rogen in a dunk tank at the Hilarity for Charity fund-raiser on September 14. Rogen and his wife, Lauren Miller Rogen, hosted an adults-only carnival at Row DTLA for this year's Alzheimer's research benefit. "We thought the idea of combining the after-party and the event was perhaps an appealing one and that's what we tried to do," Rogen told The Hollywood Reporter about the decision to adopt a "country fair" format.
Event highlights included a Tony Hawk performance on a skate ramp, a performance by Anderson Paak, and rides and games operated by the likes of Busy Phillips, Adam DeVine, and Andrew Rannells. NVE Experience Agency handled production.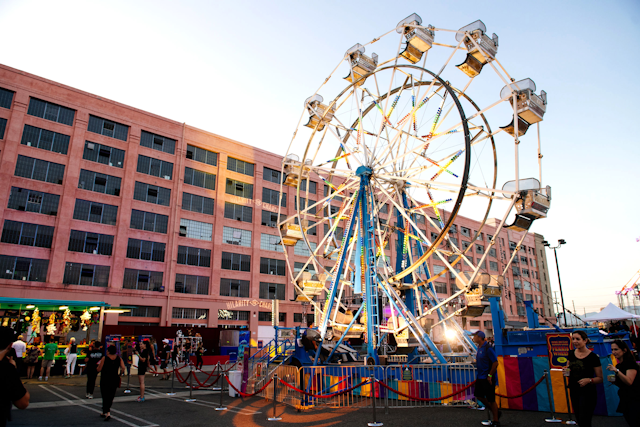 Nonprofit Hilarity for Charity hosted its first country fair in downtown L.A. last Saturday.Photo: Scott Clark Photo
In the News
Recent television-industry shake-ups have affected the weekend's slate of Emmys parties. Los Angeles Magazine: "This year's round of illustrious events has been curtailed for a variety of reasons. The main one is agency/Writers Guild wars (7,000 writers firing their agents), which of course means it's not a great time for agencies to be celebrating. ... Several annual Emmy parties are being heavily condensed due to the Disney-Fox deal and AT&T-Warner-HBO deals that have altered the Hollywood landscape. ... One of the longest-lasting and best Emmy parties, HBO's Sunday night post-Emmy broadcast fête at the Pacific Design Center, has had to curtail its usual mega invite list because WarnerMedia (Time Warner, AT&T, HBO) is rebranding the bash as the WarnerMedia and HBO Post Awards Reception. That means that TNT and TBS will now be included here, instead of giving their own event, as they have in years past. Expect to see a repeat of this condensation at the Golden Globes in January."
Spring Place in Beverly Hills abruptly canceled two Emmys parties, one for Audi and one for Entertainment Weekly, less than two weeks before they were to be held. Both events, which were slated to draw 300 guests each, were quickly moved to the Sunset Tower. Planners said they signed contracts, but that the venue sent them letters saying they could no longer host the events due to size restrictions and regulations enforced by the city. The Hollywood Reporter: "Adding insult to injury, organizers of one of the canceled events say, is that they found out Gwyneth Paltrow's Goop is hosting an event at Spring Place September 19 where Paltrow will interview Kerry Washington for an episode of Goop and Banana Republic's Women on Top podcast series. … Why the club waited so long to inform event planners, however, remains unclear. Spring Place did not return multiple requests for comment. Public information officer Keith Sterling did note that, at the request of the commission, a Planning Commission Study Session is tentatively scheduled for October 24 to go review facility use at Spring Place."
A popular Southern California music festival has been sold to Virgin Fest. The San Diego Union-Tribune: "Kaaboo has been sold, only three days after Sunday's announcement that the festival has entered into a multiyear partnership with the San Diego Padres and changed the event's name from Kaaboo Del Mar to Kaaboo San Diego. Virgin Fest, the music festival arm of Richard Branson's worldwide Virgin brand, has acquired all of Kaaboo's festival brand assets from Kaaboo co-founders Bryan E. Gordon and Seth Wolkov ... [who] launched Kaaboo, an upscale music, comedy, art, and culinary festival, in 2015 at the Del Mar Racetrack and adjacent fairgrounds."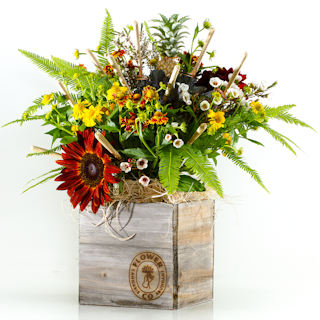 Flower Co.'s bouquet kits can display six joints.Photo: Courtesy of Flower Co.
An Out-of-the-Box Gift Idea
Flower Co. is now selling cannabis bouquet kits across California. Each kit, which costs $40 for non-members, includes a wooden box, a glass vase, six joint holders, and a letterpress card.
Venue Buzz
SoFi has been granted naming rights for the future Rams and Chargers stadium, opening in summer 2020 at the 298-acre Hollywood Park development. Curbed: "The developers of the Hollywood Park development [also] announced their first tenants: a beer garden and eatery, a fancy movie theater, and a gym. These businesses will be part of a 500,000 square-foot 'district' with shopping and entertainment options. A new 12-screen Cinépolis Luxury Cinemas is one of the announced arrivals. The theater will feature in-theater waiter services and offer a food menu and full bar. ... The 'beer garden' and eatery will be run by Lynne Weaver, founder of the Three Weavers Brewing Company. The 20,000-square-foot space will include on-site brewing and outdoor seating, and it is slated to host live entertainment."
The Orange County Museum of Art is celebrating its groundbreaking ceremony today in its new home at the Segerstrom Center for the Arts. 
Overheard
"As we were looking at what's going on in our community, clearly the homeless community in Los Angeles is just growing and Hollywood needs to be a part of that solution. So, it's great that we want to throw a party, we want to celebrate what's going on in television, but we also want to give back."
—Television Academy president Maury McIntyre discussing the Emmy Awards Governors Ball's new partnership with Living Spaces that will donate the event's sofas, chairs, and other furnishings to Habitat for Humanity and the Hollywood Community Housing Corporation. Light fixtures and leftover food will also be donated, as in years past. 
On the Scene
Shawna Yamamoto Event Design recently designed a Harry Potter-inspired wedding reception at the Resort at Pelican Hill. The event, which had a floating candle effect inspired by Hogwarts, was planned by Details Details Weddings & Events. 
What's Next
Despite the shrinking slate of parties, the Emmys will still dominate the event scene this weekend. Highlights include tonight's Entertainment Weekly bash produced by Event Eleven and tomorrow's BAFTA BBC America Tea Party produced by MTA Events. On Sunday night, Sterling Engagements is producing the massive ABC, FX, National Geographic, Hulu, and Disney TV party, while Billy Butchkavitz is handling the WarnerMedia and HBO event. And of course, Sequoia Productions will design the Television Academy's glamorous Governors Ball, which we previewed last week.
In non-Emmys news, the Barnsdall Art Center in Hollywood hosts its annual Barnsdall Art and Craft Fair on Sunday. The free, family-friendly event showcases handcrafted jewelry, ceramics, cards, prints, paintings, drawings, and photography from local artists; proceeds will support the center's arts programming.
Looking into next week, Fremantle will celebrate the 30th anniversary of Baywatch on Tuesday with a private watch party at the Viceroy Hotel Santa Monica.