This Week in Los Angeles: Lärabar's Music-Fueled Yoga Class, Red Bull's Basketball-Theme Hotel Takeover, the Staples Center's New Audio Tech
West Coast bureau chief Claire Hoffman covers the week's biggest event news.
October 4, 2019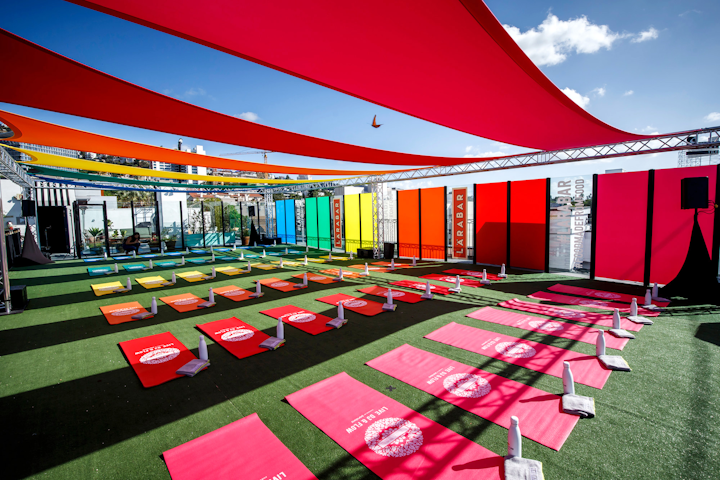 Photo: Paul McKelvey/Vero Image
LOS ANGELES—Welcome to BizBash's Los Angeles-based column, where West Coast bureau chief Claire Hoffman recaps the week's biggest local news. Got a tip? Get in touch!
Moves & Milestones
Weston Garret Gonzalez has launched Westhaus, a full-service event production, design, and management company specializing in entertainment-industry events. Gonzalez previously planned events in-house for Sony Pictures Television, Starz, and Apple TV+.
CBS's longtime president of marketing, George Schweitzer, will step down after the 2019-2020 season. Variety: "Mike Benson will succeed Schweitzer as the head of marketing at CBS, a transition that will see Schweitzer, who has been with CBS since 1972, take on the role of chairman of marketing at CBS and transition in the spring into an adviser to the company. ... [Benson] will join CBS in October after working as head of marketing for Amazon Studios since 2015."
Rebecca Campbell is the new president of Disneyland in Anaheim; she previously served as president of Europe, the Middle East, and Africa for the company. Former Disneyland president Josh D'Amaro has been named president of Walt Disney World in Orlando.
In Case You Missed It
We took a look inside FX Networks' truly terrifying overnight experience for American Horror Story: 1984. This week, we also released our annual list of the Top 100 Events in the United States—did your favorite local event make the cut?
Event Spotlight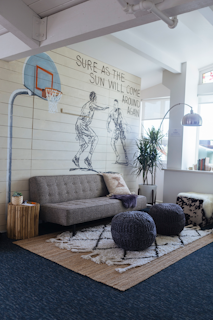 A suite at Red Bull's Halfcourt HotelPhoto: Dorian Hill
In conjunction with the Red Bull 3X Los Angeles basketball tournament in Venice Beach, the brand hosted a pop-up takeover of the Hotel Erwin on September 28 and 29. The hotel was rebranded as the "Halfcourt Hotel," and featured murals, photo galleries, and a gift shop from local artists. Two invite-only suites had basketball-theme decor and artwork. The takeover was executed by creative firm and magazine publisher Franchise.
In the News
Famed opera singer Plácido Domingo has resigned as general director of the Los Angeles Opera after allegations of sexual harassment. Los Angeles Times: "'Recent accusations that have been made against me in the press have created an atmosphere in which my ability to serve this company that I so love has been compromised,' he wrote in a statement provided to the Times. 'While I will continue to work to clear my name, I have decided that it is in the best interests of L.A. Opera for me to resign as its general director and withdraw from my future scheduled performances at this time.' ... Los Angeles Opera responded by thanking Domingo, who has been general director since 2003."
A Mean Girls-theme pop-up called Fetch will open in the former Joan's on 3rd space in Santa Monica in November. Real estate firm Festival Companies Inc. and Rixton Productions, an event production company responsible for BrunchCon, will produce the pop-up, which is not affiliated with the movie or Paramount Pictures. The Hollywood Reporter: "The food and cocktail menus are still in development, though a bar will be available with Mean Girls-theme drinks for sale, potentially including the She Asked Me How to Spell Orange Twist with vodka and other references to Swedish Fish and Toaster Strudels. … Although the pop-up is not open on Wednesdays, the suggested dress code is still pink, of course. The Mean Girls soundtrack will be played throughout the space, which will be decorated like the school cafeteria."
Beloved Santa Monica video store Vidiots, which closed in 2017, has announced plans to reopen in Eagle Rock. Los Angeles Magazine: "In fall of 2020, Vidiots will relaunch as a video store and repertory movie theater at the 90-year-old Eagle Theatre on Eagle Rock Boulevard. ... Expect film screenings and series curated by both outside and in-house programmers, food and bev collaborations, and, most importantly, the return of Vidiots' 50,000-plus collection of DVDs and rare VHS tapes for rental."
Surprise Event Metric of the Week
Almost $200,000: The amount of money raised in less than 30 minutes during the live auction at the Habitat for Humanity of Greater Los Angeles Builders Ball. The City National Bank-sponsored event took place at the Beverly Hilton on September 27, and raised more than $900,000 total. AECOM, Thrivent, and the Los Angeles Rams were honored, and the Pointer Sisters performed.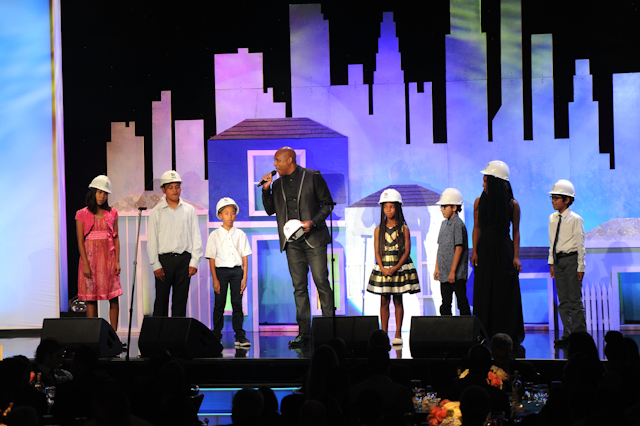 At the Habitat for Humanity of Greater Los Angeles Builders Ball, design and production—which included a stage backdrop showing the city skyline—was handled in-house.Photo: Joshua Blanchard/Getty Images for Habitat for Humanity

Venue Buzz
Canadian plant-based restaurant Fresh opened its first U.S. location in West Hollywood on September 27. The 5,000-square-foot space is lined with melon, blue, and white velvet booths with antique brass and natural oak accents. There's also a patio, two bars, and a private event space. Fresh serves vegan cuisine such as quinoa onion rings, vegan poutine, and flatbreads with plant-based Italian sausage and feta.
The Staples Center is now the first arena to partner with Mixhalo. The real-time audio platform allows attendees to control their audio experience through headphones and a mobile app; live translation into other languages is also available. "Imagine watching basketball and hockey with live, crystal-clear play-by-play in your ear, hearing front-row sound in the last row or selecting a specific mix at a concert. That is a Mixhalo-powered experience," explained Mixhalo C.E.O. Marc Ruxin in a press release.
Overheard
"It's such an amazing thing for me to be here today. ... We all know children are our future, so let's continue to help them."
—Chef, restaurateur, and caterer Wolfgang Puck at Save the Children's first West Coast benefit, a celebration of the nonprofit's 100th anniversary held on Wednesday night at the Beverly Hilton. Puck spoke candidly about being a beneficiary of Save the Children while growing up in post-WWII Austria; he was placed on a train to England where the organization assisted with meals and sports. Other event speakers included Oprah Winfrey, Bob Iger, Jennifer Garner, and Rachel Zoe.
On the Scene
For a Murad Skincare activation at the Westfield Century City, Treehouse Fabrication built a summery, photo-friendly wall filled with greenery, florals, and colorful fruit. 
What's Next
The 10th annual Veuve Clicquot Polo Classic takes place at Will Rogers State Historic Park on Saturday. In addition to food trucks, lawn games, and a match led by player Nacho Figueras, new this year is the La Grande Dame Garden, a luxury field-side experience with champagne bottle service.
Also on Saturday, E! and PopSugar are hosting the immersive E! True Hollywood House to celebrate the return of the E! True Hollywood Story series. The one-day event at the House on Sunset offers a behind-the-scenes look at the show's new season, and will include a mock red carpet, a series of themed rooms, and giveaways.
And benefit season continues in full swing! The Petersen Automotive Museum hosts its 25th-anniversary gala, honoring the Ford Motor Company, on Saturday night, while City of Hope's Spirit of Life Gala, featuring performances by Alicia Keys and Sara Bareilles, takes place at Barker Hanger on October 10. Also on October 10 is the Amfar Gala Los Angeles, honoring Larry Gagosian and Gwyneth Paltrow and featuring a performance by Christina Aguilera; Josh Wood Productions will produce.