This Week in Los Angeles: City of Hope's Star-Studded Gala, a CBD-Infused Baby Shower, a Fun Way to Showcase Honorees
West Coast bureau chief Claire Hoffman covers the week's biggest event news.
October 18, 2019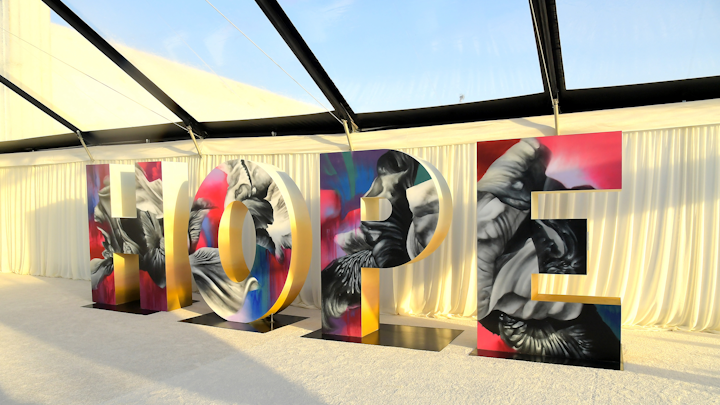 Photo: Charley Gallay/Getty Images for City of Hope
LOS ANGELES—Welcome to BizBash's Los Angeles-based column, where West Coast bureau chief Claire Hoffman recaps the week's biggest local news. Got a tip? Get in touch!
Moves & Milestones
Travis Jackson is a new senior event producer at Apple TV+. He previously served as senior producer at 1540 Productions.
In Case You Missed It
Did your favorite local event pros make our inaugural list of the Top 1,000 People in the U.S. Event Industry? Chosen for their work on corporate events, associations, trade shows, event strategy, and more, these people represent the best of the meeting and event industry in the U.S. Let us know who we missed!
In the News
To celebrate Burger King's new partnership with Uber Eats, the fast-food restaurant's mascot made deliveries to homes around Los Angeles. AdWeek: "The King made 'several hundred' such Uber Eats runs to L.A.-area homes with Amazon Ring doorbell cameras as part of a MullenLowe-led campaign to promote a new partnership between the fast-food chain and the ride-share-run food delivery service. Burger King then turned the resultant doorstep footage into a 30-second launch spot as well as video ads to be dropped on the brand's Twitter page."
The Stagecoach 2020 lineup has been announced. Goldenvoice's country music-focused festival takes place April 24 to 26. Los Angeles Magazine: "Ask people who regularly do the 'festival circuit' which one they attend for fun, and you'll hear Stagecoach come up often—even from people who don't primarily identify as country music fans. If you've been curious about the post-Coachella festival (on the same grounds and produced by the same people), this year's Stagecoach lineup might be the one that gets you out to the desert, with a mix of Nashville classics and artists with broad, cross-genre appeal. Topping the lineup are Thomas Rhett, Carrie Underwood, and Eric Church."
The City Council has requested a study on how much rideshare drivers earn in Los Angeles after expenses. Los Angeles Times: "Los Angeles lawmakers on Tuesday took the first step toward a minimum wage for tens of thousands of Uber and Lyft drivers, approving a study of how the law would work and how it would be enforced. ... The vote comes less than a week after City Council President Herb Wesson, who is running for a seat on the Los Angeles County Board of Supervisors, introduced a motion asking for a draft law to mandate a $15 hourly wage for drivers and $15 per hour to cover their expenses. Lawmakers approved a softer version Tuesday, asking city analysts to study an hourly minimum wage, 'with the goal of a $30 minimum.'"
Overheard
"Why is it the sole responsibility of people of color to hire people of color? ... [White men] are free to churn out movie after lily-white movie until the end of time simply because Ava DuVernay exists. She gets tired, guys!"
—Mindy Kaling at the 26th annual Elle Women in Hollywood celebration, held October 14 at the Four Seasons Beverly Hills. The Ralph Lauren- and Lexus-sponsored dinner and awards celebration honored eight women, including Kaling, Nicole Kidman, Lena Waithe, Natalie Portman, and Zendaya.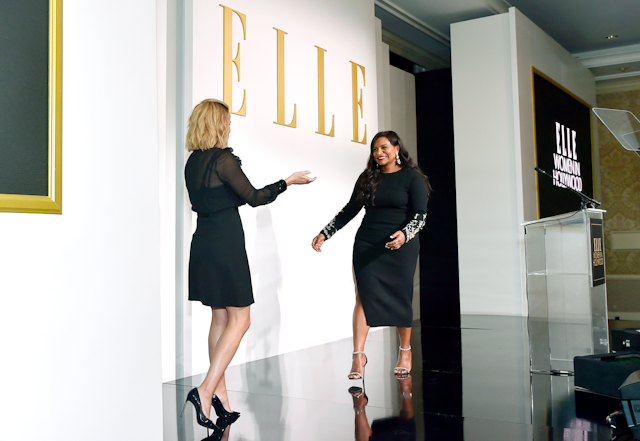 Reese Witherspoon introduced honoree Mindy Kaling at the Elle Women in Hollywood awards on Monday.Photo: Stefanie Keenan/Getty Images for Elle
Surprise Event Metric of the Week
50,000: The number of seeds sprinkled at Re-Plant Love, a Clarins and Malibu Foundation-hosted event held at Paramount Ranch on October 12. The gathering intended to help revive the Malibu property, which was destroyed in 2018's Woolsey Fire; guests also planted 3,160 resilient native trees, plants, and shrubs.

Venue Buzz
The Staples Center debuted its newly renovated Hyde Lounge on Wednesday. The 4,000-square-foot space is operated by SBE. Eater: "Inside, chandeliers and a dark marble bar corral the action around several televisions split across two different spaces. There's V.I.P. seating for 100 as well as each suite that holds 40 people, though the build-out itself is designed so be modular so that it can open all together for larger parties of 200 or more. As with all Staples Center operations, Levy Restaurants is handling the food, while SBE and building owners AEG control the space."
The Ace Hotel downtown is celebrating its 20th anniversary tonight with a party featuring Japanese auteur Ryuichi Sakamoto, performance artist SerpentWithFeet, and experimental artist Zola Jesus. Proceeds from ticket sales go to Urban Artworks, Sanctuary Art Center, and Art Corps.  
Party Favors
This week's episode of Keeping Up with the Kardashians showcased Kim Kardashian's baby shower in Calabasas. The event included a CBD-infused station where guests could create their own custom CBD oils and bath salts; all ingredients were provided by cannabis brand Humble Flower, which offers a selection of all-natural lotions, body and face oils, and more. 

On the Scene
At the 2019 Gatorade High School Athlete of the Year Awards, held this summer at the Ritz-Carlton Marina Del Rey, producer AOO Events used the nominees' names to create eye-catching designs on the tables and walls.
What's Next
The annual AIDS Walk Los Angeles takes place on Sunday. The event kicks off with an opening ceremony in front of City Hall and wraps with a concert; last year's performers included Betty Who and Todrick Hall. The event has raised more than $84 million A.P.L.A. Health and more than 20 other organizations in its history.
Also this weekend is the All My Friends Music Festival, which takes over Row DTLA on Saturday and Sunday. Performers include Idris Elba, DJ Justice, Black Coffee, and Diplo.
Looking into next week, the Los Angeles Philharmonic celebrates its 100th anniversary at the Walt Disney Concert Hall on Thursday. The concert will bring together the Philharmonic's three living music directors, plus guests Corbin Bleu, Alejandro González Iñárritu, Miles Teller, Christoph Waltz, and more. Proceeds from the gala support the L.A. Phil's music education programs.