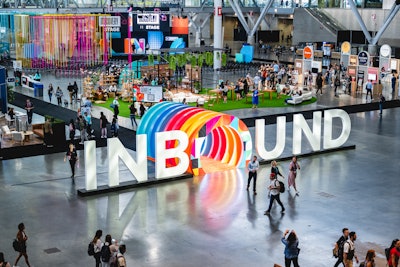 Photo: Ben Esakof-Halo Creative for HubSpot
BOSTON—For the marketing and sales community, there are few events like INBOUND. The conference, hosted by CRM platform HubSpot, annually draws a who's who of the industry, along with can't-miss networking moments, big-name speakers, and a variety of unique educational moments for its 11,000 attendees.
This year, the 12-year-old conference—held at the Boston Convention & Exhibition Center (BCEC) Sept. 5-8—sold out in record-breaking time. "Each year, INBOUND gets bigger and better as we continue to grow our community," explained Kat Tooley, HubSpot's vice president of global events and experiential marketing, who describes the conference as "part of the tech-business zeitgeist" and "one of the biggest, must-attend events for anyone in the tech industry on the East Coast."
Tooley believes that in-person engagement at events like INBOUND is more important than ever in the new hybrid world. "People really earmark INBOUND as one of their must-attend events to engage with others and network in person, which can't be discounted."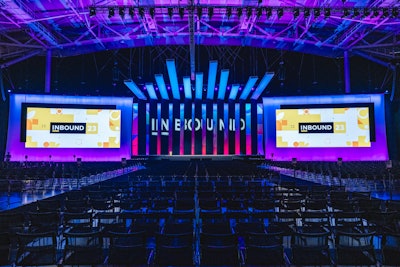 Here are six smart strategies that contributed to INBOUND's success in 2023.
1. A careful mix of big-name speakers and hyper-relevant content
This year's INBOUND featured an impressive main-stage lineup with the likes of Reese Witherspoon and Derek Jeter—not to mention more than 150 educational breakout sessions. The team works carefully to curate content that will be useful and relevant to its audience, which Tooley noted comprises people from companies of all sizes and spanning all industries. "Our mission is to help millions of organizations grow better through in-person learning, community, and connection—and our speaker lineup reflects that," she explained.
For the big-name speakers—which HubSpot started emphasizing in 2016—the team seeks out people with unique stories that can inspire broad audiences. (Witherspoon, for example, spoke about creating a culture of excellence, as well as the challenges of producing content in a rapidly changing landscape.) "But," Tooley added, "we want attendees to come away from the event with real-world learnings, so we're also focused on delivering hyper-relevant content for folks in sales, marketing, and operations so that they can create meaningful change within their own organizations."
2. An engaging show floor
Beyond the content, INBOUND is known for its bright and colorful show floor. "HubSpot is known as a fun, inclusive, and approachable brand, so our goal with physical production was to replicate that feeling so that attendees feel connected to HubSpot," Tooley explained.
This year, she continued, "We experimented with a lot of new ways to create a fully immersive experience at the forefront of physical development planning—ranging from custom brand activations, up-leveled VIP experiences, added educational sessions, health and wellness sessions, and community celebrations."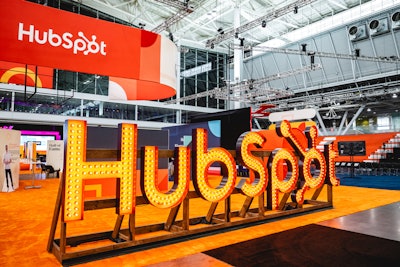 3. Exciting new programming moments
One of the buzziest moments this year was the brand-new pitch competition, hosted by HubSpot for Startups and HubSpot Ventures. Judges included Sarah Hodges, general partner at Pillar VC; Lily Lyman, general partner at Underscore VC; and Arlan Hamilton, founder and managing partner of Backstage Capital. Six startups were flown out for an opportunity to pitch their business and win $1 million; this year's winners were Tavus and doola.
Other than the pitch competition, Tooley called out a number of favorite moments this year, including an opening montage video. "I love seeing our executives onstage speaking to the future and revealing new mind-blowing features to our product. It's the most popular session at INBOUND, and for good reason," she said, also calling out the INBOUND After Hours event with John Mulaney. "He customized his set to really speak to our audience and it made it feel incredibly special and unique. Sometimes we need a moment to laugh at ourselves!"
4. Collaboration with the local community
INBOUND makes it a point to work hand in hand with the local community to ensure the massive event has a positive impact on the city. "We work with Meet Boston to calculate the local impact INBOUND has on the Boston community—and are thrilled that in 2023, we're estimating a $17 million boost to the local economy," Tooley noted. "This includes everything from restaurants and retail stores to transportation and hotels."
She also called out the hundreds of unofficial events that take place in the area during the main conference. "We see INBOUND as an ecosystem event—the event at the BCEC is just the center of a larger community of events happening during that time in Boston," she explained.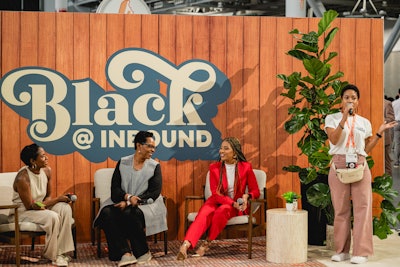 5. An emphasis on sustainability
Sustainability is important to the HubSpot team, who are working to decarbonize their operations with the goal of reaching net-zero carbon by 2040. A major part of this initiative? Prioritizing sustainabilly at INBOUND.
"We've taken several steps to be more sustainable at this year's INBOUND to not only enhance the attendee experience, but to help protect the environment," Tooley said. Initiatives include an increased focus on waste reduction and responsible food and beverage sourcing, building more sustainable scenic applications that can be stored and used year after year, and ensuring the convention center was a LEED-certified venue. The team also purposefully ensured that 50% of select hotels were less than a mile from BCEC to encourage walking and biking, and partnered with BCEC and Corporate CARE for post-event donations.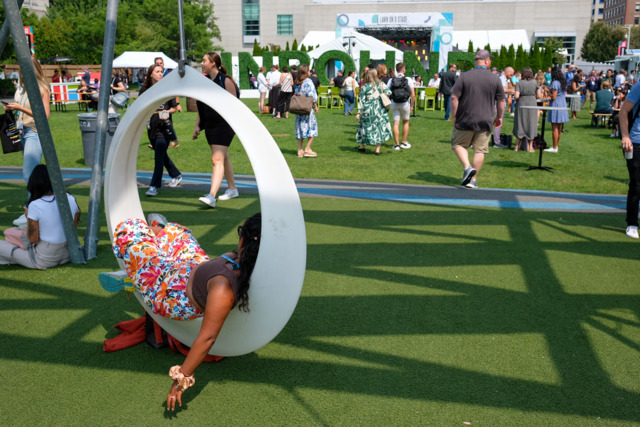 Throughout the conference, the convention center's Lawn on D provided a bright and airy lunch spot lined with some of Boston's most popular food trucks. The area's programming included a range of open mic performances, including Disney sing-a-long and a set from Rob Jones, the so-called "B2B Weird Al."Photo: RJ Jaczko-Halo Creative for HubSpot
6. Moments of joy and play
"Even at events focused on business and growth, not every moment needs to lead with education and drilling down on tactics," noted Tooley when asked about lessons learned at the 2023 event. "Sometimes there are just moments of joy and play because we are humans and that is what we need—we aren't monoliths that only care about business or our career. We also want moments of connection, togetherness, and laughter. After all, this is an experience built by humans, for humans."
VENDORS:
Logistics, Production & Creative: Agency EA
Exhibitor & Build Support: GES
Registration, Ticketing, App: Bizzabo, Klik
Website Support: Aptitude8
Venue, Support Services: Boston Convention Center
Photography, Videography: Origin Creative, HALO Creative, Mike D Shot Me
Accessibility, ASL Interpreters: Inclusive Communication Services
Fabrication: Mystic, Treehouse Fabrication
Food & Beverage: Levy, Rebel, The Dining Cart, East Boston Oyster
Misc. AV: Projection
Waste Management: ABM
Printing: SpeedPro
VIP Beauty Bar: Go MLR
Rigging: JCALPRO
LoD Tent: Peak Event Services