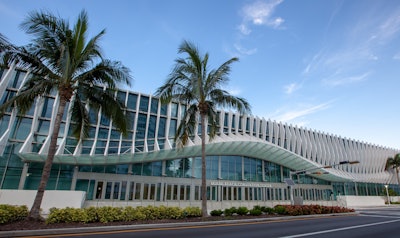 Photo: Courtesy of Miami Beach Convention Center
Last month, the Miami Beach Convention Center (MBCC) hosted a venue safety and security training in partnership with the International Association of Venue Managers (IAVM). The one-day event brought together over 325 registered attendees, including first responders, venue security professionals, and stakeholders from various sectors including event and performing arts centers, convention centers, stadiums, hotels, government emergency departments, and federal agencies.
The convention center hosts this type of training every year; general manager Freddie Peterson describes it as "integral to our commitment to guest, staff, and stakeholder safety." He adds, "The global security landscape and the events we host demand consistent updates to our measures."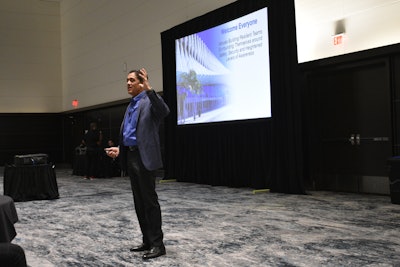 We caught up with Peterson as well as Jac White, MBCC's director of public safety, to get their tips for venue security.
1. Be proactive.
To White, the annual training is all about staying proactive rather than reactive when it comes to safety. "It's not just about adapting to changes in security threats, but also anticipating them," he says. "This year especially, given the global happenings, it was crucial for our personnel to feel equipped and prepared. ... The sheer unpredictability of threats is a challenge. Whether it's an external threat, an internal issue, or even natural disasters, event venues today need to be ready for a multitude of scenarios, which demands thorough and varied training."
Peterson believes that emphasizing constant safety training is a must. "Invest in it," he advises. "Foster a culture where safety and security are prioritized. Engage with experts and participate actively in industry events to stay updated."
2. Share knowledge with your competitors.
The August training wasn't exclusive to employees at the MBCC; the team opened it to participants from various venues and departments across the city. "Collaboration and a unified approach are essential," explains Peterson. "By extending the training, we're strengthening the citywide collective security culture, ensuring a more comprehensive protective layer across the hospitality and tourism sectors throughout the destination."
White adds that in today's world, "threats don't recognize boundaries. By integrating our training with other venues and departments, we're enhancing safety nets and ensuring consistency in response strategies across our communities. ... Sharing best practices, insights, and even challenges with other venues and local enforcement agencies can only enhance your security strategies."
3. Technology can help—but it comes with its own challenges.
The training covered a broad spectrum of safety-related topics, including de-escalation techniques, active threat response, situational awareness, and ways to build a resilient security culture. But something that really stood out to both Peterson and White? The pros—and cons—of technological applications in security. "The emphasis on integrating human elements with tech innovations was particularly striking," says Peterson.
White is excited about some of the tech innovations in security, and encourages event producers and venue operators to be open to them. "New tech and methods emerge regularly, and they can be game changers in ensuring safety," he notes. But something that's crucial to keep in mind? "The importance of returning to fundamental principles in case of technological failures was a standout lesson [at this year's training]," White notes. "It underlined the fact that while tech is an enabler, it's the trained personnel that truly ensure security across the board."