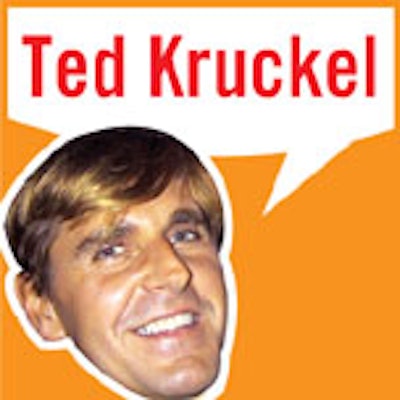 By Ted Kruckel
If I say that god is in the details, please don't accuse me of trying to start a faith-based event initiative. Trust me, I believe in separation of church and party. Instead I'm talking about those small entertaining details that sometimes absolutely make a party.
And I think that now is a good time to mention this as summer is rolling out, because the best summer parties are all about doing less, but doing things
just so
.
Years ago I braved an angry
PETA
demonstration to go to an event hosted by
Fendi
. Who the hell knows why, honestly. But having arrived hot, hungry and somewhat bothered, I was annoyed to learn they were pouring only prosecco and water, nothing else. I'm not a bubbly fan, so I opted for agua and then began hunting for something to eat.
But all they were offering was trays of parmesan and sugar-covered grapes. The cheese was in giant hunks with a little scoop for attacking. I dove in. This parmesan tasted softer and moister than it normally does. Still very salty. So I tried one of the sugar covered grapes. Wow. What a perfect combination. And then all of a sudden, the idea of prosecco seemed perfect, being softer and less "tight" (less carbonated, that is) than champagne.
So there you have it, three elements for a complete and perfect summer cocktail party—I copy the idea all the time. Okay, maybe I add an olive or something. By the way,
Mario Batali
later explained to me how the Italians get the parmesan cheese so soft. Basically you have to get a whole wheel and cut it open right before you serve it. The skin of the cheese keeps the moisture in, and once the wheels have been cut, no amount of
Saran Wrap
will keep the moisture in. If you don't need a whole wheel, ask them to cut one for you at the store and serve it as soon as possible. The little funny scoop knives are hard to find, but they make a difference. I'll keep my eyes open for you.
I was reminded how tiny details can make an event at
People
magazine's 30th anniversary event. I got there late, wasn't really in the mood, blah blah blah. The event was held at
Blvd
, which is a new nightclub on the Bowery. I don't have much to report, except that they have an all-white room for V.I.P.s which feels very smart. All white always feels smart, I think, until the stains start to show.
Anyway, because I was late I missed the performer, singer
Joss Stone
.
People
's editor,
Martha Nelson
(a friend and former client of mine), kind of chided me for being so late, saying, "You really missed something. It was a great performance." (Event production was done by
Musters & Company
, by the way, and the friendly and familiar guys wearing headsets made for smooth entries and exits.)
On the way out, expecting some giant gift bag, we were instead simply handed Stone's CD,
The Soul Sessions
. Now I get CDs at events all the time, but usually in a gift bag with ten other things, which I think devalues them. I hardly ever even open them, do you?
But in this case, I came home with just the CD, and the next day there it lay, and guess what, now it's my favorite. So my point is that one detail really made the event for me. Every time I listen to it I'll think, "Oh yeah,
People
magazine had a party where she played. They know good music." And isn't that what the goal should be?
I've written about invitations here before, so I'll spare you my endless list of pet peeves. Rather I'll simply point out what I thought was a perfect invitation, from
Barneys New York
and
Elle Décor
(another former client), announcing the reopening of Chelsea Passage, Barneys' home division.
Heavy, but not too heavy, cream-colored stationary with cursive type not unsuitable for a wedding invite—sounds old lady-style, right? But the type was in shocking orange, matching the tissue lining of the envelope. The result was both hip and classy, the best invitation I've seen in a long time.
Of course it turns out to be from
Mrs. John L. Strong
, the Upper East Side doyenne of stationary. So I gave them a ringy-dingy to get an update from
Paul Donaher
, who is their chief operating officer.
Here's the scoop. It's a pricey undertaking. A hundred invites like the one I'm describing will set you back about $2,000 to $2,500 or so, depending whether or not you want "reception cards" (that's R.S.V.P. cards, folks, and yes, they come with the return envelopes). Yikes! $20 to $25 a pop! And you have to wait six weeks. But Paul reminded me that they are all hand-cut, hand-stamped, 100 percent cotton and it is true, you can tell the difference.
The truth is, Paul tells me, they rarely do invitations: "I mean if the
Baron de Rothschild
needs invitations we'll do them." Don't you just love it?
Anyway, established in 1929, Mrs. John L. Strong products are also available at the Chicago and Beverly Hills Barneys outposts, as well as by appointment only (no dropping by, I guess) at their home on 699 Madison Avenue, which by the way is at 62nd Street, one block from Barneys, which strikes me as funny.
Finally, a tip. There's one perfect detail about the annual
Dance at Sunset
Hamptons benefit for
AIDS Community Research Initiative of America
(Acria). (Well, it's at Sunset Beach on Shelter Island, which I think technically is not the Hamptons, but you get the idea. This year the date is set for June 26, F.Y.I.) The gift bag you leave with is a great summer bag. And yup—I called and checked—Acria's fund-raising and event geniuses promise that this year's tote is from
Banana Republic
and worth grabbing. Just get there early. For more info, call 212.924.3934 ext. 200.
Posted 06.09.04
Columnist Ted Kruckel is an experienced and opinionated former event and PR pro who ran events for 20 years for high-profile clients like Vanity Fair, Elle Decor, Christian Dior and Carolina Herrera. He shuttered his firm, Ted Inc., in 2003. You can email him at

[email protected]

.