How Nonprofits Are Attracting Young Donors
Nonprofits are engaging the next generation of donors with a mix of updated fund-raising methods.
October 27, 2015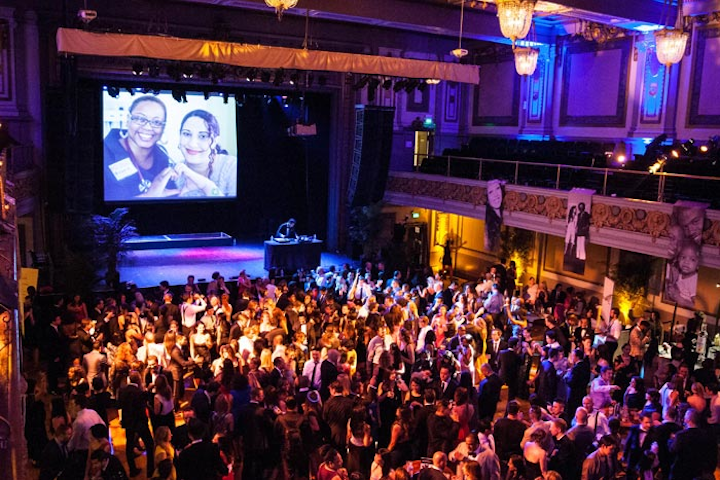 Photo: Drew Altizer Photography/SFWIRE
Nonprofits are targeting the next generation of donors by hosting more and more events that appeal to a younger crowd. From keeping tickets reasonably priced to hosting happy hours, here are some strategies for wooing young patrons and forming lasting relationships with them.
Offer attainable—but strategic—sponsorship levels.
Not all young professionals have $500 or more to spend on a single gala ticket. Keeping that in mind, planners at nonprofit organizations keep ticket costs relatively low for events targeting a younger donor base.
In New York, the Whitney Museum of American Art's annual gala has an after-hours event known as the Studio Party. The event draws a core audience of donors in the 25- to 40-year-old age range. For general admission tickets, "it seems as though $250 per ticket is the outer limit," says Gina Rogak, the museum's director of special events.
Some events for young professionals come with even lower ticket costs. In San Francisco, the Glide Legacy Gala, held in support of the nonprofit Glide, charges $85 for general admission tickets and $150 for V.I.P tickets. And in Chicago, the Shedd Aquarium's annual auxiliary board event, dubbed Blu, offers tickets for $125 to $150.
But planners caution against selling new patrons short. For the Studio Party, donors can opt to purchase $500 tickets, which come with premiums such as sponsor gifts or rare experiences (think a private photo shoot with an artist at the event). "You should always have a higher-priced ticket," Rogak advises. "Believe it or not, some people just want to give more."
Katie Law, senior director of donor relations for special events at the Shedd Aquarium, says that the price of admission to Blu vacillated for a few years. "Our ticket costs have ranged from $100 to $175 for regular admission over the last five years," she says. "We saw higher guest counts when we dropped to $100 per ticket, but made a strategic decision to offer $125 early bird tickets and $150 regular tickets to appeal to audiences that might become, and remain, long-term supporters of the aquarium versus those looking for an inexpensive event ticket. It's a delicate balance."
Explain why their involvement matters.
For a better chance of turning first-time party guests into long-term supporters, planners need to make sure to educate guests—even as they eat, drink, dance, and socialize—about the event's cause.
The education oftentimes starts with messaging leading up to the event. On the invitation for the Whitney Museum's Studio Party and in social media prompts promoting the benefit, "we always message where guests' money is going," Rogak says. But once patrons are at the museum, "the expectation is that guests will have a visceral reaction to the art itself, and especially to the younger artists," Rogak says. "We hope this is something they will want to support and be a part of [for the long term]."
At the Glide Legacy Gala, perks for V.I.P. ticket holders this year included typical sponsor amenities—such as access to reserved areas and specialty cocktails—as well as a private meeting with the organization's founders. That way guests could learn more about Glide's efforts to assist the San Francisco community in a one-on-one setting.
Reach out with an advisory board.
Not all potential donors will be able to meet privately with an organization's figurehead, however. Many nonprofit planners stress the importance of forming a strong advisory board to help educate young professionals about an organization's cause.
"We rely on our auxiliary board members to be ambassadors of our mission," Law says. "When they're encouraging their networks to purchase tickets to Blu, they explain what these important funds support, [such as] Shedd's animal care, learning programs, and conservation efforts." This year's event drew approximately 1,050 guests.
Host casual events.
It doesn't necessarily take a lavish gala to engage new donors. Some nonprofits, including museums and other cultural institutions, opt to showcase their venues at casual events that lure the after-work crowd.
The Lyric Opera of Chicago hosted a new event series in July known as "Lyric After Hours." The free events invited guests to stop by the Lyric's Civic Opera House after work on Wednesday evenings for live music, specialty cocktails, and small plates available for purchase. "We were hoping to attract a business crowd from the surrounding area," says Lisa Middleton, the opera's director of marketing. Some 600 guests attended the first event and represented a mix of summer associates, young professionals, and executives from nearby companies.
Once at the opera house, guests could engage with the organization by chatting with staffers about upcoming events, touring the opera house, and signing up for mailing and email lists to keep abreast of future events. "There were also season brochures for individuals to pick up, and we had a video loop running, promoting all of the upcoming productions," Middleton says.
Featured Venues/Suppliers: