Oscar Event Update: What's Really On (It's a Lot)
February 22, 2008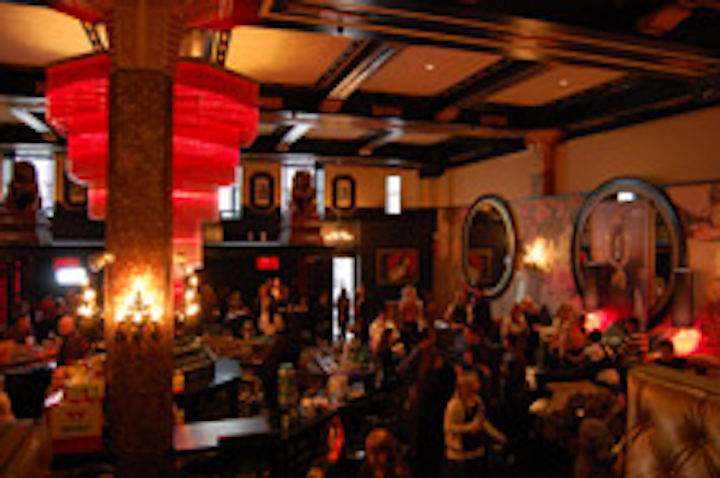 Photo: BizBash
You may have heard something about the matter of a certain
labor dispute
that was threatening Oscar events in Los Angeles. With some hugely significant exceptions, though—
Vanity Fair's A-list-only bash
, plus Ed Limato's pre-awards soiree, and some less heady
others
—many of the major events around town are going on as planned now that the strike has ended. Here's the rundown.
Silver Spoon
is putting on a two-day gift suite, which began yesterday, at the strikingly revamped historic venue the
Kress
.
Entertainment Fusion Group
is handling PR. Guests traveling to the suite along Hollywood Boulevard from the west have to detour around the Oscar red-carpet setup, already being placed in front of the
Kodak
a few blocks away.Roger Neal at
Neal PR
is producing the "SHM Academy Awards Get Ready for the Red Carpet" suites, which end today after a long run that began Monday at the
Luxe Hotel
. Neal also hosted a
Globes suite
, despite that
ceremony's cancellation
. The setup features a portrait of nominee George Clooney made out of 10,000 candies from sponsor Jelly Belly, created by San Francisco artist Roger Rocha; the piece will be donated to charity. And designers from the suites will donate items to be auctioned to benefit the WGA Strike Fund. SHM offerings also included a dinner on Tuesday, prepared by chef Kurt Ehrlich of
Celebrity Gourmet Catering
.
Yesterday,
Caravents
produced
Essence
magazine's first Black Women in Hollywood awards at the
Beverly Hills Hotel
, working with the mag's Candace Purdie Montgomery for six months to bring it together. Jada Pinkett Smith was honored with an award presented by Will Smith and Tom Cruise; Quincy Jones presented to Suzanne de Passe; and Kerry Washington presented to Ruby Dee. A custom Lucite and plexi stage front and backdrop was lit from within with LED lights as the key element of the set piece. Lexus sponsored. Producer Cara Kleinhaut called it "a truly unique event among the rounds of obligatory parties this week."
Tonight, Livestyle Entertainment brings its "Supper Club" food-focused event concept (launched at Sundance in 2007) to Oscar week for an evening with Fox Searchlight Pictures' seven Oscar and 11 Independent Spirit award nominees. The Creative Coalition, along with
STK
restaurant, Lufthansa Airlines, and
Ruinart Champagne
, will sponsor. "We look forward to bringing our supper club to Oscar week on an annual basis," said Ryan Heil, Livestyle co-managing partner.
Also tonight, Julianne Moore will host a private dinner for the Diamond Information Center—at the
Chateau Marmont
, where the group has been hosting a weeklong display of red-carpet looks paired with diamond jewelry designed by Rodarte, 3.1 Phillip Lim, Jovovich-Hawk, Alabama Chanin, and Libertine, with many more diamonds also on display.
Rabin Rodgers
will design and produce the Moore dinner, and
PMK/HBH
is handling PR. Dita von Teese, Amy Ryan, and
Juno
's Diablo Cody and Jason Reitman are expected to attend.
On Saturday night, the über-exclusive and press-free "Night Before" fund-raiser for the Motion Picture and Television Fund will go on poolside at the Beverly Hills Hotel. Jennifer Aniston, George Clooney, and Steven Spielberg are among the hosts, and AOL, McDonald's, HP, Target, and
Variety
are among the corporate sponsors. The event is a huge money-raiser for the fund; it brought in about $7.5 million last year, even sans an auction.
On Oscar day, agent Norby Walters will host his annual "
Night of 100 Stars
" viewing party at the Beverly Hills Hotel's Crystal Ballroom. Organizers for "Night of 100 Stars" were among the first to release a statement reassuring potential paying guests—at $1,000 a head—and media that their party would indeed go on. Earlier this month, they said, "Night of 100 Stars is still on and will always go on.... We are 100% supportive of the creative film and television community and our party reflects that in its continual turnout by celebrities and industry professionals."
Children Uniting Nations'
Oscar party
with
Billboard
, the music industry's version of a viewing party and concert charity event, will go on at the International Ballroom of the
Beverly Hilton Hotel
. The evening's hosts come from both the music and film worlds, with goodwill ambassadors including Christina Milian, Stephen Dorff, Tracey Edmonds, James Keach, Darryl "DMC" McDaniels, and Wilmer Valderrama. Ice-T and Raiders cornerback Nnamdi Asomugha will be honored with awards.
AIDS Project Los Angeles will host its
fund-raising viewing dinner
at the
Abbey
in West Hollywood, presented by SBE Entertainment. Expect a look in blues and silvers that nods to the org's 25th anniversary.
On the topic of AIDS fund-raisers, with
Vanity Fair
's party off,
Elton John's annual Oscar bash
is expected to be the new hottest ticket of the night. It will go on at the
Pacific Design Center
, with production by
Virginia Fout
and design by
Antony Todd
, and performances by Elton John, plus surprise additional artists.
Rogers & Cowan
is handling PR.
Of course, the academy will host its own
Governors Ball
at the Grand Ballroom at the
Hollywood & Highland Center
after the show, many guests' likely first stop of the night. Cheryl Boone Isaacs is the ball's chair,
Cheryl Cecchetto
is its producer, and
Wolfgang Puck
will cater. The look will have a palette in red and gold, a nod to the golden Oscar statuette plus the red carpet that is so ubiquitous around town these days—notwithstanding the fallout from that certain labor dispute.
Featured Venues/Suppliers: