Learning From the Oscars: 5 Tips for Designing Awards Envelopes
The Oscars' Best Picture mishap shined new light on the critical importance of a simple piece of stationery.
March 6, 2017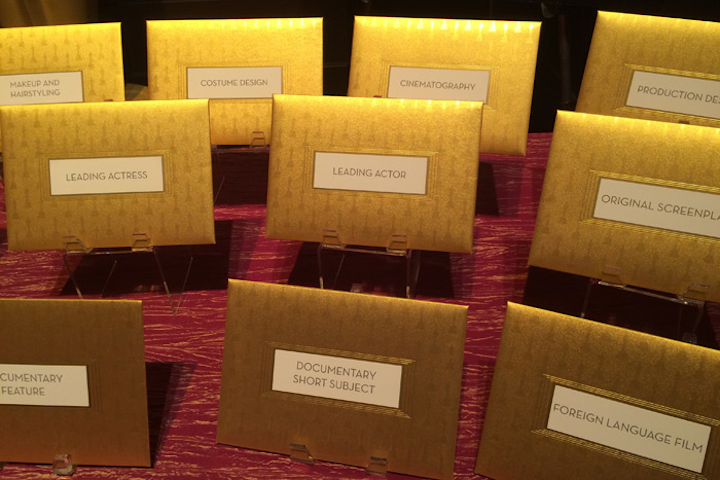 Photo: Alesandra Dubin/BizBash
By now, the Oscars' Best Picture-winner mixup is the award-show flub seen around the world. Though the PriceWaterhouseCoopers accountants involved have been banned from participating in future ceremonies—and now have private security after angry people gathered at their homes—the precise causes behind the drama remain unclear. That said, one possible source of the confusion could have been related to the design of the famous envelope itself.
While invitation designer Marc Friedland with his company Couture Communications had designed gold envelopes and corresponding cards in recent years dating back to 2011, this year the firm did not participate.
"When we set out to design the first designed Oscar envelope, we took great care to design something that would not only look impressive to the audience and viewers at home, but to function as flawlessly and as foolproof as possible," Friedland says, calling this year's mixup "a striking lesson in how blending form and function is not just a nice thought but essential to great design. Now the debacle is simmering down, I don't think anyone will be easy to dismiss the importance of the envelope as 'just the envelope' anymore."
Friedland says he'd be happy to have the job again in the future. Meanwhile, he offered his tips for how award-show producers can avoid any such fate at their own events.
1. First, make it legible.
"While legibility is always important in communication arts, it is especially important for award shows," he says. "Think about having a billion people watching you, and the sheer horror of not being able to read something."
2. Consider the stage environment.
Apart from studying the details of a perspective envelope and card design in a vacuum—such as a desk or conference room—details must be considered in context with such influences as stage lighting. "Refrain from using foil, as it tends to be reflective and causes glare," he says. "Whether it's being filmed or read, glare is never a pretty look." 
3. Anticipate (and prepare for) the worst.
"Our biggest fear was that a presenter would fumble and not be able to pull the winner's card from the envelope," he says, remembering past years' considerations. "To account for this, we added a bit more girth in the capacity of the envelope to make the removal of the card easy. Know that under pressure, anything that can happen usually does. So plan ahead, practicing with an actual piece."
4. Consider how the design functions, as well as how it looks.
"Engineering the design for functionality is essential," Friedland says. "If it is a sealed envelope, ensure that while the flap is secure, it's still easy enough to open without tearing, struggling, or destroying it." That said, know that your envelope may have an important life beyond its stage moment for organizers, recipients, or posterity. So making it pretty matters: "For the Oscars, the envelope is a piece of collectible communication art that will hold a lifetime of memories for the recipient," he says.
5. Know the importance of small details.
As this year's telecast shows, a ceremony can be impeccably executed—in terms of decor, staging, and lighting—but if an award mishap takes place, that's all people will be talking about afterward. That underscores just how much details matter, and it can require careful communication of that message among teams of hosts, producers, vendors, and other stakeholders in minding the budget.
"Being meticulous and paying attention to each and every detail is an obsession of ours—we try not to let one thing be taken for granted," Friedland says. "This is what separates true communication art from everyday design. Like Apple or Tesla, each and every detail is considered, tested, redesigned, and fine tuned."
Featured Venues/Suppliers: