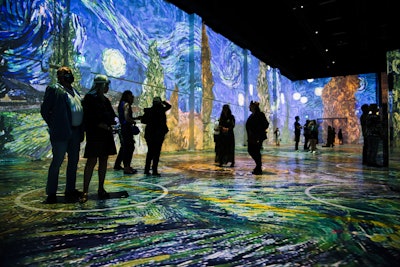 Photo: Courtesy of Immersive van Gogh
TORONTO—Ninety-million pixels. More than 60,000 frames of video. Fifty-two projections. Four-hundred images from Dutch painter Vincent van Gogh's iconic catalog. Toronto's new Immersive van Gogh art exhibition would be impressive by any standards—but is even more headline-grabbing during the COVID-19 pandemic, when live events around the world have been canceled or postponed.
The high-tech art exhibition, which kicked off July 1 at the former printing press of the Toronto Star, is a fully immersive digital show that features 600,000 cubic feet of projection animating the artist's works, accompanied by custom music and lighting. Images from famous paintings like "The Starry Night," "Sunflowers," and "The Bedroom" travel across the walls and floor, melding and morphing to highlight the brushstrokes, details, and colors.
The show is the brainchild of artistic director Massimiliano Siccardi and composer Luca Longobardi, who staged a different version in Paris in late 2019. The Italy-based pair teamed up with Lighthouse Immersive, a new collective from Starvox Entertainment founder Corey Ross and Show One Productions founder Svetlana Dvoretsky.
"Presenting cultural events during this time of COVID-19 is an incredible challenge, and we are saddened to see the cultural calendar in Toronto diminished as almost all arts institutions have canceled their events and laid off their artists and staff," said Ross, who is serving as co-producer alongside Dvoretsky. "We believe in the power of art to uplift, inspire, and connect communities—and it is more important than ever to offer a creative outlet for Torontonians to escape and recharge during this unprecedented global crisis."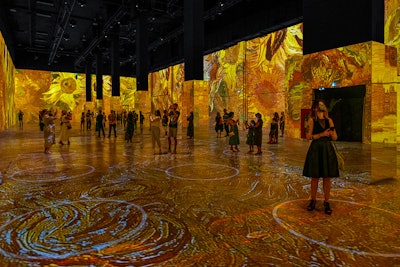 So how did the team pull off the exhibition in the time of social distancing? By breaking it into two components, a walk-in experience and a drive-in. For the drive-in, which offers tickets starting at $95, vehicles park their cars, turn off their engines, and enjoy a 35-minute show that fuses art, light, sound, and movement. Only 10 vehicles are permitted at a time, and guests stay inside their cars for the duration.
To accommodate more guests at a lower price point (starting at $35), organizers also added a walk-in component. Logistics were, naturally, a bit more complicated; masks are required for all staff and patrons, and guests can enter and tour the space without touching anything. Capacity is set at 132 people, which allows for 75 square feet per person—far exceeding the city's current requirements of 21.5 square feet per person. In a fun and tech-forward twist, social-distancing circles are projected on the ground to show guests where to stand.
"We have been working around the clock to come up with innovative approaches that will make presenting Immersive van Gogh safe for our audiences while keeping our artists, contractors, and staff employed at their pre-COVID salaries," explained Dvoretsky.
Immersive van Gogh is currently scheduled to run through Sept. 30.