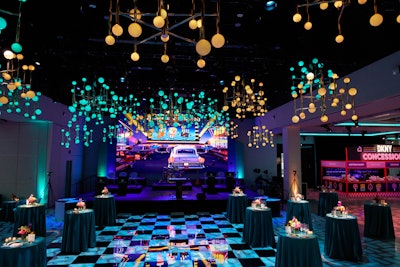 Photo: Lori Cannava
NEW YORK—City Harvest's signature tasting event, BID, invited guests to a drive-in to benefit New Yorkers in need on Oct. 18. OK, it wasn't an actual drive-in, but thematic decor sure made it feel like it was.
"Even before guests entered the main event space, they were greeted by a retro sign like you might see at a drive-in and a custom-built ticket booth from Ed Libby & Co. Events," described Gregory Boroff, City Harvest's chief external relations officer.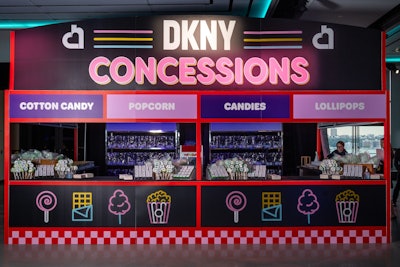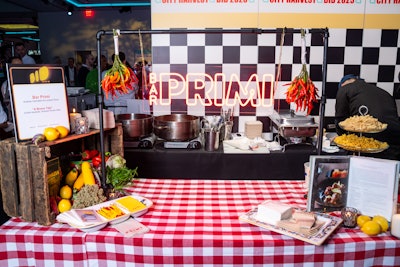 And if you thought there wouldn't be cars in the event's 75,000-square-foot Manhattan event venue, The Glasshouse, think again. Once inside, guests awed at 10 retro cars, which Ed Libby made out of plaster, Boroff said. Oh, and there was "a classic '50s checkerboard on the dance floor" fit for a throwback-themed affair like this year's BID.
In addition, "Creative Games built a photo booth that looked like a retro car, and DKNY created a concession stand-themed activation, serving popcorn and candy and custom cookies," Boroff said.
Bites from all 50 of New York's most renowned chefs and mixologists who were in attendance came with a ticket, which ran guests anywhere from $1,000 to $10,000. TV presenter Katie Couric, reality TV star Tayshia Adams, and actor Nick Creegan, as well as culinary royalty like Eric Ripert and Anne Burrell, were among the 1,000 guests in attendance. All proceeds from ticket sales went directly to the organization's mission of feeding New Yorkers in need. The money raised at the Oct. 18 event—which fittingly took place on the heels of World Food Day on Oct. 16—raised enough to feed 4 million locals.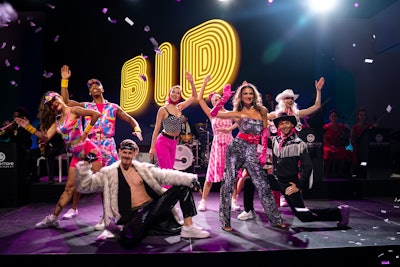 For reference, $25,000 helps feed more than 58,000 New Yorkers for one day, City Harvest has said. The figure means the event raised some $1.7 million with the help of ticket sales and an auction, which offered sought-after prizes to guests who generously emptied their pockets.
After enjoying bites courtesy of David Shim of COTE Korean Steakhouse and famed pastry chef Ron Ben-Israel—just to name a few A-list chefs in attendance—an auction saw four lucky guests winning dining experiences unlike any other. One award dubbed "A Secret Soiree" saw a donor and nine friends winning a gathering at Cipriani Club 55 over a meal hosted by chef Geoffrey Zakarian, while "A Celebration of Caviar" awarded a night of honoring the delicacy, as the event's name suggests, at coveted NYC venue The Fulton by Jean-Georges.
One notable nod to the drive-in theme: "Melba Wilson's station, which featured a director's clapboard," Boroff said, noting that the tasting stations make for "a walk-around tasting event like no other."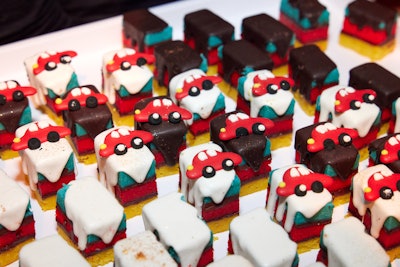 "The entertainment brought the drive-in theme to life too," Boroff noted, pointing to "incredible immersive performances" inspired by box-office hits Barbie and Mamma Mia! " On the Move Entertainment's Joshua Leon choreographed 20 singers and dancers for the performances. The night turned into a true dance party," Boroff recalled.
Boroff's personal favorite moment of the night was when On the Move's senior musical director, Gabe Otero, "scored a medley of movie theme songs that were played by a live 16-piece orchestra while the movies played on the big screen."
"It was incredible!" Boroff said of the composition.
However, it surely wasn't the only unforgettable moment of the night. Keep scrolling to see how BID and its vendors tingled taste buds—and all the other senses—all while making an impact on the local community…
VENDORS
Auctioneer: Billy Harris
Branding & Graphic Design: Mario Avila Design
Catering: Great Performances
Decor: Ed Libby & Co. Events
Digital On-Screen Content: COACT
Live Entertainment: On the Move Entertainment
Photo Booth: Creative Games
Printing: Automation Graphics
Producer: LeFeast, Karlitz & Co.
Security: Mike Zimet Event Security