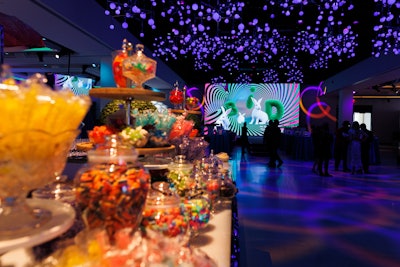 Photo: Courtesy of City Harvest
NEW YORK—We know you're curiouser and curiouser (just like Alice) about what transpired down the rabbit hole at The Glasshouse on Oct. 18. Well, it was City Harvest's 2022 BID, the nonprofit organization's annual fall tasting event—themed "through the looking glass" this year—where 50 renowned, New York City chefs helmed tasting stations where bites of food screamed "eat me."
Following an exclusive look at the event team's design plans, BizBash is reporting back on how the blueprints were brought to life. Gregory Boroff, the chief external relations officer at City Harvest, first noted the importance of selecting a blank-canvas venue that "offered us so many opportunities and gave us the space to create this immersive, experiential world." It's no wonder the event landed at The Glasshouse, nestled on Manhattan's Upper West Side and—fittingly for a "through the looking glass" theme—complete with floor-to-ceiling windows.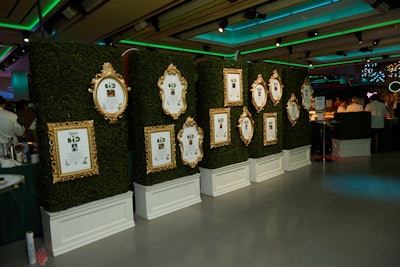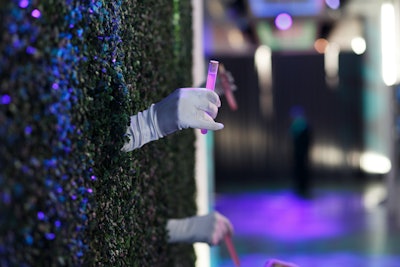 The result of giving the team 75,000 square feet of blank canvas? An Alice in Wonderland-inspired affair for 700-plus guests that began with a playfully named "drink me" elixir and continued into a tasting area where chefs from the likes of Aquavit, Chinese Tuxedo, Estiatorio, and COTE Korean Steakhouse (just to name a few) offered up bites of their pièce de résistance. And alongside culinary giants like Geoffrey Zakarian, Tom Colicchio, and Ron Ben-Israel, mixologists served perfect potion pairings (although not to fret, these didn't make guests shrink in size).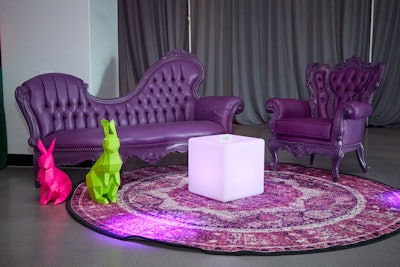 As the design plans showed, different corners of the venue were outfitted in over-the-top references to Alice in Wonderland, from the white rabbit to an English garden, and an area in ode to the Mad Hatter. Dan Carr, the design director at Great Performances—the decor and catering services company behind BID 2022—told BizBash that he was "most excited to bring 'The Queen's Garden' to life." The concept here was "a contemporary take on a royal French or Italian garden filled with neon accents."
"The Queen of Hearts loves the nightlife, don't you know," Carr pointed out, adding that chefs tables in this foliage-filled area were "arranged in clusters to mimic the layout of a European garden."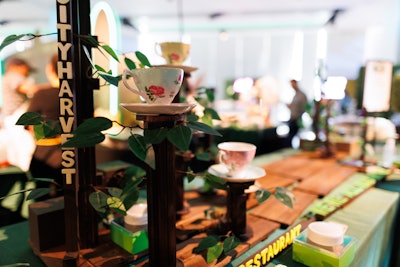 But it wasn't all tiger-lilies, roses, daisies, violets, and larkspurs… Carr said the floorplan was a more challenging one than he expected, especially with the "goal of avoiding long rows of tables where guests slowly walk, looking back and forth [like] the 'convention stroll.'" Instead, the objective was "to create a cool space and invitation to wander through."
Boroff added that the setup allowed for "the theme to permeate throughout," and noted that a live performance from DJ Martial Simon and an electric flutist elevated the guest experience.
"This year's BID reinforced that all five senses need to be incorporated at all times," Boroff said. "From the moment a guest walks through the front door to the moment they leave, we want them to experience sounds, music, entertainment, delicious food and drink from our chefs, photo opportunities, and decor."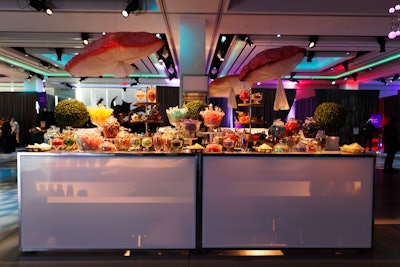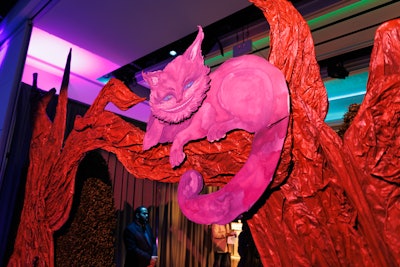 But most notably, the evening of BID 2022 was a record-setting one, where attendees raised enough money to feed nearly four million New Yorkers in need. The number is an (as the Mad Hatter once said) "entirely bonkers" increase from the 1.6 million NYC families that were fed with funds raised from the event's 2020 iteration.
Want to join City Harvest in making an impact on the local community? Boroff teased the "several events coming up this spring, including our Winter Family Carnival in March and our 40th Anniversary Gala in April." Visit City Harvest's website for more information, plus ways to donate to NYC families, additional events to purchase tickets to, and more.
VENDORS
Auctioneer: Billy Harris
Chef, Restaurant, & Mixologist Management: Karlitz & Company
Decor & Catering Services: Great Performances
DJ: Martial Simon
Entertainment: On The Move Entertainment
Graphic Design: Mario Avila Design
Logistics: LeFeast
Photo Booth: LA Photo Party
Photographers: Eric Vitale; Lori Cannava; Paul Frangipane
Security: Mike Zimet Event Security