H&M Holds Big Show in Central Park
Swedish fashion brand H&M staged a runway and concert extravaganza that impressed even New York's jaded fashion editors.
April 27, 2005
Known for its affordable, and often disposable, fashions, Swedish clothing giant
Hennes & Mauritz
—better known here as H&M—staged a massive fashion show and concert in Central Park that had the fashion crowd aflutter all week. With 850 guests and a tented venue that took 240 hours to build from the ground up, the event was likely to be the fashion industry's biggest of the season. We overheard several editors remark that the show was reminiscent of the money's-no-object, extravagant fashion shows of the 80's and 90's.
Kristina Stenvinkel
, H&M's head of communications, worked with
KCD
to produce the affair. Planning began more than a year and a half ago, and the entire event is rumored to have cost $7.5 million. While H&M didn't pay a fee to use the park, the company made a donation to the
Central Park Conservancy
, and is also one of the chief sponsors of the park's
Taste of Summer
benefit this year.
Guests entered the event through Central Park's 72nd Street entrance via the guidance of orange baton-bearing staffers, who had sectioned off a length of Fifth Avenue for guest pick-up and drop-off. The four-story tent from
Regal Tents
was visible from blocks away. Celebrity guests were ushered to a photo pit, while noncelebs and editors went straight to the tent to get their seat placement cards.
Once guests checked in for the 7 PM cocktail reception beneath an open-air canopy, they walked through
Raul Avila
's 16- by 12-foot curtain of 5,000 hand-strung orchids, and into a lounge and reception area decorated with lush ivy landscaping, dozens of stained wooden lanterns filled with candles, and two walls of 300,000 red, pink, and fuchsia roses. (A wall of roses is an Avila trademark that many guests no doubt saw at the
Marc Jacobs
' store opening in L.A.
and Jacobs'
2004 spring Fashion Week after-party
.)
At 8:30 PM, guests filed into the 15,000-square-foot tent hung with four massive widescreen panels. Amphitheater-style seating on elevated wooden platforms topped with cushioned benches and low picnic-style tables gave everyone a good view of
Kadan Productions
' custom-designed X-shaped runway. And the tables held trays of self-serve wine, water, and glasses. After the 18-minute fashion show—which featured 150 models and 26,000 items of clothing—a small army of servers handed out
Hank Tomashevski
's bento box-style dinner of lobster and roast beef and a strawberry shortcake dessert.
After dinner, several dozen of the models and makeup artists joined guests for a live concert featuring
John Legend
,
Kanye West
, and violinist
Miri Ben-Ari.
While guests mingled and table hopped, security staffers cleared the stage area as the tent's domed ceiling opened up and a grand piano was lowered onto a stage at the center of the runway. After the performances, DJ
Spinna
's tunes turned the event into a dance party before guests left with ornate messenger-style gift bags decorated in the style of the nomad-inspired clothing shown on the runway.
—
Jim Shi
Photos: Getty Images (runway), Paul Hawthorne/Getty Images (rose wall), Jeff Thomas/ImageCapture (orchids, seating)
Related Stories
Marc Jacobs in L.A.: Flowers, Fairies, and Films
Marc Jacobs' Garden Party Packs Pier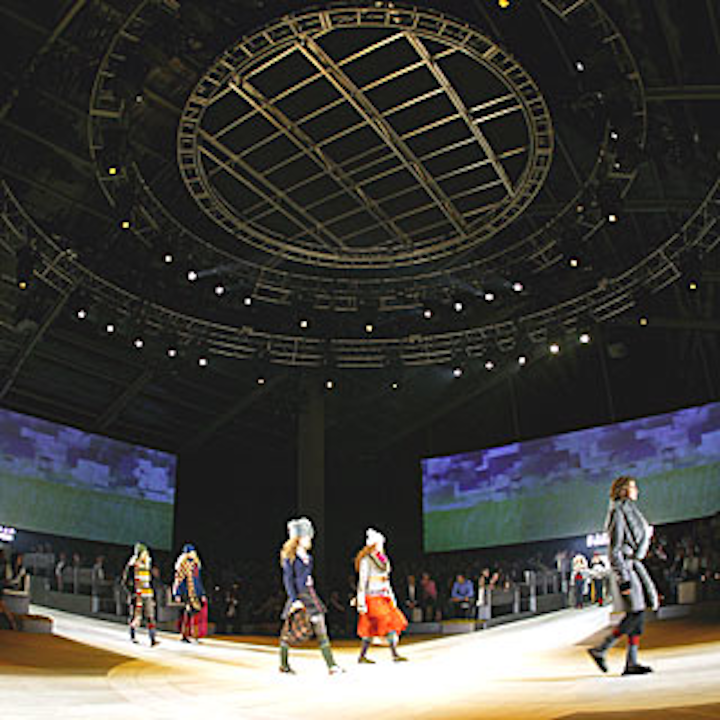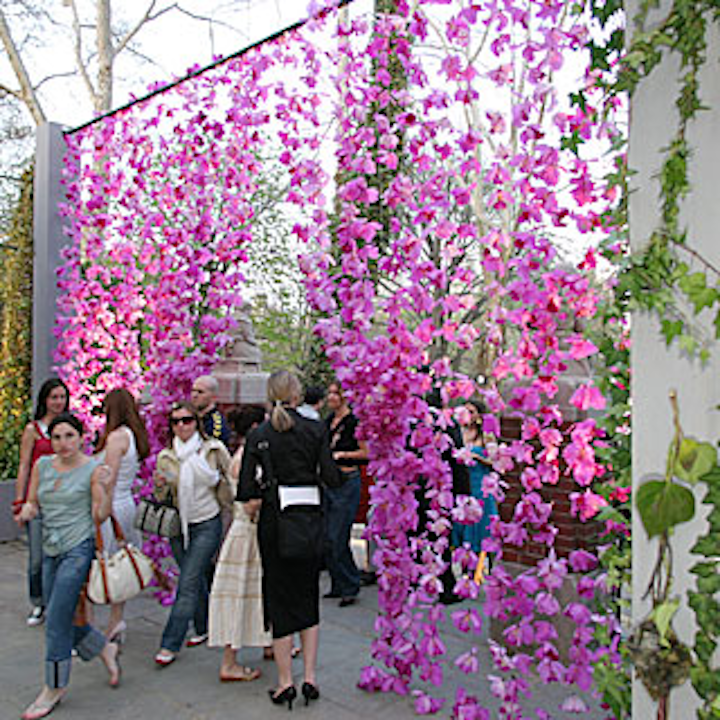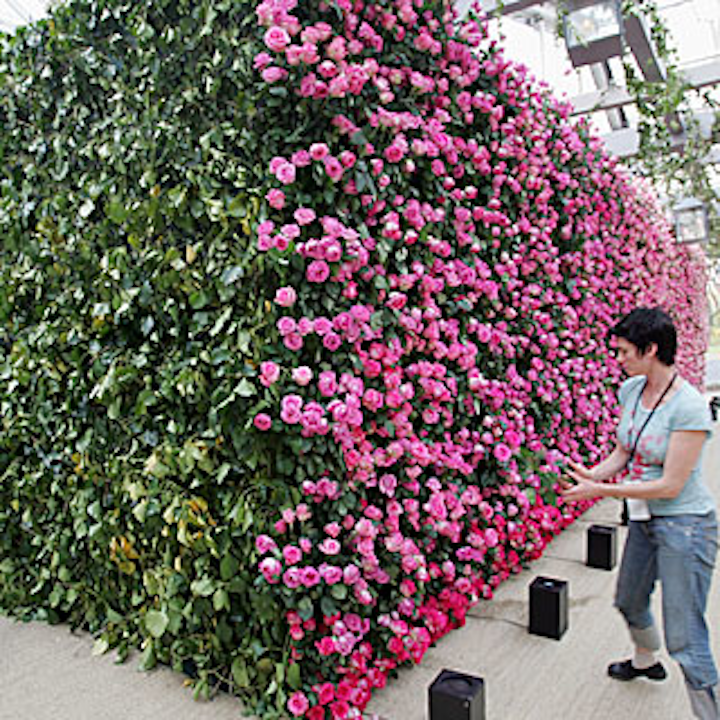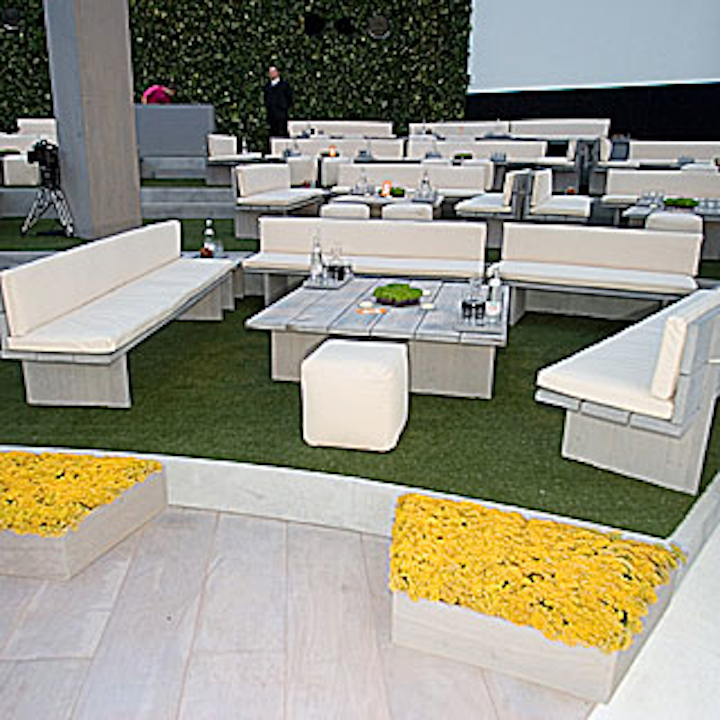 Featured Venues/Suppliers: