Precious Metal
The SAG Awards—which escaped picketing from the WGA—got a luxe metallic look to mark the 75th anniversary of the thespians\' union.
January 29, 2008
Any nostalgic movie lover can appreciate the glamour of old Hollywood—but no one loves it more than the Screen Actors Guild, which has traditionally asked event planners to evoke the spirit of the movie industry's golden age come
awards
time. And with Sunday's ceremony—the first big bash of this award season—marking the 75th anniversary of the thespians' union, the watchwords for the evening were old-fashioned elegance and precious metals.
Technically, 75th anniversaries should be celebrated with gifts of diamonds. But gold, silver, and platinum are eye-catching, too, so for the 14th annual Screen Actors Guild awards at the
Shrine Auditorium
, SAG awards production designers John Shaffner and Joe Stewart designed a stage with a gold backdrop flanked by columns bedecked with gold and silver. Unlike the Motion Picture Arts and Sciences, which seats stars in an auditorium for the Oscars, SAG mercifully feeds its members during the proceedings. So SAG awards art director Keith Greco of
Greco Decor
was charged with coordinating his tabletop design, which he accomplished with classic golden place settings.Working with SAG's executive in charge of production, Benn Fleishman, and awards event supervisor Andrea Wyn Schall of
A Wynning Event
, Greco dressed 86 tables that stretched as long as 18 feet in custom-made gold-on-gold-striped silk cloths accented with 1,100 black chiffon napkins, gold flatware, and gold-rimmed fluted white china chargers and glassware. Centerpieces of white orchids and roses and yellow calla lilies stayed true to the regal hue.
During the show, 1,100 guests sipped Dry Creek Vineyards wines and Taittinger Brut Champagne La Française while they munched on chef
Alan Jackson
's antipasto plate of tuna Niçoise with deviled eggs, black olives, haricots verts, pesto, and tomatoes; chicken bisteeya with figs, mizuna, and pomegranates; poached lamb loin with basil mousse and lentil salad; and grilled vegetable terrine with sherry and dry-cured olive focaccia. Jackson's ministrations called for 1,200 quail eggs, 15 gallons of Beluga lentils, and other treats in super quantities.
Greco and Wyn Schall also collaborated on a red-carpet moment for the show's champagne sponsor, Taittinger.
The Closer'
s Jon Tenney, flanked by two models in black strapless gowns, popped a magnum and poured 75th-anniversary "diamonds"—actually Swarovski crystals—into a four-foot-high flute.
For Greco and Wyn Schall, the evening's challenge lay in working within the union's modest budget (the event also benefits the nonprofit SAG Foundation) and still creating enough of a spectacle for the show's telecast on TNT and TBS. But at least the dinner was inside the waterproof Shrine—a major plus during Southern California's rainy season. Click here to read about
People
magazine's
tented after-party
with the Entertainment Industry Foundation.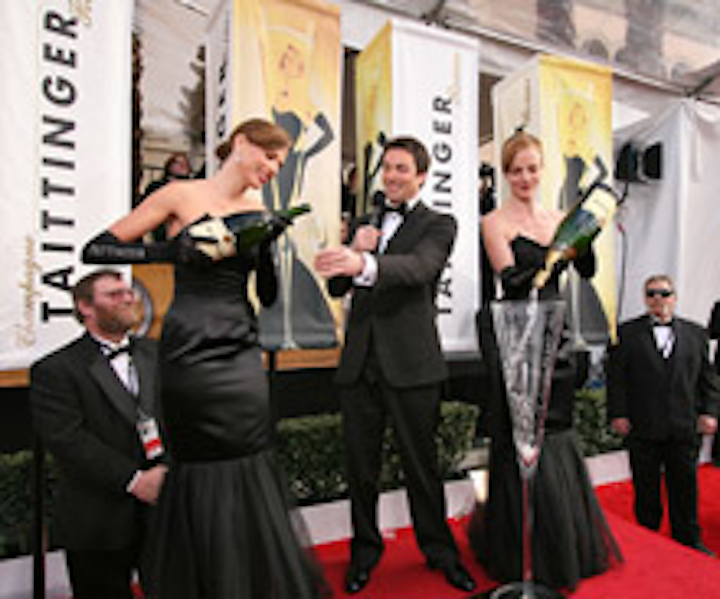 Photo: James Sequenzia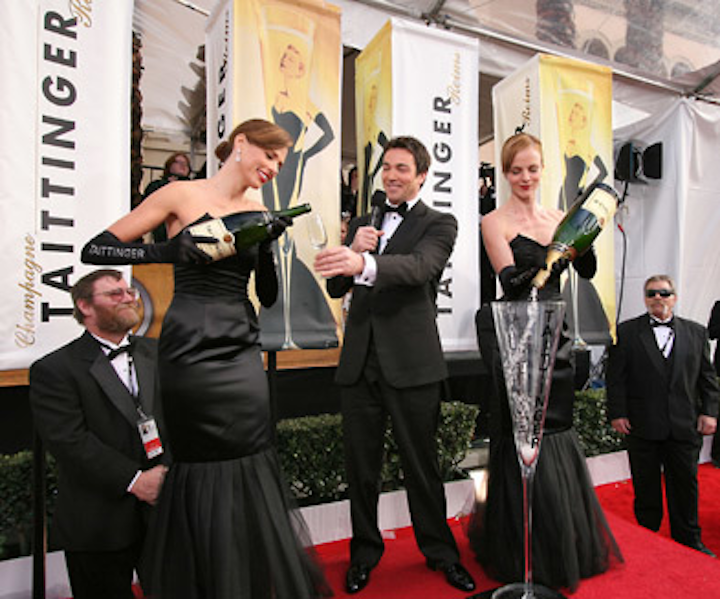 Photo: James Sequenzia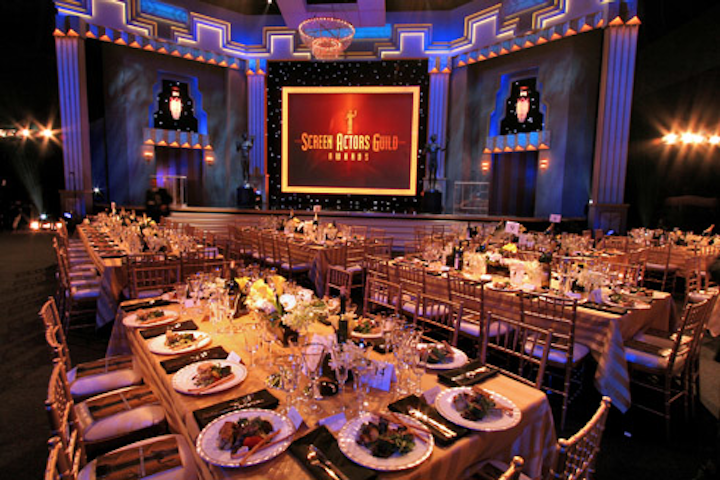 Photo: James Sequenzia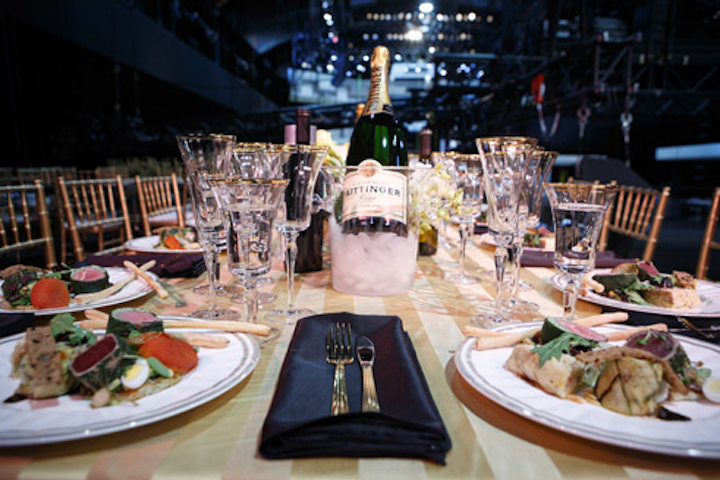 Photo: Alen Lin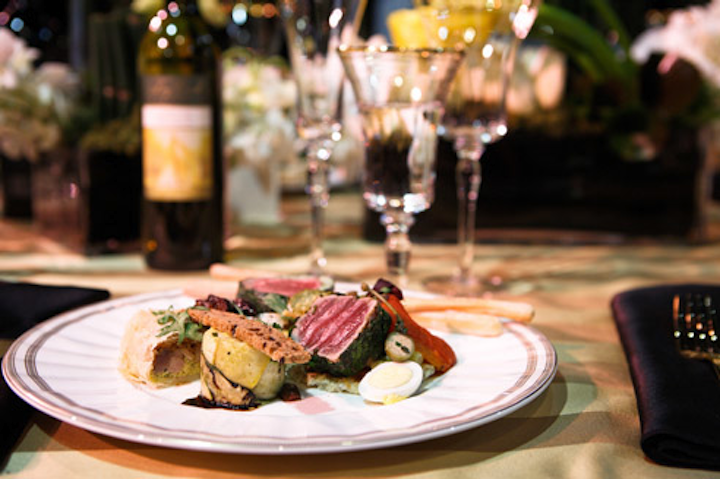 Photo: Alen Lin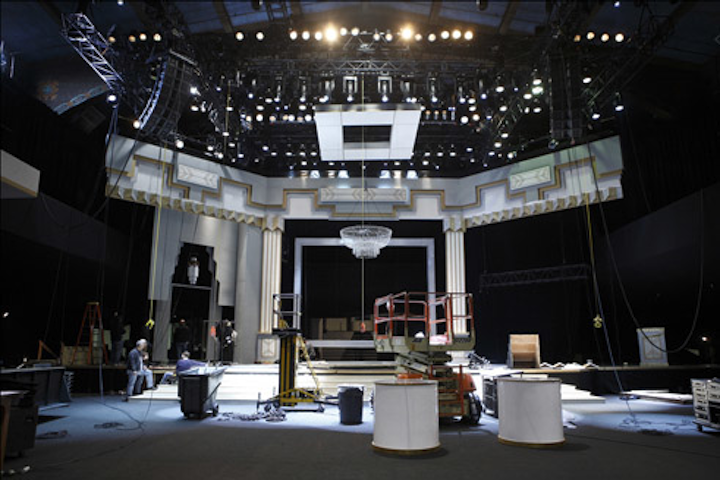 Photo: Alen Lin
Featured Venues/Suppliers: