8 Tips for Upgrading Your Business Conference
At the Robin Hood Investors Conference, smart design and executive-level perks created a comfortable environment for guests.
January 15, 2015
The same hallmarks of business apply to business conferences, with attendees expecting a meeting that's efficient, offers personal service, and even includes some executive-level perks. At the Robin Hood Investors Conference, held at the Grand Hyatt New York in October, about 1,000 people came to hear speakers such as Google's Eric Schmidt, former Treasury Secretary Lawrence Summers, and movie mogul Harvey Weinstein, and network with one another. David Stark Design designed the conference along with Robin Hood's internal team with the goal of providing a smooth, stylish event. Here's how they did it.
1. Streamline the registration setup.
Instead of a traditional registration desk, staff stood at waist-high bright green pillars. Supporting materials were located behind them. The effect was a personal and approachable check-in process. "We made a strategic decision that the Robin Hood staff would be completely responsible for greeting our guests, many of whom support Robin Hood throughout the year. We wanted to make sure the service was white-glove," said Robin Hood's Lindsay Carroll, who helped produce the event. She compared it to an Apple store. "Everyone knew from A to Z the logistics of the conference." Added Jayme Rubright Rothman, director of events and sponsorships, "We were able to get back some real estate and maximize the space in the registration area."
2. Make sure guests are comfortable.
With guests spending about eight hours total sitting in one chair, that seat had to be comfortable. Padded armchairs from Cort Event Furnishings were an upgrade over typical conference seating that befitted the audience of business executives.
3. Offer different seating options.
Behind the last rows of seats in the ballroom were bar-height tables with white bar stools where people could check email or spread out without disturbing other attendees. "The people attending the event are extremely busy and successful and are committed as much to their workplace as Robin Hood," Carroll said.
4. Design an efficient space.
"We had a packed agenda, so logistics had to be extremely efficient," Carroll said. Meals were served in rooms adjacent to both sides of the ballroom, and Stark created custom air walls that quickly slid away for meal breaks. The large entryways allowed people to flow into the rooms and serve themselves from multiple buffet lines.
5. Drop the lunch speaker.
The agenda promised a "networking lunch," an important element at business conferences. It also gave people time to check in with the office and not feel like they were missing content. At 35 minutes, the meal time was long enough for people to mingle but short enough that they didn't drag on.
6. Choose a theme, but let it support your mission.
The conference had a sports theme, but Carroll said it never overshadowed the organization. "Maintaining the Robin Hood brand is the lead, with thematic elements playing second fiddle," she said. "Often, athletes have something they're intensely focused on. It allows them to make a move that will impact the game. It's a nice metaphor to play off on. David Stark took that nugget of an idea and ran with it." Surprise visits from New York Yankee Mark Teixeira and New York Giants quarter back Eli Manning supported the theme and also made for buzzy social media posts.
7. Offer perks specific to guests.
Bloomberg terminals were spread throughout the ballroom and breakout areas so attendees could keep an eye on the markets throughout the day. Planners brought back the feature after a successful debut last year. Bloomberg also happens to be a sponsor of the event.
8. Distribute charging stations smartly.
Planners spread device-charging stations throughout the meeting space—in the prefunction area, along the perimeter of the ballroom, in the speaker lounge, and in the hospitality lounge.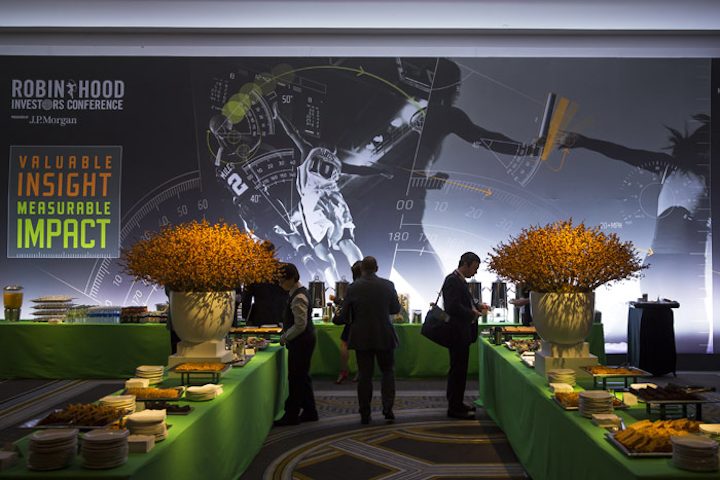 Photo: Rob Bennett Photography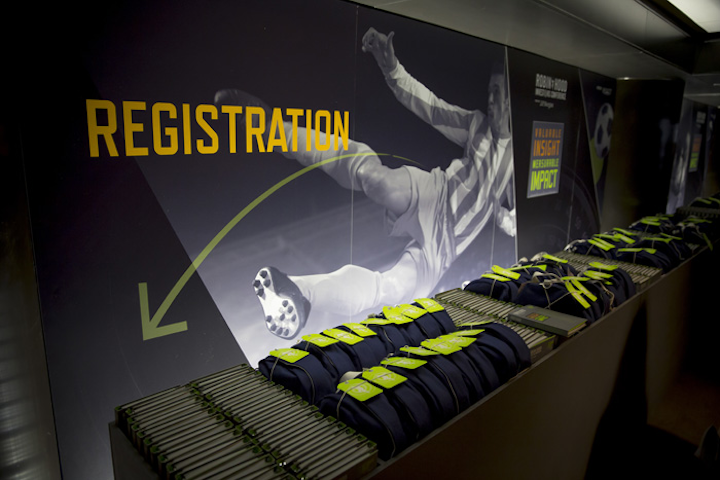 Photo: Rob Bennett Photography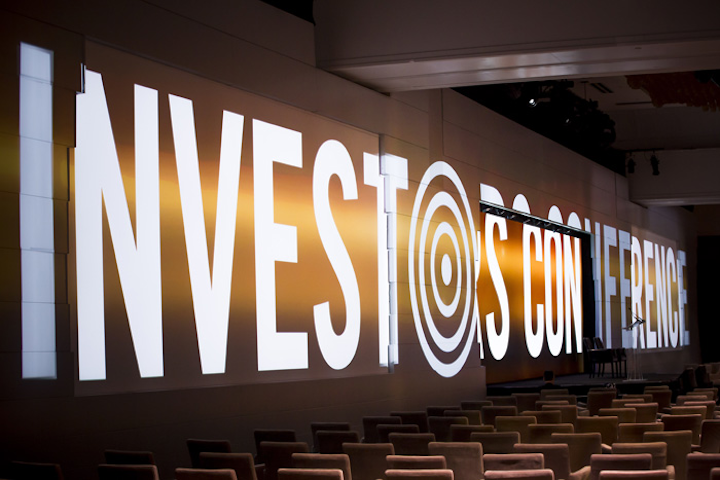 Photo: Rob Bennett Photography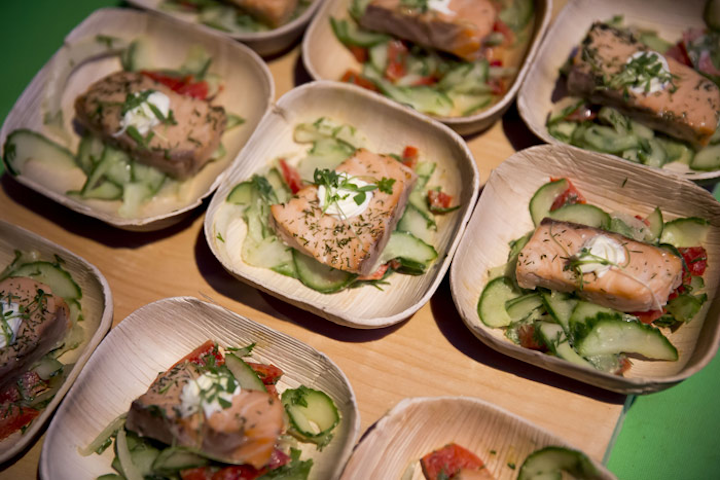 Photo: Rob Bennett Photography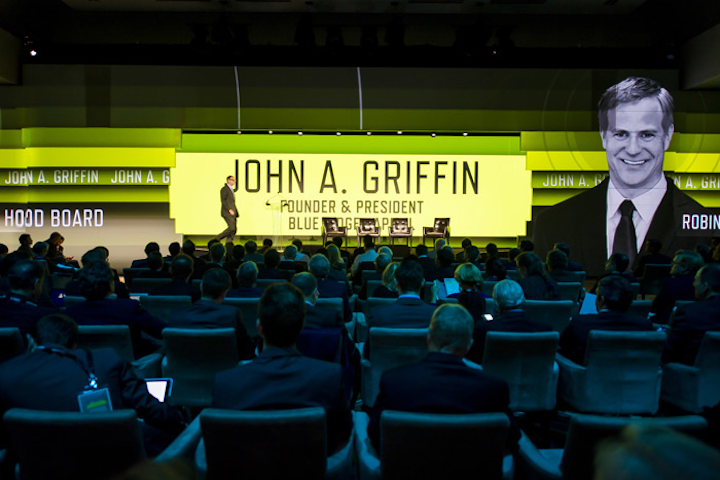 Photo: Rob Bennett Photography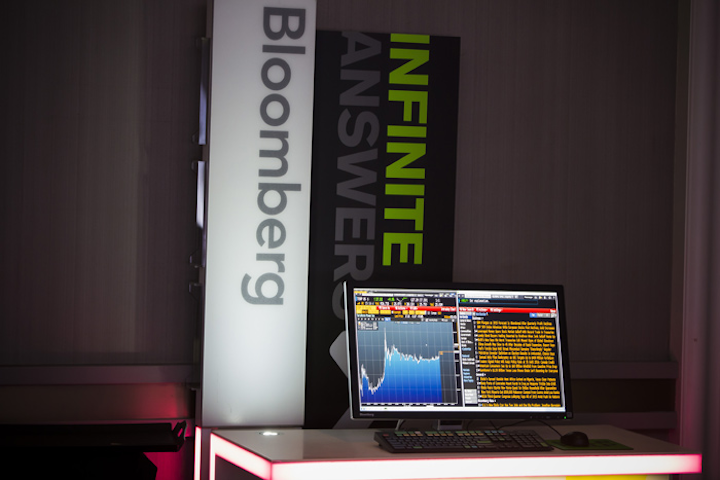 Photo: Rob Bennett Photography
Featured Venues/Suppliers: