Oscar Ball Producer Cheryl Cecchetto on How to Survive 25 Years in Events
In her autobiography, the Governors Ball producer shares her own Hollywood tale, including memorable moments, behind-the-scenes stories, and career advice for aspiring event planners.
February 11, 2015
Cheryl Cecchetto's story is like the Hollywood films she helps celebrate. An aspiring actress who started a party planning business 25 years ago, Cecchetto took over Los Angeles, becoming one of its most in-demand event producers. The owner and president of Los Angeles-based Sequoia Productions chronicles her career in Passion to Create: Your Invitation to Celebrate (New Holland Australia). In the autobiography, Cecchetto recounts producing challenges, provides anecdotes, offers industry advice, and dishes some behind-the-scenes scoop on high-profile events.
Cecchetto shares with BizBash her career highlights, explains why inspiration isn't found in her iPhone, and offers a preview of this year's Governors Ball, which takes place at the Ray Dolby Ballroom at Hollywood & Highland on February 22:
On her big break:
I think it would be when the late Otto Spoerri, controller of the Academy of Motion Picture Arts and Sciences, noticed my organizational skill set when I was organizing the catering portion of the first Governors Balls outside of a hotel ballroom. Otto hired me to oversee the entire Governors Ball for the Academy, which turned out to be the springboard to the inception of my company Sequoia Productions and the beginning of a beautiful, 26-year professional relationship with the academy.
Then in 1998, the gods smiled on me once again when Emmy Awards Governors Ball chair Geriann McIntosh, now one of my dearest friends (and ongoing client), asked to visit our installation of the Academy Awards Ball at the Shrine Auditorium. Geriann saw my company and I in action that afternoon, and we were honored to be hired to produce the Emmys Governors Ball and the Creative Arts Awards Governors Ball that September, now a 17-year relationship.
On her most memorable event moment:
I speak in my book about producing the CHLA [Children's Hospital Los Angeles] Medical Center's black-tie gala. I will never forget patient Alex Ito, barely 11 at the time, who was scheduled to appear. Alex had been born with VACTERL syndrome [a disorder that affects many body systems like the heart and vertebrae]. He underwent many operations, and was ultimately given titanium ribs in a revolutionary procedure. He eventually joined his classmates as just a regular kid, and developed a love of tap dancing. On our big night, Alex, according to plan, tap danced to the podium before he spoke. His routine was supposed to take 15 seconds. The roar of the crowd was deafening and so the dashing Alex, apparently a true showman, danced on for 30, 45, and ultimately 60 seconds. He stole the show and all of our hearts.
On one of her favorite celebs:
I devote my biggest chapter, entitled "Divas, Disasters, and Near Misses," to all the hilarious stories and challenges that come with the territory of producing events. Most of the time guests never know what might be transpiring behind the scenes. I must say, I loved sharing stories about the crazy antics and big heart of two-time Oscar winner Shelley Winters. I was Shelley's assistant for almost a year when I first moved to Los Angeles. She was the most loyal, demanding, zany, fun-loving, generous person I have ever met. Shelley called me her "Hit Girl." I learned from Shelley to find the joy in everything, not be intimidated, and to stop at nothing to live life fully.
In the same breath, I must mention my parents to whom I also pay homage in the book. Elsa and Chic Cecchetto taught me more than anything the true value and joy of honoring relationships by bringing people together in celebration, entertainment, food, and laughter, and ultimately about the real meaning of love.
On her inspiration:
I derive my inspiration from so many places. Feng shui, the science of spatial balance and energy, guides me through all of my event planning. Hollywood events are often historical in nature. Several books on my shelves at home chronicle Hollywood theaters and clubs of the past, such as El Mocambo, the Rainbow Room, the Coconut Grove, and the grand El Capitan Theatre. Magazines such as Los Angeles, Saveur, and Better Homes and Gardens occupy my coffee table and are littered with scribbled Post-it notes and turned back corners. I am excited by the pioneering designs of Dorothy Draper and the explosive impact of Art Deco, as well as the unrivaled film and theater sets of Tony Duquette.
My philosophy, as far as creativity is concerned, is to put my iPhone and tablet in a drawer, relax my shoulders, get outside, and look up. I find inspiration everywhere—at dress shops, fabric shops, concerts, the theater, and architecture.
On aspiring event planners:
I would boil it down to a single piece of advice—a theme that informs everything that I do. I think it's mostly about work ethic, believing in yourself, and seeing it through, and I mean from small tasks to huge challenges. The adages are true: "if it was easy, everybody would be doing it"; "a job worth doing is worth doing well"; and "how you do one thing is how you do all things."
A special event career is not all glamour; in fact, mostly not. It's about being in the trenches, putting one's shoulder to the grindstone. It's about leaving no stone unturned to deliver terrific service and manifest the event you've pledged to create. It's absolutely true that you should find a way to a career that you love. I also suggest that anyone considering special events as a career should first work for an event producer and learn everything there is to know about the field. It's a complex, comprehensive vocabulary that you need to learn, and you may as well do so without the obligation of carrying a whole company.
On this year's Governors Ball:
I'm very excited about the 87th Academy Awards Governors Ball, which this year celebrates the history, glamour, and artistry that truly define Hollywood. We pay tribute to iconic, cinema luminaries through an installation of stunning, three-dimensional, and larger-than-life imagery direct from academy archives at the Margaret Herrick Library. ... Lush table settings are swathed in rich textures and colors including auburn tweed, nutmeg bark, and topaz taffeta. Succulent, deep-toned florals adorn intimate, period-inspired lounge treatments. All said and done, the magnificent images of icons from all 17 academy branches that adorn the ball—from famous actors to animators to editors and costumers—are the true jewel in the room that set the nostalgic, romantic tone.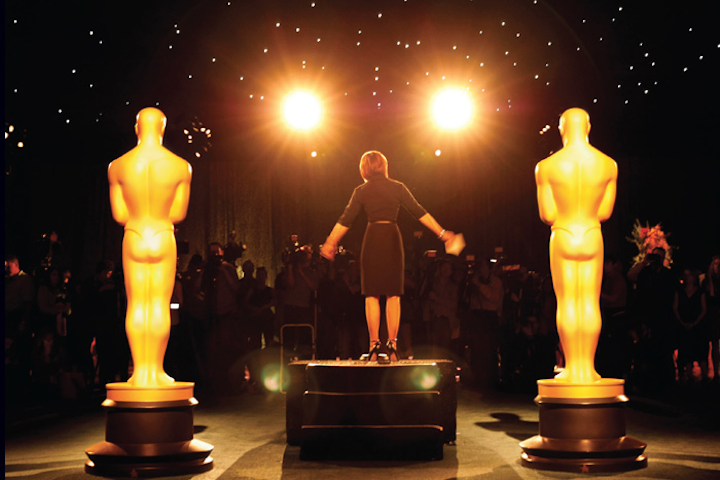 Photo: Courtesy of New Holland Australia
Featured Venues/Suppliers: