How LG's See-Through Structure Invited Consumers to Try New Products
LG invited consumers to experience its new Signature brand products inside a four-sided pop-up gallery in New York that was designed to appear transparent from the outside.
October 17, 2016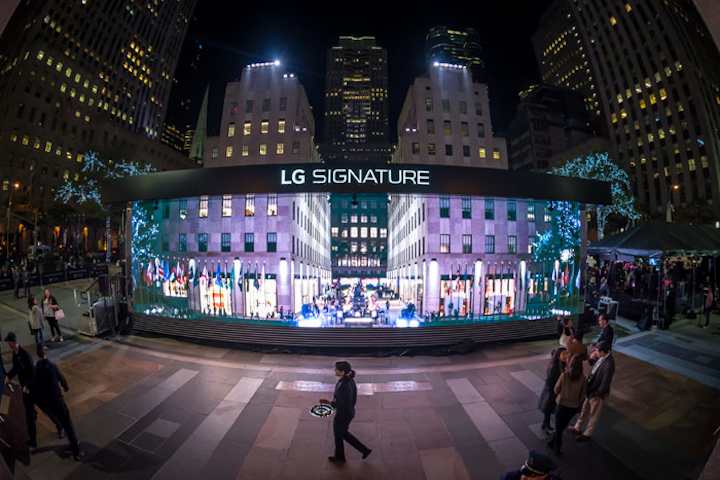 Photo: Pearcey Proper
To celebrate the launch of LG's Signature brand, the electronics company partnered with event and production agency First and Hs Ad USA to showcase new products in the LG Signature Gallery, a structure designed to appear transparent to passersby in New York.

The four-sided structure, which came to Rockefeller Center from October 6 to 10, was created with LED panels that projected content to provide a see-through illusion. "Through a combination of high resolution image capture and media servers, the transparent gallery 'look' was achieved by capturing live video images from one side of the structure and 'mapping' that content onto the opposite side of the structure, " says Michael Reese, senior vice president of creative and design at First. "This technique allowed passersby to see what was on the other side of the building, making it appear transparent. The technical solution is achieved with SLR cameras for video capture, Watchout media servers for mapping, blending and playback, and six-millimeter [pixel-pitch] LED tiles completely surrounding the structure."

The activation was open to the public and invited consumers inside to experience products from the new collection, which include an OLED television and an all-in-one black stainless steel washer and white dryer unit. The structure is slated to travel to Los Angeles later this year at a date to be announced.
Featured Venues/Suppliers: