Virgin Takes Cues from Coachella, SXSW, and TED to Create New Sports Festivals
The company has four events planned for 2017, and plans to grow in future years.
April 6, 2017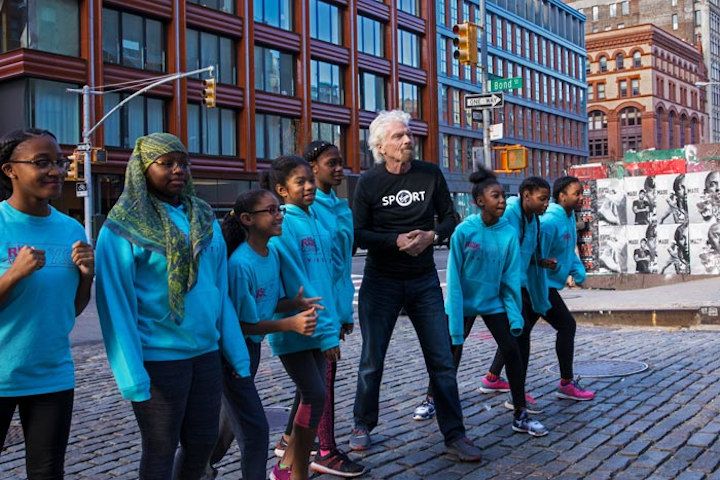 Photo: Joanna Ference
Virgin—Richard Branson's mega brand that owns dozens of companies around the world selling everything from music and mobile technology to wine and hotels—is preparing to enter the world of sport and fitness festivals in a big way, with four events this year. The first Virgin Sport Festival of Fitness will take place April 30 in Hackney, a suburb of London. Two additional events are scheduled in England in July and early October, and the first event in the United States will be October 14 and 15 in San Francisco.
Branson announced the creation of Virgin Sport in 2015 with the goal of changing "the health and wellness game for good," according to a news release. Erin Sprague, Virgin Sport's head of marketing and experience, spoke about the purpose and design of these new events.
How and why did Virgin decide to get into the sports festival business?
Our founding story is very organic. Sir Richard Branson is a lifelong, passionate athlete. He is a kite surfer, a swimmer, a cyclist, a runner. And he was doing a bike ride in South Africa and looked around … and thought that the experience could be so much more irresistible and exciting and customer-focused. So with that as the underlying inspiration, he and the team got together and put together a business plan. They hired Mary Wittenberg, from the New York Road Runners and New York Marathon, as C.E.O. and the founding team, which includes me and a few others, and we looked at the space and thought there was an opportunity for something new and exciting. We looked at events like Coachella and South by Southwest and TED and really saw an opportunity to build a similar model but with sport at the heart.
Those are certainly big role models. Can you explain more about how they inspired you?
Music festivals are such an inspiration to us because they have really captured people beyond just an event to creating an immersive and transformational experience. When we look at a lot of health- and wellness-oriented events, we think there is an opportunity to do the same. Similar to the way that a song or a lecture on a deeply meaningful topic can really impact someone, we think moments of sport are among the most inspirational that people can experience. So we think there is opportunity to build more of a platform around that. Part of our goal in doing that is to make it more accessible. A half marathon, for example, can be intimidating, and so we want to create something where there are long races and short races and fitness activities and art and culture so that a whole family can come to a weekend experience and engage in fitness in way that works for them and have a great holistic experience together.
How did you select San Francisco to host your first U.S. event?
We were really inspired by the spirit and ethos of the city. We have found that the entrepreneurial and rebellious spirit of Virgin seems to resonate in that city because of the start-up culture and the spirited nature of the people. Local community interaction and engagement is important to us—we aspire to have a year-round impact on the communities that we go to. So any city we go to is a really important selection process.  We were also aware that the Nike Women's Half Marathon, which was really successful in the market … decided not to continue … so we were also able to take that event weekend and fill the appetite for a marathon that they vacated.
Tell us what we can expect at these festivals.
They will be customized to each location. The similarities are that we aspire to have a signature race distance, which is usually a 10K or half marathon; a sprint or shorter race distance to drive our goal of getting more people fit-active, and that's usually a mile to a 5K; and then we have a sweat portion, which is yoga, spin classes, fitness classes, bootcamp-type classes. Depending on the location, there will be a whole mix of local businesses and activations. In Hackney, for example, it's a really eclectic and artistic part of London, so we'll have several local artists doing big activations, we have local bands and musicians, we have local food and drink. And wherever we are, that will dictate a lot of what we do. We're still planning San Francisco … but there will be a one-hour hill challenge on Saturday, a half marathon on Sunday, and a fitness hub at City Hall all weekend. The races will have entry fees … and then the mass fitness activations will be free.
You mentioned the goal of building a platform around fitness. Are you envisioning something like the TED platform that serves as an online community?
An athletic journey is … people trying to stay healthy throughout their entire life. So we want to provide solutions for people to stay healthy every day. When we go to a community, we really work to have long-term relationships and meaningful relationships with people who live there, who every day are out getting people more active, whether they are fitness instructors or run club leaders or own a gym or own a healthy food shop. We want to be able to be a resource for them and a platform to be able to connect to a big audience of people who want to be healthy. We are pretty early in our life cycle, so we are not really sure yet [how we will do that], but we want to create something that matters to people. What we are most focused on this year is delivering four great event experiences, and then from there we'll look to have more of a community impact.
Can you tell us anything about your sponsors for these festivals?
We haven't announced them yet, but we view sponsors as the way to add value to athletes and spectators that are participating at the festival. So we'll definitely have sponsors across each of the main areas. 
What are you plans for 2018 and beyond?
We will definitely grow in the U.K. and U.S. We are open to any cities that want us to come in and create a festival experience for their community members. We are still deciding the right places to grow. ... And we'll hopefully grow across different types of product platforms too. We are open to many different categories of sport and looking to build different signature experiences across different sports in the future.