Why Taco Bell Set Up a Drive-Thru on a Ski Slope
The fast food brand celebrated the return of the Cheetos Crunchwrap Slider in Canada with a "slide-thru" window at the bottom of a snow tubing hill.
March 11, 2019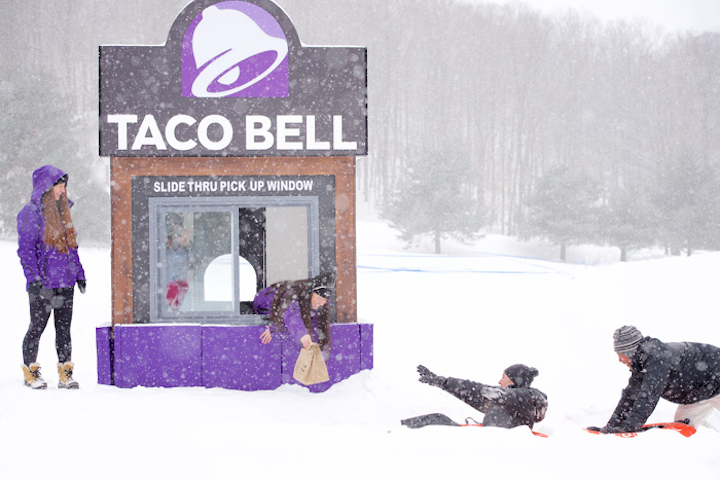 Photo: Shan Qiao Photography
BARRIE, ONTARIO—Taco Bell certainly isn't averse to quirky, out-of-the-box experiential marketing stunts. The fast food brand, named one of BizBash's most innovative brands in 2018, has done everything from hair salons to a futuristic pop-up at Comic-Con International. For its latest stunt, which celebrated the revival of the Cheetos Crunchwrap Slider in Canada, the brand debuted a "slide-thru" takeout window. Consumers were invited to tube down a snowy hill and grab the menu item from a custom-built structure that replicated a drive-thru window.

The brand partnered with creative agency Grip Limited to produce the activation, which took place March 2 at Horseshoe Resort in Ontario for three hours. Consumers placed their orders at the top of Ontario's largest snow tubing hill, slid down on branded tubes, and grabbed their food from the takeout window at the bottom.
"We wanted to do something special and extra Canadian to launch this Canadian-exclusive product," said Nathan Maddock, marketing manager for Taco Bell Canada. "We have a great fan base that has demonstrated their love for our products and for fun, interesting events like these."
The activation buildout began in January, with Taco Bell tapping independent art director Brad Rothwell of Dirty Moose Design to create the booth. Throughout the day, around 110 people participated in the activation.