Here's What's Next in Socially Distant Brand Activations
GDX Studios proposes the idea of a "drive-through pop-up," where personal smartphones give fans the full experiential experience.
July 22, 2020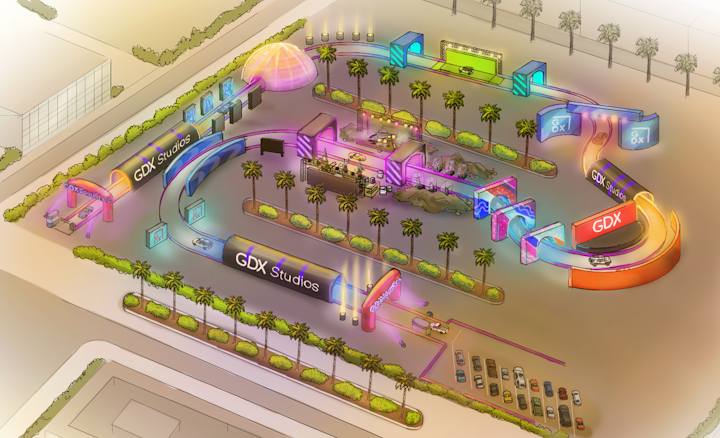 Rendering: Jessica Kowalski
First came the drive-by birthday parties. Soon after, drive-in theaters exploded in popularity, taking over vacant parking lots and outdoor venues for everything from movie premieres and product launches to concerts and corporate events. So naturally, forward-thinking event pros are wondering how to take the concept even further during this time of social distancing.
Enter: the drive-through pop-up. The brainchild of San Diego-based experiential agency GDX Studios, the idea gives brands a safe, fun, and interactive way to host immersive activations for fans and consumers. "While drive-in theaters are cool, they still lack the level of interactivity and connection that the traditional pop-up or traditional experiential events might have," points out Sean Pedeflous, creative director of GDX Studios. "So we thought about taking that concept of social distancing in your car with your friends or family, and turning it into this drive-through pop-up idea."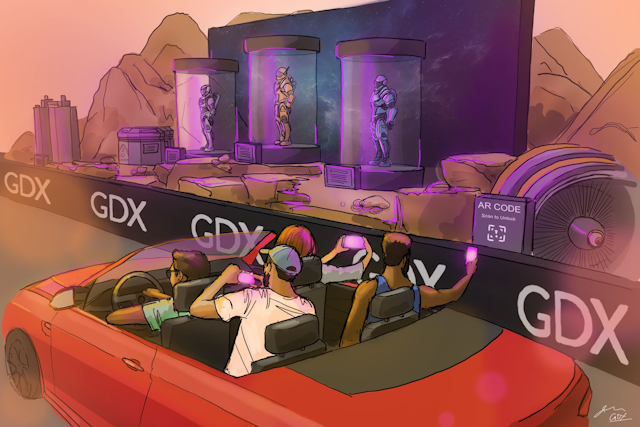 Attendees would use their personal smartphones to activate a series of experiences.Rendering: Jessica Kowalski
As cars travel through the experience, they'd encounter art installations, photo ops, branded signage and decor, retail displays, and more. The key, says Pedeflous, is that interactivity would be incorporated every step of the way by using attendees' personal smartphones for a series of tech-based touchpoints. 
"As you stop along the way, you're using your phone to maybe play an augmented-reality game," he says. "Or there's a branded photo op where you roll down the windows, and then get the photo sent to your phone. There's so many ways that we could incorporate traditional pop-up elements while still keeping it safe and socially distanced."
Another important component of the concept would be digital and physical takeaways; for example, staffers could put a pre-boxed swag bag directly in attendees' trunks for a contact-free experience, says Pedeflous. Pre-packaged food and beverage items could also be safely incorporated into the experience at any phase of the journey. 
The beauty of the idea is that it's completely scalable depending on a brand's budget and overall goals, adds Pedeflous. "It's definitely something that can be achievable with a similar budget to what you might expect from a pre-COVID-19 activation," he says, noting that the activation could also travel to multiple cities. "And it obviously can be plussed up or down with the amount of tech integration."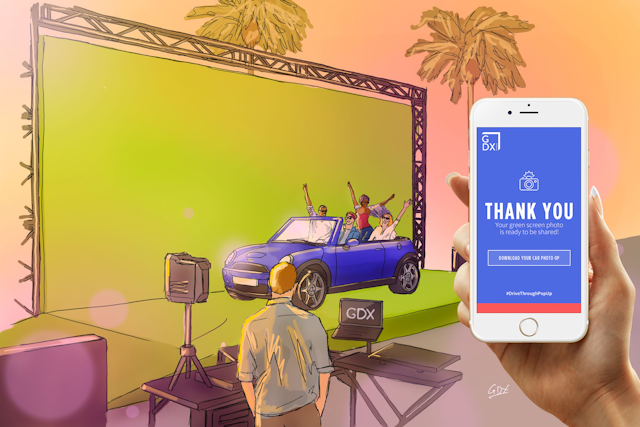 What's a brand activation without a fun, easily shareable photo op? Branded photo areas could be set up in a safe, socially distanced way, says Pedeflous.Rendering: Jessica Kowalski
For construction and fabrication, Pedeflous notes that workers could be kept safe through assigned shifts, temperature screenings, and other safety precautions. Once the activation opens, it would only require a small on-site tech team, plus a few masked brand ambassadors to direct traffic, scan passes, and operate photo ops. For attendees, pre-selected time slots for admission would be coordinated online in advance, and text message updates could direct them day-of. 
GDX Studios, which would normally spend this week building out large-scale activations at Comic-Con International, thinks brands are eager to get back to these types of experiential activations in a safe, responsible way. "Obviously it's going to be up to local regulations and people's own comfort zones," he says, "but most of the brands we're talking to are looking to do some sort of socially distant, in-person experience—whether it's a drive-through or a more traditional type of event."
And as an extra precaution, GDX Studios has launched GDXtra Care, a 147-page manual that outlines the safety and cleaning protocols the company will institute for at any in-person events and activations. "We incorporate that into all of our pitches and ideas, to add that health and safety layer into everything we do," notes Pedeflous.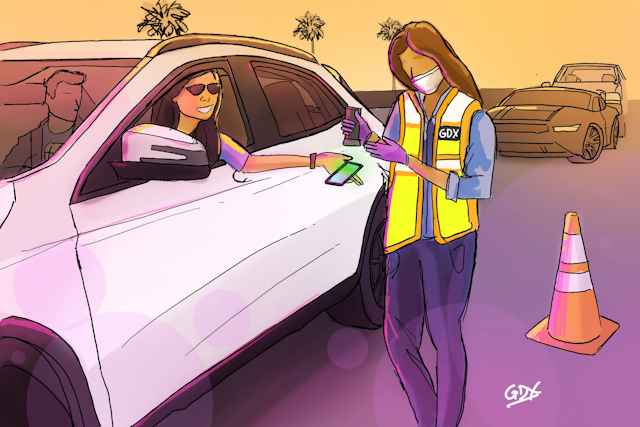 Attendees could register online for a pre-selected time slot, and a small group of masked staffers—who would undergo thorough health screenings—would be on a site to direct traffic, scan passes, and handle other logistics.Rendering: Jessica Kowalski