AOL's NewFront Creates Immersive Digital Experience
The digital brand's showcase (its version of an upfront) used iPads, iPhones, and other devices to broadcast content.
May 3, 2013
The tagline for AOL's digital NewFront—"It's On"—could be found on everything from the invitations to the catering staff's belt buckles at the event Tuesday at Skylight at Moynihan Station. But guests could actually experience that message as well. A space called the "distribution tunnel" blanketed a wall with more than 70 iPads, iPhones, cinema screens, and other devices, all with customized AOL content. The opposite wall displayed logos from partner companies rear-projected onto screens.
"We wanted to focus on how many screens and devices AOL was on and bring to life those significant numbers," said Stacy Lambatos, head of corporate events for AOL, who worked with AgencyEA to produce the event.
This year marks AOL's second NewFront—digital media companies' take on traditional TV upfronts. The company sought a modern and edgy feel and turned the raw event venue into a high-tech presentation and reception space. In the presentation space, a converted loading dock, massive screens wrapped around much of the room, and company executives and celebrities such as Sarah Jessica Parker and Jonathan Adler introduced their shows from a connecting catwalk.
"In the presentation room, our goal was to surround our audience in 360 degrees of video, sound, sight, and motion," Lambatos said. "We wanted not only a visually beautiful experience, we wanted the experience of all the senses."
The reception space featured black-and-white AOL branding done in a street-art or graffiti style and splashed on illuminated bars and highboy tables as well as pillows on low-rise couches. The distribution tunnel, as well as another corridor—fabric-wrapped, wood-constructed walls that had a single line of text riffing on the "It's On" theme—connected the spaces.
While some 975 people saw the presentation at the venue, the company had to scramble to accommodate a larger crowd than expected. Another 315 people watched a feed of the show from a bar across the street, Local, which AOL booked just days before the event.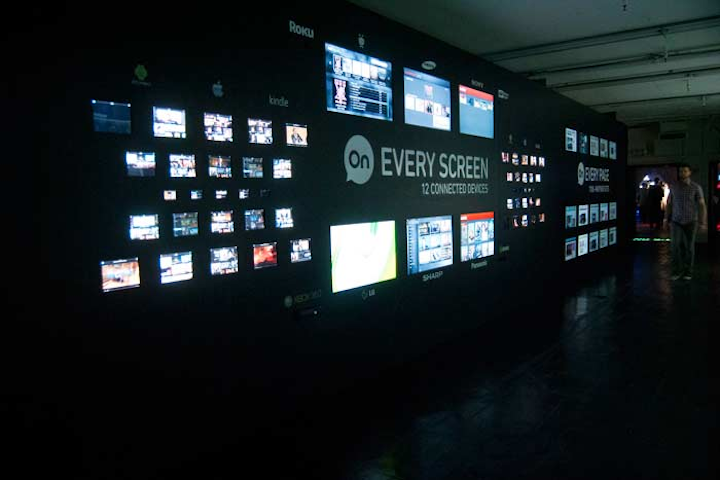 Photo: Destiny Martinez/BizBash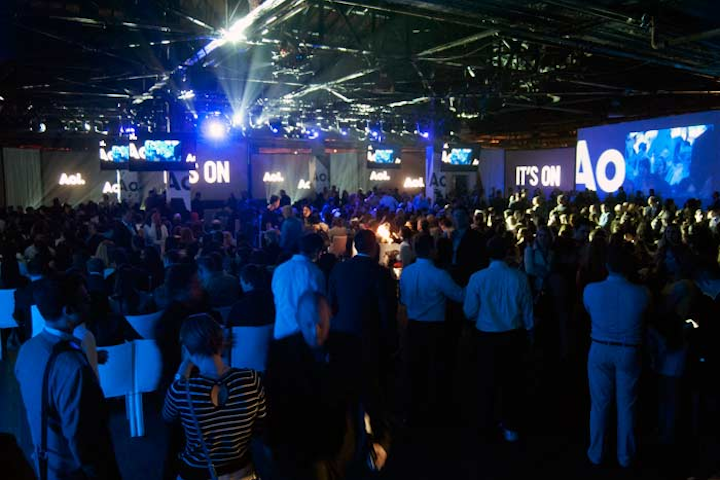 Photo: Destiny Martinez/BizBash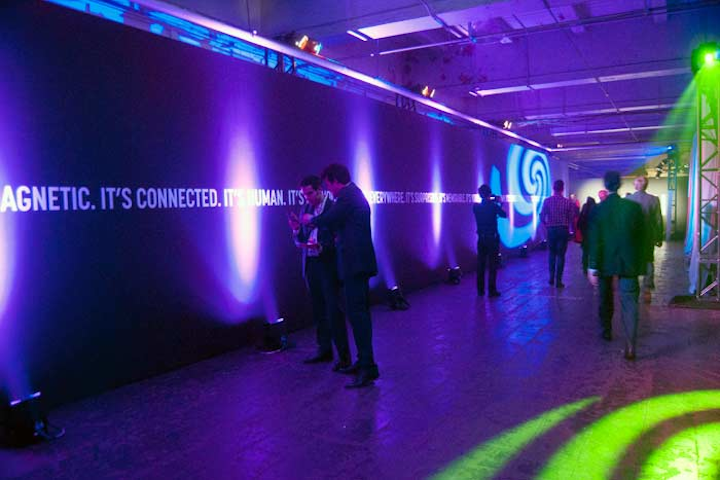 Photo: Destiny Martinez/BizBash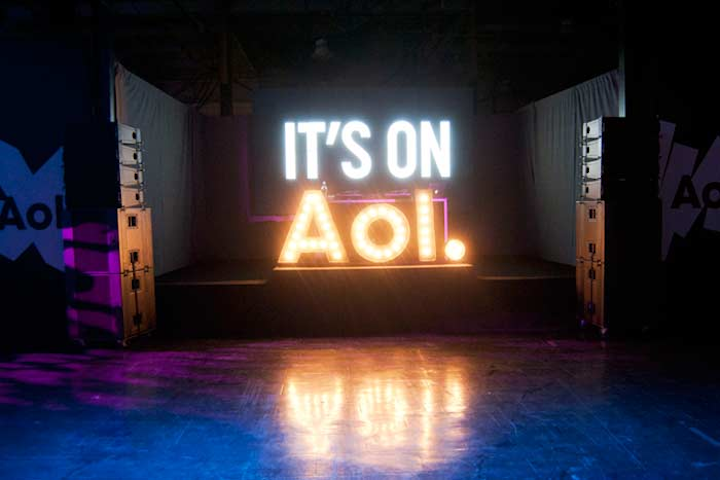 Photo: Destiny Martinez/BizBash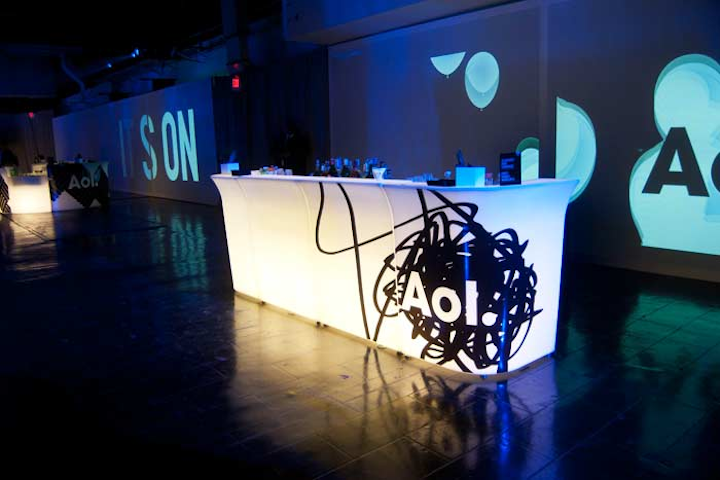 Photo: Destiny Martinez/BizBash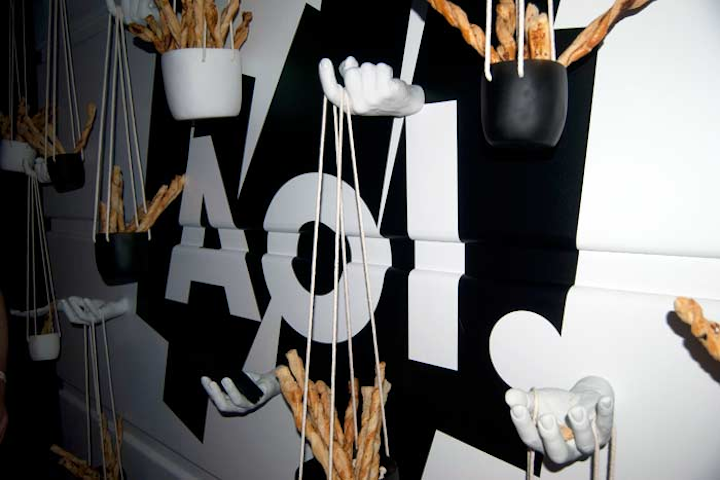 Photo: Destiny Martinez/BizBash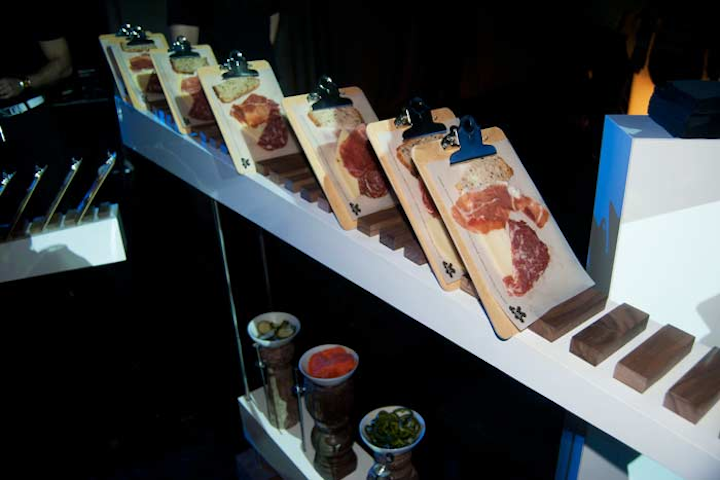 Photo: Destiny Martinez/BizBash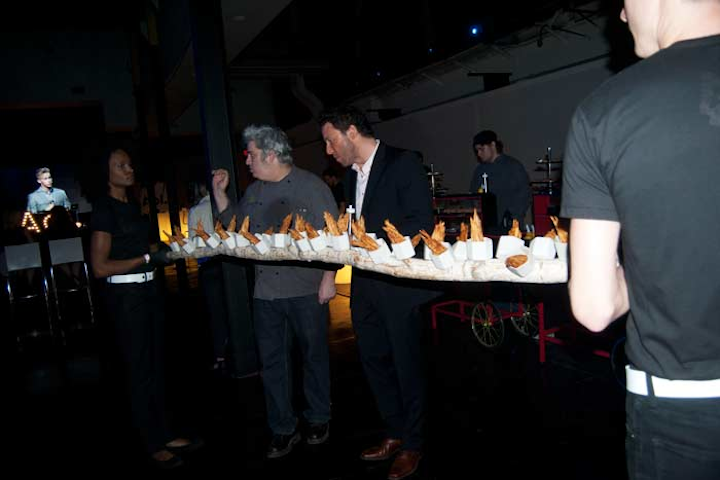 Photo: Destiny Martinez/BizBash
Featured Venues/Suppliers: