AOL Brings 1,700 to Brooklyn for Immersive NewFront
The digital media company looked to top last year's effort by presenting its lineup of new original programming at a Brooklyn waterfront venue with a "Connected" theme that linked the location, messaging, and design.
May 6, 2014
Tim Armstrong, C.E.O. and chairman of AOL Inc., introduced the digital media company's 2014 NewFront presentation on Tuesday, April 29 by directing a question to the elephant in the room: "Why are we in Brooklyn?"
Nearly 1,700 people trekked to Duggal Greenhouse at the Brooklyn Navy Yard for the unveiling of AOL's latest lineup of video content. Just as the Brooklyn Bridge became the world's longest suspension bridge when it opened in 1883, Armstrong positioned AOL as a connector between the digital and TV realms offering 16 original shows—which he announced will be rated by Nielsen alongside traditional broadcast programming.
But AOL also needed a venue that would top its 2013 NewFront at Skylight at Moynihan Station while accommodating an even larger guest list. (About 500 more people attended this year's event than in 2013.) "It was our goal to find a nontraditional theater space," Stacy Lambatos, director of corporate events, said of the building's raw, open floor plan and high ceilings. "But it wasn't a venue that we could say, 'Hey, come find us on 9th and Broadway.' It was a big risk to ask people to come to Brooklyn." To help pull it off, AOL tapped Barkley Kalpak Agency to design and produce.
Most people traversed from Manhattan across the East River via ferries (organized by AOL), which offered the appeal of an in-transit bar. Less appealing was the rain that battered attendees waiting on the dock under AOL-branded umbrellas handed out by workers wearing "How may I connect you?" T-shirts.
As the evening's central theme, "Connected" appeared throughout the event, most notably on the two 120-foot-long screens that enclosed a stage in the round. A concentric-circle bar featured varying sizes of tablet and smartphone screens—protected under glass—that displayed different platforms for connecting with AOL's video content. And guests had the opportunity to snag their own "Connected" tees by choosing from an assortment of screen-printed graphics that played with two dots and a line—also riffed on by a giant, radial chandelier over the bar.
One reliable way of getting people to feel connected to an event (or at least getting them to connect on social media) is with celebrity appearances. Among the speakers highlighting their AOL shows during the presentation were Zoe Saldana, Bode Miller, Portia de Rossi, and Nicole Richie. Sarah Jessica Parker best summarized the evening's message of bridging the digital and TV mediums: "Good content is good content," she said, "regardless of the screen you watch it on."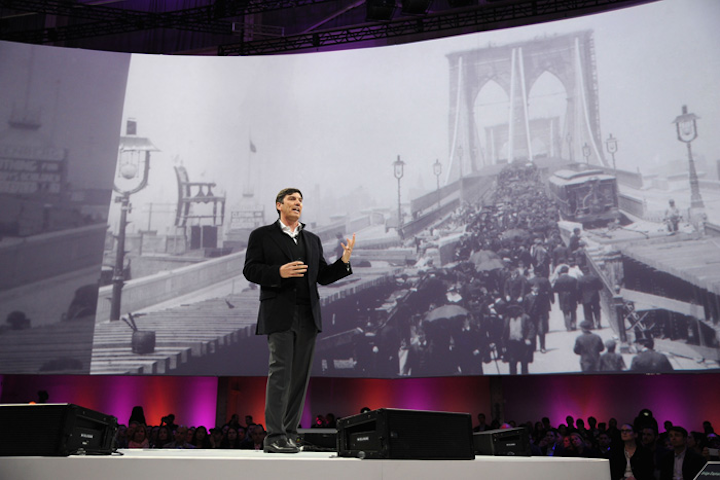 Photo: Bryan Bedder/Getty Images for AOL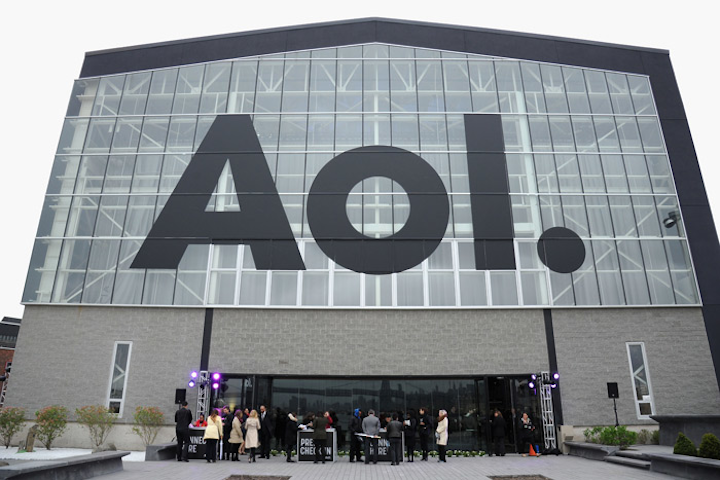 Photo: Bryan Bedder/Getty Images for AOL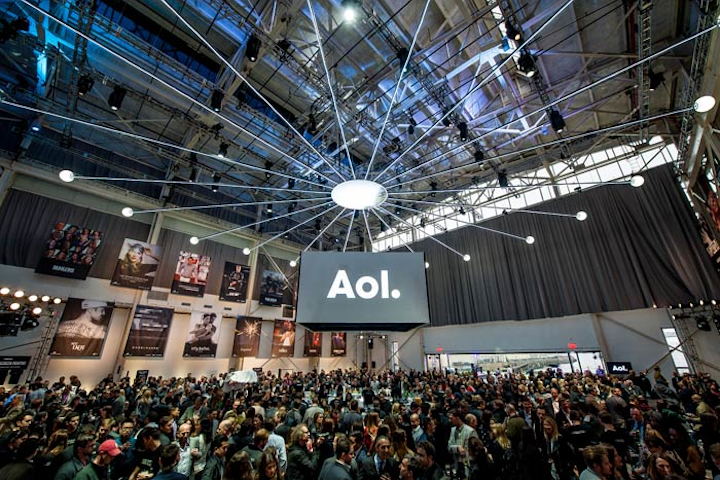 Photo: Chris Pearce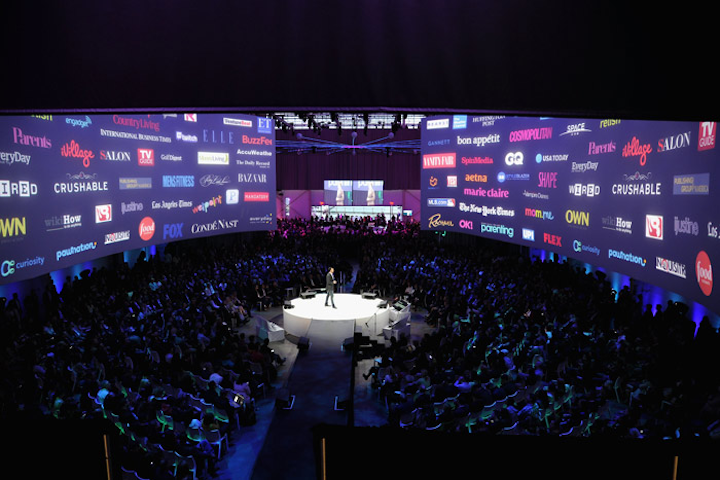 Photo: Bryan Bedder/Getty Images for AOL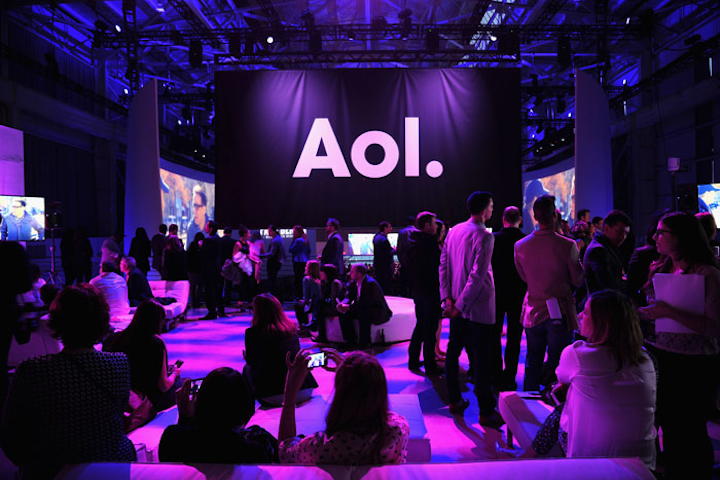 Photo: Bryan Bedder/Getty Images for AOL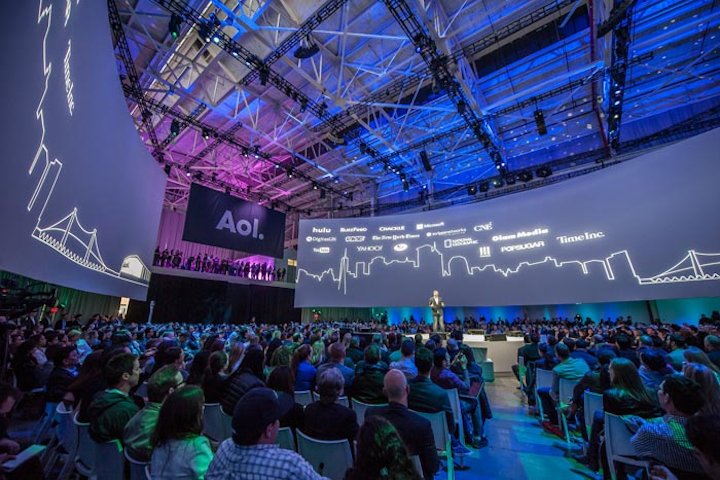 Photo: Chris Pearce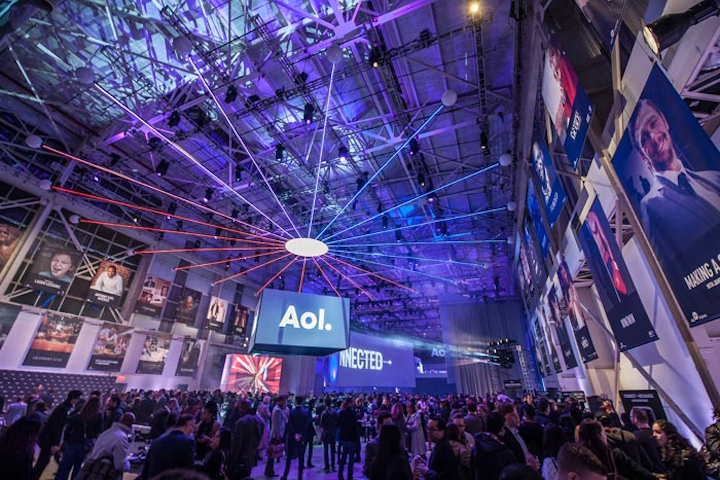 Photo: Chris Pearce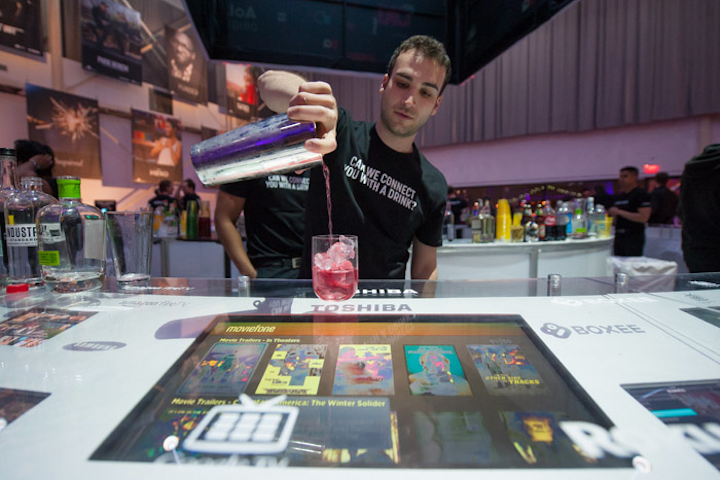 Photo: Chris Pearce
Photo: Chris Pearce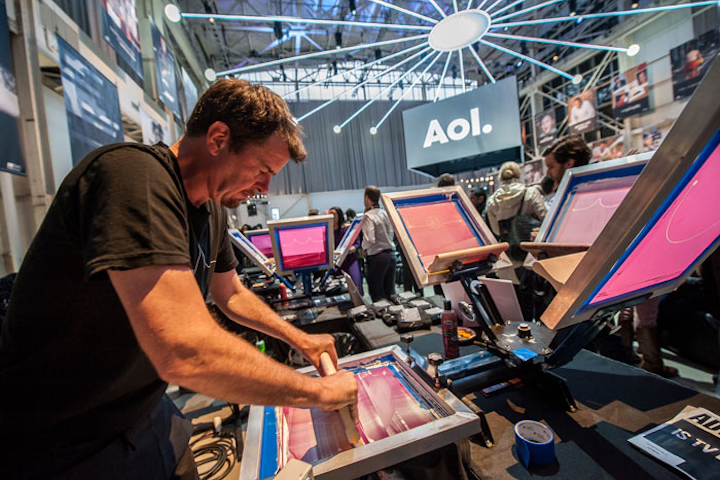 Photo: Chris Pearce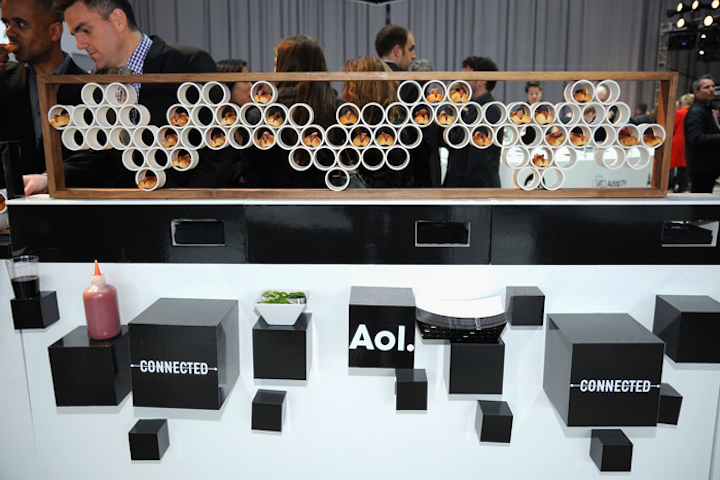 Photo: Bryan Bedder/Getty Images for AOL
Featured Venues/Suppliers: