Inside AOL's Crowd-Control Strategy
The online company's NewFront presentation encouraged 1,700 guests to arrive by ferry, but registered them in Manhattan, for a smooth flow and robust attendance.
May 13, 2014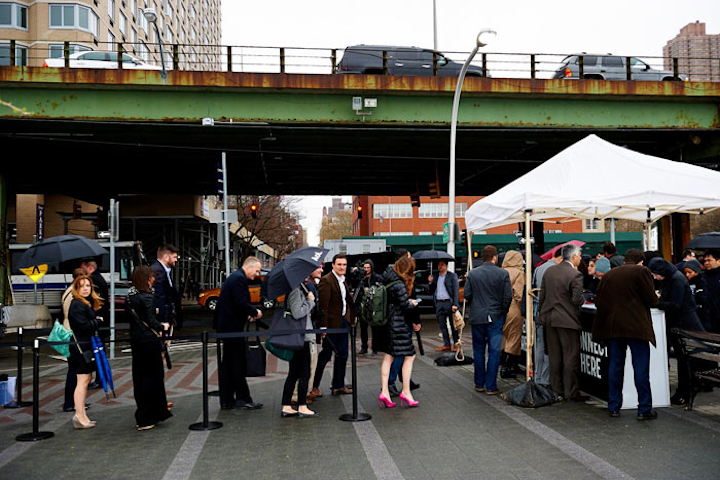 Photo: Phillip Angert
For AOL's NewFront presentation last month, about 1,700 people headed to Brooklyn, where Duggal Greenhouse at the Brooklyn Navy Yard served as the backdrop for the unveiling of the brand's latest lineup of video content. The program, led by director of corporate events Stacy Lambatos, drew about 500 more people than last year's Manhattan iteration—a major goal (and coup) for organizers.
But of course, pulling off such a feat involved a complex logistical dance, led by producer and designer Barkley Kalpak Agency, with AOL Events overseeing online registration, attendee communication, and internal organization and decision-making. Among the major keys to success? A well-orchestrated approach to transportation, primarily by boat, and careful contingency planning for big crowds.
As soon as the team learned that the venue was in Brooklyn, they made the transportation plan a priority. "NewFront schedules are assigned and AOL secured a coveted time slot, but during a week where attendees are being invited to over 20 events, competition for attendance is fierce. We had to make things clear, compelling, and easy for invitees," says Barkley Kalpak Agency's director of production, Adam Suellentrop.
To get ahead of any potential challenges, the team was ready to share the outline of the transportation plan by the time invitations went out, including specific details meant to head off frustration at the pass. For instance, they made sure to present the address in such a way that an Internet search would yield accurate directions.
Beyond being located in Brooklyn, the venue presented additional potential barriers to guests: The Brooklyn Navy Yard is an active industrial complex that is regulated by its own security team and mostly closed to the public. Shipments and deliveries go on all day and night through narrow streets that are not viewable on Web maps, and there is not much open space, with limited entrances and exits—meaning vehicles fill the space quickly and there is nowhere for them to go. For these and other reasons, organizers realized they would need to do everything possible to deter attendees from arriving by car.
The group determined the quickest, most controllable and comfortable mode of transportation was by boat. ("No traffic, we can move lots of people at once, and we can have an open bar," Suellentrop says.) They selected New York Water Taxi and secured the entire operational fleet: five boats, each with a capacity of 147. Determining that Midtown Manhattan would be the best location to serve the majority of guests, who'd be coming from ad agencies there, the team chose the 35th Street/FDR Pier as the best option and offered a 20-minute ferry ride to to Duggal. To encourage as many guests as possible to attend, the team organized shuttles directly from the day's previous NewFront and stationed a dedicated team of staff and security personnel at the pier.
Beyond that, the team secured mini coaches to help guests access the space by subway and placed staffers inside the subways with signs to direct guests to specific exits and to the staged coaches. Knowing that some guests would still be arriving by car, organizers allotted a single specific entrance for checking credentials and provided a clear detailed map through the registration website outlining exactly where to go and what to do. V.I.P.s and celebrities arrived via car and had a special pass and access to a specific lot in front of the venue.
All options were listed on the invite in the order organizers preferred, and guests were asked to self-select their mode of transportation. "That way, each time we ran the R.S.V.P. list, we could gauge how many people were taking the water taxi, subway, car," Suellentrop says. "The creative team described each mode playfully and weaved in that our preference was water taxi—but in a way that fit the messaging, theme, and tone of the AOL brand. The numbers we got back from registration reflected what we expected: 80 percent of the guests would take the ferry—which was the only method of transportation that had an open bar on it."
Allowing for the possibility of inclement weather was also a significant part of the planning. Among the contingencies: Organizers reserved tents in case of rain and provided 1,000 AOL-branded umbrellas for guests between the pier and the event venue. "These became a great branding opportunity and a chance to connect with attendees," Suellentrop says. "They were truly very thankful when they needed them."
To prevent bottlenecking at the venue, the team checked in guests in Manhattan, giving wristband credentials to 1,300 there. "When the 12 water taxis arrived in Brooklyn, guests bypassed on-site registration, had their wristband checked at the door, and breezed right in," Suellentrop says. Only those arriving by private car and taxi were left to check in.
The venue had a maximum capacity of 1,800. Aware that actual guest count could exceed the building's total capacity, organizers made an overflow contingency of a raw space next door for as many as 400 more if necessary. Beyond that, advanced planning included increasing communication to guests about capacity limits and even halting transportation to Duggal should the guest count become too high. In the end, all guests fit in the space and "initial capacity phases worked as designed," Suellentrop says.
After pulling off the event, the Barkley Kalpak team said that the best practices for doing the same at other events include closely monitoring the guest list, reviewing transportation, registration, and communication plans continually, and having clear contingencies for overflow space. "Knowledge is power—the more you know about the guest list, attendee count, venue best practices, the better," says Barkley Kalpak producer Karla Schmidt. "Don't be intimidated by the potential number of guests; be prepared with solutions that you hope you don't have to use. And remember that guest safety is most important; their experience overall is what they will leave talking about."
Featured Venues/Suppliers: