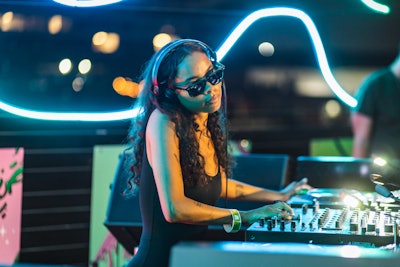 Photo: Luis Nieto Dickens
NEW YORK—As any event producer knows, a venue can oftentimes make or break an event. This is especially true when trying to grab the attention of a Gen Z audience, which encompasses the 74 million Americans born between 1997 and 2012.
That's why Ray-Ban recently decided to partner with Brooklyn indie music venue Elsewhere to host a rooftop concert series that celebrated the launch of the brand's special-edition Wayfarer Colorblock Collection. In doing so, the luxury sunglasses brand was able to leverage the venue's audience as well as its inimitable access to musical talent while, in turn, supporting a small, local venue through its post-pandemic recovery.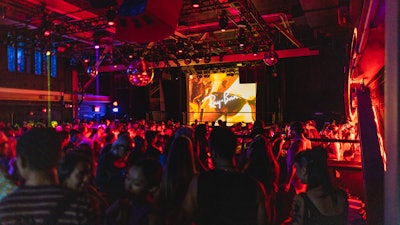 Founded in 2017, Elsewhere features three stories of dance floors and stages, serving as a live music venue, nightclub, and arts space to promote "creativity, diversity, and multi-disciplinary artistic expression and experimentation," according to its website. It offers a diverse mix of programming, ranging from international DJ sets to Middle Eastern parties, which was present throughout the Ray-Ban-sponsored concert series that took place over multiple weekends throughout August.
Gen Zers in attendance danced to a DJ set by London-based producer TSHA, a performance by ESTA, and a show by Everyday People, a live music event experience and cultural platform.
"Music is an important part of the Ray-Ban brand DNA, and the Colorblock Collection was designed specifically with concerts and festivals in mind," explained Ray-Ban's brand director Corinne Abruzzi on the decision to promote its newest collection by hosting a concert series.
With its music fans in mind, each pair of sunglasses in Ray-Bans' Wayfarer Colorblock Collection comes with a matching cord, so wearers don't have to worry about losing their shades at a show. The style is also available with transitions technology, allowing the sunglasses to adapt to all light conditions, not to mention Chromance lenses with contrast enhancement and polarizing filter for better clarity.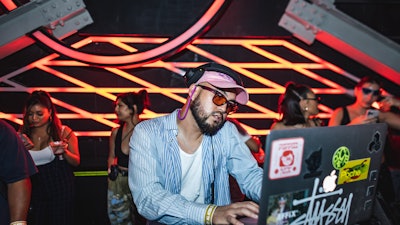 As for the venue selection, Abruzzi said that "Elsewhere speaks to the next generation of youth culture who are at the forefront of style and music. It is one of NYC's most popular music venues with access to a diverse group of artists who represent the Ray-Ban target audience and core values of self-expression. The indoor and outdoor stages and engaged fans provided the perfect atmosphere to celebrate the Colorblock Collection throughout the summer."
Jake Rosenthal, the co-founder of Elsewhere, echoed that sentiment, saying that the partnership fit Ray-Ban's goals and benefited both parties.
"Ray-Ban wanted to encourage style, self-expression, and carefree confidence with its Wayfarer collection, which is what Elsewhere is all about," he said. "This partnership was the perfect backdrop for the brand to display its top collection, but so much more was accomplished during it. The concert series brought influential talent to our communities and gave people a reason to gather, celebrate, and express themselves. NYC's music scene is as diverse as it gets, and we love celebrating that, especially with brands who understand it."
Also, instead of simply using overt branding throughout the venue—which might turn off some Gen Z attendees who are searching for an authentic experiences—Ray-Ban instead invited VIP influencers to the shows, plus performers such as TSHA, who styled the collection in ways genuine to their style during their respective rooftop performances.
The concert series was a ticketed event, open to the general public, with 50 invites extended to influencers and press guests per show. In total, close to 3,000 people attended the three-weekend concert series. And since opening its rooftop this summer, Elsewhere has welcomed approximately 38,500 attendees to date.