Target Illuminates Standard Hotel With 156 LED Lights and 66 Dancers for 20-Minute Fashion Show
August 25, 2010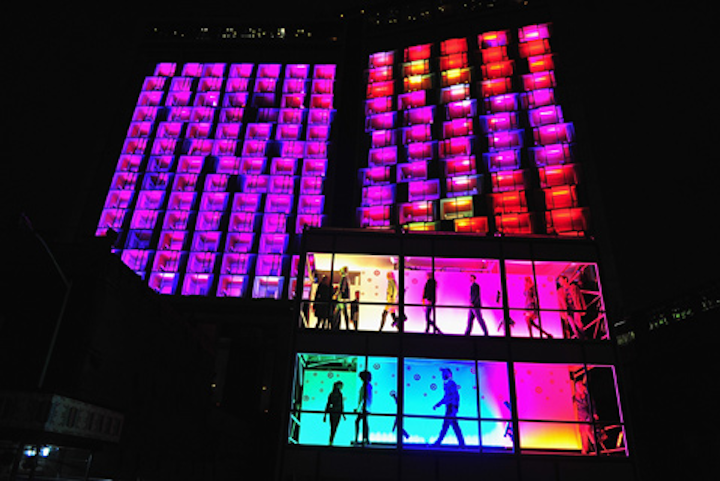 Photo: Theo Wargo/WireImage
Seemingly not content with hosting a big block party for the opening of its East Harlem store less than a month ago, Target staged a dazzling public spectacle on Wednesday, August 18, turning the entire southern exterior of the Standard Hotel into a JumboTron-like facade for the preview of its fall clothing collection. Dubbed the "Kaleidoscopic Fashion Spectacular," the retailer's flashy promotion began promptly at 9 p.m. and consisted of an impressive light show synchronized to an original musical score, a dance performance with no less than 66 dancers in the hotel windows, and a runway presentation of 25 looks on a Hollywood Squares-style platform erected on Little West 12th Street.
To pull off the show, Target tapped creative agency Mother New York to produce, composer Sam Spiegel to create the music (a score recorded at Capitol Studios with a 30-piece orchestra, 10-person chorus, and a group of drummers), Los Angeles-based Ryan Heffington to choreograph moves, stylist Mel Ottenberg to fashion outfits from 60 racks of Mossimo, Merona, Converse One Star, Xhilaration, Pure Energy, and Liz Lange for Target items, and 25 models to walk the trilevel catwalk. The result was an intense, highly coordinated display that simultaneously blasted music into the street and splashed multicolored lights and patterns across 14 floors of the hotel while performers danced in the hotel rooms and models paraded on a separate platform.
In order to deliver such a visual presentation on the building's facade—conjuring bull's-eyes, creating a 14-story dancing man, and simulating rain and a leafy branch—the production team took over 155 hotel rooms and set up 156 LED lights and a warehouse worth of fiber-optic cable. The dance squad spent nine days rehearsing their moves, from swing to burlesque steps, and on the night five camera crews captured the show from multiple angles, providing footage that was streamed live to Target's Facebook page. For the hundreds of spectators present, 20 brand ambassadors distributed 1,500 pairs of binoculars customized with the retailer's logo and event date.
The only glitch in the evening was a group of demonstrators, who assembled at the event to protest Target's $150,000 contribution to a group supporting a Republican gubernatorial candidate in Minnesota who opposes gay marriage. The revelation of the donation earlier this month prompted activists to shout "shame, shame, shame" during the show while holding signs that read "Hate is never in style," and "Bigot, who's the target now?" among other slogans.
Featured Venues/Suppliers: