Event Innovation Forum Speakers to Discuss the Future of Events, Fan Engagement, Holograms
The Event Innovation Forum—Los Angeles, part of the BizBash IdeaFest Los Angeles, will cover how events can build brand loyalty and go viral, as well as what technological innovations to expect in the coming years.
May 8, 2013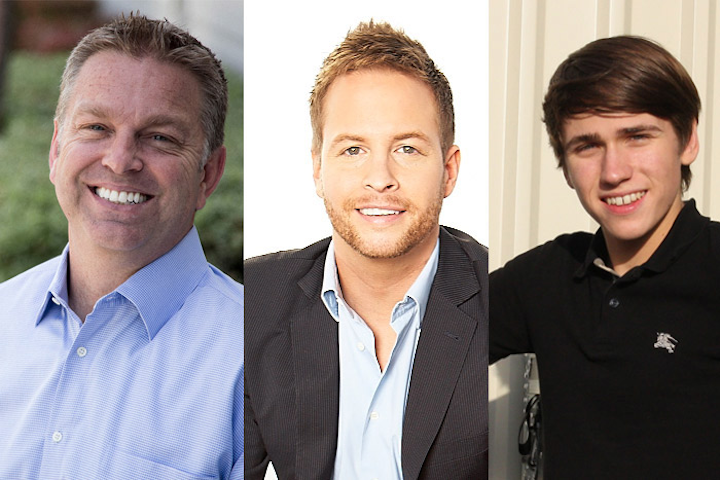 Photos: Courtesy of Richard Steinau and Luke Gulley, Dan Hallman for BizBash (Hudson)
On June 19, the BizBash IdeaFest Los Angeles will bring thought leaders and innovative event professionals to the Los Angeles Convention Center as part of the Event Innovation Forum. The conference, designed as a single track of quick sessions, is presented by the Event Leadership Institute and BizBash and will cover an array of topics, including how events can build brand loyalty and go viral, as well as what technological innovations to expect in the coming years.
Luke Gulley, the 17-year-old C.E.O. and president of San Diego-based LG Productions, will discuss what he sees as the future of events, drawing on his experience producing galas and other events. Richard Steinau, vice president of AV Concepts, will share how to use audiovisual technology and other elements to immerse guests and drive buzz on- and offline. Chad Hudson will describe how engaging fans—not just invited guests—of the Twilight premieres boosted brand loyalty and generated media attention worth millions of dollars.
Attendees can register for the forum here.
A closer look at the newest additions to the forum is below; more on the speakers and their sessions can be found here.
The Wisdom of a 17-Year-Old Event Pro
Luke Gulley, C.E.O. and president, LG Productions
Meet Luke Gulley. At 17 years old, he's too young to drink and too young to drive in most states, but he's old enough to produce killer events for top-tier clients. Hear his incredible story of growing up as an acrobat performing in front of thousands of people around the world, experimenting with event lighting at age 11, and starting an event company by 14. Gulley is the event industry's very own whiz kid; join us as he shares his vision for the future of events and hear what technological innovations are coming our way.
How to Build Brand Loyalty by Engaging Fans at Premieres
Chad Hudson, president and creative director, Chad Hudson Events
Social media may be the most popular tool to engage customers right now, but event producer Chad Hudson found a different way to build buzz for Summit Entertainment's Twilight saga. During his session, find out how Hudson and the studio created official camping grounds for fans at the premieres, offering activities and entertainment as well as providing bathrooms, Wi-Fi, and food deliveries. Learn how to develop your event's engagement strategy to include not just guests, but fans of the brand, as well.
Driving Viral Buzz: Secrets Behind Coachella's Breakthrough Holographic Tupac Performance
Richard Steinau, vice president, AV Concepts
Richard Steinau of AV Concepts, the company known for bringing Tupac back to life at the Coachella Valley Music and Arts Festival in 2012, will share how his team mixes art with science to make noise and spread news about events across the social and non-social Web. Steinau will detail how to utilize audio, visual, staging, and immersive technologies to impress attendees—and to build buzz that lasts long after the event. He will reveal the technology behind the Coachella hologram-like appearance, as well as how similar technologies employed at events for Fortune 500 companies and iconic landmarks have led to widespread virality.
Featured Venues/Suppliers: