15 Ways to Keep Your Online Attendees Engaged
If you haven't started producing hybrid or online events, chances are you will soon.
May 7, 2013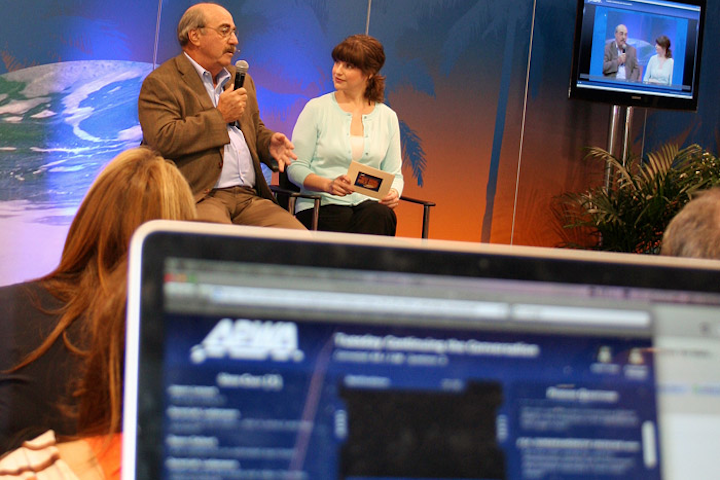 Photo: Courtesy of Emilie Barta
Online events—a trend that began primarily among large technology brands such as Cisco and SAP—are now becoming more common among smaller companies, associations, and nonprofits with the goal to expand reach and target people unable to attend in-person events. In a recent survey of 200 event planners by the Virtual Edge Institute and commissioned by Freeman, two-thirds of respondents reported their online attendance is up. Attracting online participation is just the first step; the bigger challenge is to create an experience that fully engages online attendees so they see it as a worthwhile use of their time. Here's a hint: it takes more than putting a camera in the back of the room and sharing the signal via the Internet.
We reached out to experts with extensive experience in producing and participating in online events. Corbin Ball is a consultant and speaker on the topic of technology and meetings; Samuel J. Smith is managing director of Interactive Meeting Technology and lead a research project on the topic of virtual and hybrid meetings on behalf of the Meeting Professionals International Foundation; Gary Vlk is executive vice president and principal of One Smooth Stone, an event and communication agency; Emilie Barta is a hybrid event consultant and virtual M.C.; Lisa Farrell is vice president of sales for the western region for INXPO; Mary Boone consults and speaks on topics related to communication, engagement, and meeting design; and Kristin Zurovitch is director of marketing for Sonic Foundry.
Here are their tips for making your online attendees feel welcomed, appreciated, and engaged throughout your event:
1. Don't make the online component of your event an afterthought; consider those attendees in every step of planning.
2. Provide a strong, clear feed of both video and audio.
3. Ensure that the registration and online log-in process is easy to use.
4. Welcome the online participants in the opening remarks of the physical event and continue to recognize them throughout the program.
5. Consider using a dedicated host, or virtual M.C., who can help online participants navigate the system, make sure their questions get answered, and address any other needs.
6. Indicate in advance when there will be breaks for online guests to attend to things such as email to reduce the risk of guests multitasking. Another option: offer exclusive content for online guests during breaks at the face-to-face event for those that want to stay tuned in. Examples include videos of interviews with executives or speakers, behind-the-scenes programming, and photos.
7. Coach your speakers on how to engage the online participants, for example, by looking directly into the cameras (something speakers have been traditionally told not to do). Presenters should also be encouraged to respond to people by name when answering questions.
8. Limit online sessions to no more than 45 minutes per topic, and intersperse that time with activities such a question-and-answer sessions and polls about every 10 minutes. Many Webcasting platforms can accommodate this type of interactivity. An alternative is to ask the online audience to submit questions via Twitter using a specific hashtag.
9. Vary the format of sessions, mixing lectures, panel discussions, and talk-show-style setups.
10. To visually enhance the online experience, develop graphics that relate to the content. If the budget allows, use more than one camera and vary the shots.
11. Encourage remote attendees to participate in groups to stay engaged. Consider developing activities or discussion topics for them to do together.
12. Create contests for online participants. Many Webcasting platforms offer gaming options that can be integrated with sponsors and include a leaderboard; or simply ask guests to submit photos using the event hashtag and select one to win a prize.
13. Follow up after the event. For example, schedule a recurring Twitter chat for people who attended the face-to-face event and online to meet and share ideas.
14. Use an event app that provides face-to-face and online attendees agendas, session materials, speaker bios, sponsor information, and chat opportunities.
15. Ask for feedback about the online experience and consider that in future event planning.
Featured Venues/Suppliers: