The Hottest Event DJs to Book Right Now
Across the nation and beyond, here are the most in-demand turntablists working the ones and twos.
August 1, 2013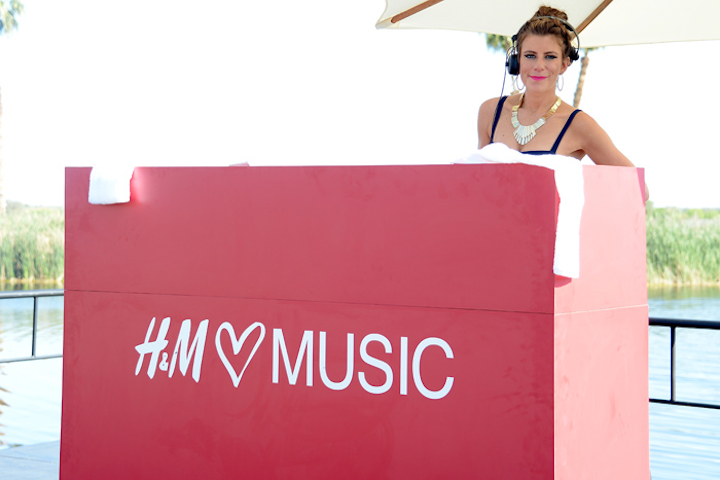 Photo: Michael Kovac/Getty Images for H&M
In an era in which anyone with a laptop can call himself a DJ, the landscape is flooded with fly-by-night names. To help you sort through them, here's a guide to some of the hottest DJs for events around the country right now—with skills, savvy, style, and sticking power.
Michelle Pesce
The Los Angeles-based DJ Michelle Pesce has been working the scene for years, but her exposure and popularity has exploded in the past year or so. She's recently spun at events like H&M's Coachella party, the In Style and Warner Brothers Golden Globes party, and the Recording Academy's official Grammys after-party—to name a few.

Harley Viera Newton
The London born and Los Angeles-bred Harley Viera Newton is signed to Jay Z's Roc Nation. She recently spun at Food & Wine's Best New Chefs event, and Elle's fourth annual Women in Music Celebration in New York.

Hannah Bronfman
It's fair to say that socialite DJs are a big-time trend, with Hannah Bronfman spinning at events like Coachella in California and a major June launch for Clinique in New York, where Estelle's newest single debuted.
DJ Kiss
Also known as a style icon in New York, DJ Kiss has spun at events for the likes of Alexander Wang, Tiffany, Herve Ledger, BCBG, Coach, Giorgio Armani, Louis Vuitton, Macy's, Elle, Billboard, Us Weekly, GQ, MTV, Nike, and tons more.

DJ Irie
The Miami Heat's DJ Irie is the city's hottest. Over the years, he's been on hand to inaugurate Miami's new Macy's, launch an Absolut campaign, entertain a crowd at a retooled Fortune event, plus spin at Victoria's Secret's spring break beach party—and he's still at the top.

Mia Moretti
DJ Mia Moretti is holding fast on the scene, with big-name event clients like Microsoft. She recently spun at a ShopBazaar event during Coachella weekend and for Target's massive Prabal Gurung launch party in New York.

Zen Freeman
It's been a big year already for DJ Zen Freeman, who has performed at Miami's Winter Music Conference, Coachella, New York Fashion Week, Cannes, Sundance, the London Olympics, the Super Bowl, and more. He has also toured North American, plus held residencies in New York, Los Angeles, and Las Vegas.

DJ Spider
DJ Spider is a known entity on the award season event scene in Los Angeles and has spun for clients like Vitaminwater, Red Bull, SBE, Hollywood Life, Microsoft, and more.
DJ Mr. Best
DJ Mr. Best has spun for events related to the Academy Awards, Golden Globes, and Emmys, as well as TV and movie premiere events for the likes of Black Swan, Lost, and The Office. He's spun for Us Weekly and GQ, entertaining at the latter's Man of the Year Awards for six years in a row. In Vegas, he spun Polaroid's CES party with Lady Gaga.

Andrew Andrew
The New York-based, identically dressed duo known as Andrew Andrew has been at it since 1999—as DJs, as well as fashion and home decor designers, theater and restaurant reviewers, and consultants. They've been spotted at the USA Network's upfront and the New Yorker's White House Correspondents' Dinner party.

Paul Sevigny
The long-established DJ and entrepreneur (and brother of Chloë) Paul Sevigny isn't waning from the scene. He's spun at event's for Bulgari, New York Fashion Week, and recently at Travel & Leisure World's Best Awards.
Tendaji Lathan
The Los Angeles-based DJ Tendaji Lathan has spun for events like Jaguar, Coach, In Touch at the MTV VMAs, and a Golden Globes party for Fox.
Daisy O'Dell
The big-name DJ Daisy O'Dell has spun for the likes of Elle's A-list Women in Hollywood Awards, at the Independent Spirit Awards sponsor lounges, and at movie premieres around Los Angeles.
Biz Markie
Biz Markie's hit single "Just a Friend" came out in 1989, but he's still seriously popular on the event scene in the Washington, D.C., area (he currently lives in Maryland), where he's turned up at events surrounding the White House Correspondents' Dinner and more.
Featured Venues/Suppliers: