Holiday Party Playlist: Top DJs Pick Essential Songs for the Season
From old-school classics to updated holiday fare and this year's popular tunes, see what the country's biggest turntablists consider must-haves in the rotation this season.
November 18, 2013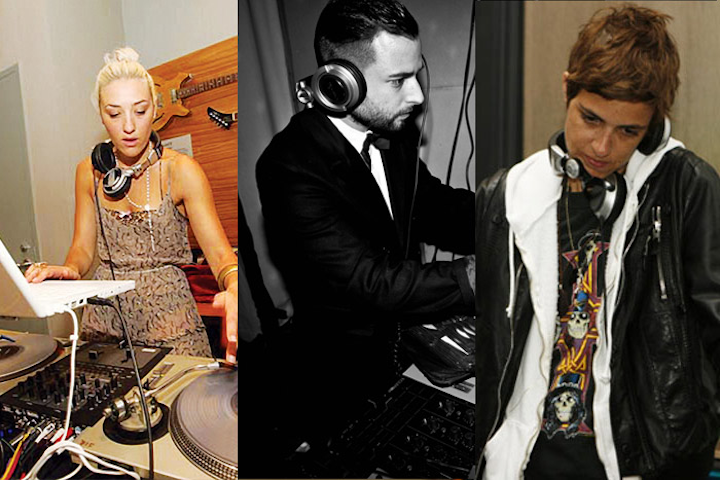 Photos:
Barry Brecheisen
for BizBash (Moretti), Courtesy of Mike Nouveau, Courtesy of Leigh Tynan (Ronson)
Holiday party season is here, and that means it's time to put together those playlists, whether for intimate office parties or off-site shindigs. We asked 16 of the country's top DJs to weigh in on their absolute essential jams for end-of-year bashes, from the old-school holiday classics that never go out of style, to more updated seasonal fare like Mariah Carey's crowd-pleasing "All I Want for Christmas Is You" and Run DMC's "Christmas in Hollis" (which both appeared on multiple DJs' lists), to this year's ear bugs like Justin Timberlake's "Take Back the Night."
The full list of tracks from each DJ can be found after the Spotify playlist. (You can decide whether the lyrics are appropriate for your company crowd.)
DJ Irie
"Danza Kuduro," Don Omar
"Let's Go Crazy," Prince
"Got to Be Real," Cheryl Lynn
"Could You Be Loved," Bob Marley
"Don't Stop 'Til You Get Enough," Michael Jackson
"It Takes Two," Rob Base and DJ E-Z Rock
DJ Vice
"World Is Our Playground," Vice featuring Mike Taylor
"P.Y.T.," Michael Jackson
"Turn Down For What," DJ Snake featuring Lil Jon
Lil Jon
"Locked Out of Heaven," Bruno Mars
"Shots," LMFAO featuring Lil Jon
"Turn Down For What," DJ Snake featuring Lil Jon
Samantha Ronson
"Wonderful Christmastime," Paul McCartney
"Little Drummer Boy," Jackson 5
"Feed the World," Band Aid
DJ Michelle Pesce
"Santa Baby," Madonna
"So This Is Christmas, "John Lennon
"Baby it's Cold Outside (Mulato Beat Remix)," Louis Armstrong
"Christmas in Hollis," Run DMC

Ibe
"Hazy Shade of Winter," The Bangles
"California Dreamin'," The Mamas & The Papas
"Christmas in Hollis," Run DMC
"Christmas in the City," Marvin Gaye
"I Saw Mommy Kissing Santa Claus," Jackson 5
DJ Reach
"Christmas in Hollis," Run DMC
"All I Want For Christmas Is You," Mariah Carey
"We Are Family," Sister Sledge
Mia Moretti
"You Make Me Smile," Aloe Blacc
"Things," Nancy Sinatra and Dean Martin
"Walking on Air," Katy Perry
"Calling All Hearts," DJ Cassidy featuring Robin Thicke and Jessie J
"Southern Swing," The Dolls
"Think of You," MSMR
Mike Nouveau
"Hold On, We're Going Home," Drake
"Reflektor," Arcade Fire
"Analyser," AlunaGeorge
"Two Way Street," Kimbra
"Rasputin," Boney M
"Work," A$AP Ferg
"All I Want for Christmas Is You," Mariah Carey
"It Gets Dark," Holy Ghost
"Falling," Haim
"Christmas Wrapping," The Waitresses
Havana Brown
"Swing," Joel Fletcher and Savage
"Blow," Martin Solvieg and Laidback Luke
"Booyah," Showtek featuring We Are Loud and Sonny Wilson
Jessica Who
"Tainted Love," Gloria Jones 
"Be My Baby," The Ronettes
"Last Christmas," Wham
"All I Want for Christmas Is You," Mariah Carey
DJ Ross One
"Christmas in Hollis," Run DMC
"Christmas Wrapping," Waitresses
"All I Want for Christmas Is You," Mariah Carey
D-Nice
"Take Back the Night," Justin Timberlake
"Fantasy," Mariah Carey
"Christmas in Hollis," Run DMC
Jeffrey Tonnesen
"You Already Know," Arcade Fire
"John, I'm Only Dancing," David Bowie
"Frankly, Mr. Shankly," The Smiths
"Honey & I," Haim
"Age of Consent," New Order
"Baby I'm a Star," Prince and the Revolution
"You Make Me Feel (Mighty Real)," Sylvester
"Dance a Little Closer," Holy Ghost
"Night Sky," Chvrches
"Do What U Want," Lady Gaga featuring R. Kelly
Myles Hendrik
"Go With It," Tokimonsta featuring MNDR
"Wildfire," SBTRKT featuring Little Dragon
"Double Bubble Trouble," M.I.A
"Pour It Up (RL Grime Remix)," Rihanna
"Hold On, We're Going Home", Drake featuring Majid Jordan
"ATM Jam," Azealia Banks featuring Pharrell
"Down On Life," Elliphant
"Bubble Butt," Major Lazer featuring Bruno Mars, Tyga, and Mystic
"9 Over Your Shoulder," Chromeo
"On My Own (12-inch Version)," Zero 7
"Do It Do It Disco (Tom Noble Remix)," Myron & E
"I'll Get You," Classixx featuring Jeppe
Timo & Alan
"Christmas Time is Here," Vince Guaraldi Trio
"Time Will Tell," Blood Orange
"Rio," Theophilus London featuring Menahan Street Band
"All I Want for Christmas Is You," Mariah Carey
"Blue Meanies," Oposssom
"When They Fight, They Fight," The Generationals
"This Christmas," Donny Hathaway
"I Wish it Was Christmas Today," Julian Casablancas
Featured Venues/Suppliers: